Through stealthy acquisition of advanced, market disruptive intellectual property [IP], key high-talent personnel whose significant achievements are soft-pedaled, quiet completion of new product licensing, commercialization and expansion of overseas manufacturing facilities, combined with the conspicuous absence of a direct sales and clinical applications capacities (apparently to be filled by a new parent), Bovie Medical (NYSEMKT:BVX) has positioned itself for acquisition. Perhaps the deal has already been secretly inked? Were others involved?
Bovie is the oldest name in electro-surgery and currently provides about $28 million in annual revenue for specialty OEM RF electro-surgery generator and surgery attachment products to many firms, one of which is Medtronic (NYSE:MDT) (11% of BVX sales). Bovie Medical is also currently in product development agreements with MDT for new cardio and urology products in surgery. Indeed, a 1996 S-4A SEC filing showed 7 of 8 new BVX products compete with Xomed, an MDT subsidiary.
However, the firm under CEO Andew Makrides, VP Rob Saron and product development director Moshé Citronowicz, has moved from a strictly OEM house to something much more: an advanced IP, product design and commercialization group, complete with CE Mark European sales manager (Johan Seegers) and pending FDA 510K applications in the hottest area of surgery today: Saline Electro-surgery.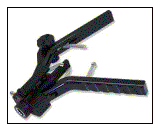 The CE Marked Modular Ergonomic Grip [MEG] line of laparoscopic tools will also perform in saline electro-surgery applications (nearby figure).
Unannounced, Bovie Medical has also added (through Steve Livneh's LICAN Development, LTD) to their development list, new IP in consumer cosmetic skin tightening (below).
Skin tightening was a $4 billion market in 2006 with 14 million procedures including those of Botox. Clearly, tiny Bovie Medical, with only 17.78 million shares outstanding, is aiming high.
Moreover, a new type of temperature adjustable laser is nearing FDA 510K approval and will ship in 2008. The J-Plasma System will be housed in the ICON GS and will perform both electro-surgery RF applications utilizing all existing implements as well as conventional laparoscopic procedures, it will also drive the new cool J-Plasma laser. The recent release of specialty Canady laser tips has furthered the potential impact of new BVX products. Dr. Jerome Canady is an advisor to Bovie and is currently using an Argon laser but is helping to guide J-Plasma applications. Below is a detailed J-Plasma description:
ICON GS (J-Plasma) In February 2000, the Company entered into a Joint Venture Agreement with a non-affiliated German corporation, Jump Agentur Fur Elektrotechnik GMBH [JUMP], wherein it owned a 50% interest in the equity and a 50% interest in the profits of the joint venture. The medical device technology utilizes a gas ionization process producing a stable thin focused beam of ionized gas that can be controlled in a wide range of temperatures and intensities, providing the surgeon greater precision, minimal invasiveness and an absence of conductive currents during surgery. Recent engineering improvements include increases in power and efficiency and component miniaturization, making manufacturing easier and less costly. Production prototypes have been developed for testing purposes. This J-Plasma technology is the foundation for the Company's new product, the ICON GS plasma system, which is in development. The development of this new gas system generator also includes the design of a new handpiece.
Recently, the acquisition of the remaining ownership of the J-Plasma technology was successfully completed.
*          *          *
Saline RF electro-surgery is a new method utilizing transcollation to better seal vessels by affecting collagen as it electrically conducts RF tissue resection in a saline bath. The result is superior vessel sealing and fewer bleeding complications. While SLNT is the leader, BVX has acquired superior IP via Mr. Robert Rioux who in May 2008 joined Bovie Medical from Boston Scientific (NYSE:BSX). This November 1st, 2007 IP (plus other related patents) employs a porous, conductive electrode where previous patents are limited with uneven surface RF saline energy deposition. Curiously, the cost for acquiring this clearly market disruptive technology wasn't disclosed (more on this anomaly below).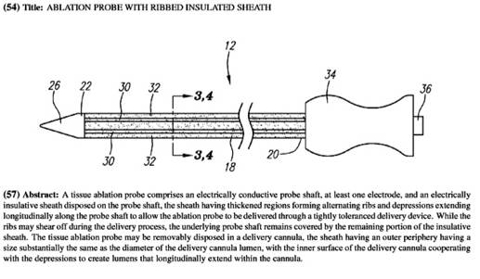 Principal applications for saline electro-surgery are in the area of orthopedic implant surgery and tumor removal with their large areas of required resection and hence, vessel sealing. The ultimate market however, involves all of precise surgery. The new saline RF electro-surgery methods have permitted market leader, Salient Surgical Technologies (SLNT) to hire 70 sales persons with eight managers. Moreover, SLNT has robust growth such that it is in a March 2008 IPO offering for about 10% of their shares (yet to be completed).
Hidden from view at BVX is the much larger skin tightening market IP that Mr. Livneh brought on board. While it isn't known if the tools (below) are currently being produced to build inventory, it is known that the Ontairo, Canada manufacturing plant operates on double shifts.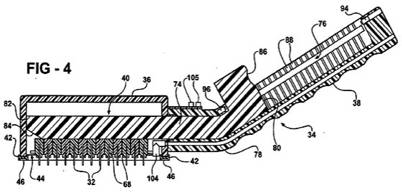 Above is an excerpt from the January 10th modification of a 2007 international filing for the Livneh patent covering a linear rectangular plate device with numerous retractable electrodes intended to selectively damage epithelium in a cooling bath. Livneh is a highly capably design and production engineer and has responsibility for full manufacturing of his IP according to Bovie VP, Rob Saron.
Another embodiment of the skin-tightening device in roller form is seen below. RF is deposited in a cooling bath of saline and is designed to cause a tightening effect upon healing.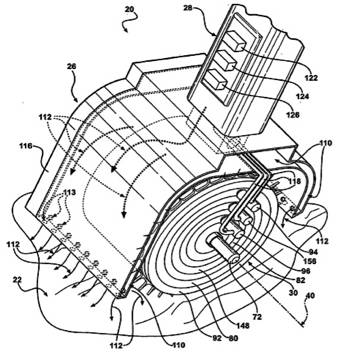 The BOTOX skin-tightening phenomenon has achieved huge growth but is dogged by recent long-term toxicity issues. The above methods, which are used with new Bovie electro-surgical generators under software automatic impedance control, avoid all drug-based toxicity exposures.
*          *          *
As an acquisition, Bovie Medical would be an advanced product development and commercialization prize and there are tantalizing indications pointing in that direction with many events emerging in and after March 2008.
Indeed, BVX is already acting like a wholly owned subsidiary by obtaining a new Bulgarian manufacturing plant, Russian licensing, Chinese regulatory approvals for their IDS400 generator and hiring a new top level distribution leader in Europe (Johan Segers) as well as having the ability to lure Livneh and Rioux and their precious advanced intellectual property from top positions at other firms.
The Mysterious Mr. Segers was described by CEO Andrew Makrides (above link) this way on May 5th:
Mr. Johan Segers of Antwerp, Belgium, was appointed Bovie's Director of Sales and Marketing for Europe and the Middle East. Mr. Segers has a Masters Degree in Health Care Sciences from the University of Brussels and has over 25 years of successful distribution experience with US, Israeli and European medical companies. Mr. Segers is in the process of recruiting and training a network of talented distributors throughout the EU and Middle East markets as well as retaining key surgeon opinion leaders for the MEG Laparoscopic line of instruments as well as other Bovie products.
The above description of Johan Segers as a journeyman distribution person is akin to describing Michael Jordan as a basketball player.
The good Mr. Segers was in fact in 2004 listed as the CEO of OPUS Medical in Belgium ($17 million revenues) and recorded rapid growth such that in 2004 OPUS Medical was purchased for $130 million by Arthrocare for 8X revenues. The central product at OPUS Medical was a fixation device for rotator cuff electro-surgery treatment.
Clearly, Mr. Makrides has a hidden agenda under-representing Seger's powerful background. There is also the question of why Mr. Segers would take a step back in his career. On the other hand, it will be easy for Segers to tap his former clients for new Bovie electro-surgical products. It's also reasonable to guess that Segers was still functioning at Arthrocare up until May 5th when he joined BVX.
Why the secrecy over Arthrocare and OPUS Medical? Above-board CEOs would be touting this personnel coup. Instead, Makrides attempted to hide it.
It's interesting to note that Arthrocare CEO Michael Baker came from Medtronic and that Arthrocare suddenly decided to place itself on the sales block in March 2008. It was also in March 2008 that Salient Surgical Technologies decided to issue its yet-to-be completed IPO. In March 2008 things started to accelerate at BVX as well. Is there a connection?
*          *          *
Medtonic is close to the new area of saline RF electro-surgery. We will see (below) that Medtronic plays an emerging role in this new field and may be a moving to dominate the nascent field by a "Tucked-in" BVX acquisition (CEO, Wm. Hawkins used this odd term in his May 20th conference call).
Hawkins made no specific reference then to an acquisition other than a general small-scale acquisition plan. However, analysts note that Mr. Hawkins hasn't yet revealed his plan. (Criticism of Gary Ellis' announced revenue forecast continued at the Goldman Sachs Dana Point, California meeting).
[…] Bold? Medtronic shares will "drift" until the company's June 2 meeting with analysts in New York, Nalbone said.

 

"Mr. Hawkins said early on that the board had authorized him to be bold, and that was a tantalizing comment at the time," Nalbone said. "We've heard or seen nothing since then as to what that means."
There was no additional hint of MDT acquisition plans at the June 2, 2008 Medtronic Healthcare Conference however, Gary Ellis, CFO (Ellis is also the Chairman of the American Heart Association) did issue a list of five acquisition criteria that seemed to fit Bovie Medical. Conspicuous in the Ellis criteria listing was the acquired technology needed to be "Market disruptive".
Saline Electro-surgery is certainly "Market disruptive and Bovie is well positioned to make a swift move PROVIDED it has the necessary sales force which it currently lacks (perhaps by plan).
When introducing new technology it is always best to establish a brand via a direct sales force and the absence of one is a significant conundrum in the Bovie Medical mystery. Another interesting fact revealed in the Salient Surgical IPO prospectus is that Medtronic, through a Gary Ellis, non-pecuniary ownership position, is a major shareholder of in Salient Surgical Technologies.
On page 103, Mr. Ellis is shown as representative from Medtronic as owning 6,576,974 shares or 8.8% of the firm. In addition, 446,954 shares are convertible preferred. This establishes a link between MDT and SLNT's new technology.
Since SLNT has filed for an IPO of only 10% or so of the total shares, it is reasonable to see that MDT won't be acquiring SLNT. They are testing the waters in an IPO. However, MDT retains a key interest there and should MDT acquire Bovie Medical, they would have a clean saline electro-surgery market advantage in the newest and most "Market Disruptive" technology to surface in surgery in a long time.
Medtronic has been active in surgery and surgical imaging systems of late according to their 2007 annual report. They acquired Spinal and Navigation plus other firms to complement their surgical presence.
Thus a "tucked-in" acquisition of BVX would fill their position nicely in the new field of saline electro-surgery as well as opening new market areas in consumer cosmetics.
Bovie and Metronic enjoy a very good relationship with BVX shipping 11% of revenues to MDT so it isn't a stretch to see a deeper involvement. Indeed, CEO Makrides informed me in 2007 that e-mails from MDT were "Glowing" over the BVX product quality.
Shares of BVX are languishing near $7 after threatening $10 earlier this year. A large single sale event from Renn Capital (ostensibly to liquidate under pressure, a UK fund) dropped things to where they reside today. In risk/reward terms BVX remains a good play since they have zero debt, few shares outstanding (17.8 million) and most importantly, top management is heavily invested in BVX. Indeed, BVX laser expert Greg Knoeski has 750,000 shares with CEO Makrides just under 500,000 shares.
What we clearly see at the surface is a firm aggressively building for an acquisition and MDT may be the path of least resistance. However, neither party has really tipped its hand–Yet.
BVX Conundrums are mounting up even as the St. Petersburg, Florida plant is a beehive of activity:
Top-Level talent is arriving at BVX with no visible reason other than promised new products. There are new hires yet to be announced who are at the very top of their surgery fields and joining tiny BVX for them is odd in the extreme. However, joining an imminent large firm's wholly owned subsidiary makes all the sense in the world.
Intellectual property [IP] is being methodically added almost always without cost structure announced. Who is paying? Why are the IP owners selling to a firm without direct sales to guarantee a return for their precious IP?
Manufacturing facilities are popping up across the globe along with licensing. (Bulgaria, Russia, China).
Perhaps the biggest of all: A palpable hole in direct sales force capacity (perhaps filled by a putative parent).
Last year a rushed annual shareholder's meeting at BVX was moved up to June then postponed back to October. Was this an early move towards acquisition, then delayed to beef up BVX?
Timing FDA 510K filings at BVX to a near term date approval window when they could have been filed earlier (MEG/Polarian CE Mark approval are essentially the same and ought to have been simultaneously to receive concurrent approval). MEG and Polarian 510K clearances are expected any day.
An apparent three-way acquisition in electro-surgery between MDT, Arthrocare and Salient Surgical Technologies that seemed to evaporate to be followed by hurried activity at Bovie Medical. Recall that a firm link between Arthrocare, Medtronic and Bovie Medical exists with Mr. Johan Segers who sold his firm (OPUS Medical) to Arthrocare (an electro-surgery firm), whose CEO came from MDT and then joined BVX.
*          *          *
March 2008 brought a convergence of apparently related events, including Arthrocare's sudden sale offering, SLNT's strange IPO (10% of the firm) and then a later flurry of accretive BVX IP/regulatory filings and key personnel additions. This occurred while Medtronic still had not issued their expected "bold" moves.
The question arises: Was there a three-way acquisition between Arthrocare, Medtronic and Salient that went bad in March? Is BVX the last one standing? IF BVX were going at it alone, the sales team would already be hired.
I'm not the only analyst to see the former synergies in electro-surgery between Medtronic and Arthrocare and we already have a significant link between MDT and SLNT.
*          *          *
Medtronic CEO Bill Hawkins has an opportunity before his August 21st annual shareholder's meeting to make his "bold" mandate public. Will he announce a "tucked-in" acquisition with high-technology surgery? Time will tell. A reasonable acquisition target is between $20 and $30 per share in an equity-based agreement.
Disclosure: Author owns substantial position in BVX and writes often about it in daily client newsletter installments.