Rogers Communications Inc. (NYSE:RCI) and Telus Corp. (NYSE:TU) had their price targets cut and received short-term "sell" ratings from UBS analyst Jeffrey Fan due to the negative impact the wireless spectrum auction may have on their share prices. Both have seen sharp share price declines see the auction process began, but an attractive buying opportunity could emerge after the negative news flow dissipates.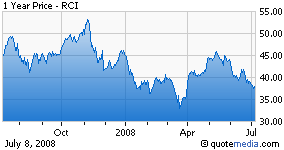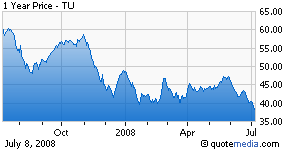 Mr. Fan moved Rogers to C$51 per share from C$54 and Telus to C$43 from from C$46 to reflect the high costs of licenses in the auction, the potential impact of a new competitor in Ontario and the greater risk of a "quasi-national" entrant anchored by Globalive.
Mr. Fan told clients:
Once the new entrant strategies are known and the partnership announcements are behind us, the focus will likely then turn to the new entrants' progress and the challenges that the incumbents will create ahead of the new entrants, which may then help the shares recover.
His 12-month ratings remain at "buy" for Rogers and "neutral" for Telus.
The analyst said:
With the prospect that Shaw is likely to enter with a more capital-efficient plan, we believe there is greater competition risk for Telus given it has the largest market share in the west.