Gildan Activewear Inc. (NYSE:GIL) suffered a big decline last week after another shareholder class action lawsuit was filed against the T-shirt and sock maker. But the sell-off was overdone and a short-term rebound is in the making, says RBC Capital Markets analyst Sara O'Brien, who rates the stock at "outperform" with a $36 price target.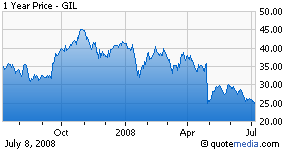 Gildan reports third quarter results on August 12, when Ms. O'Brien expects the company will reiterate that its manufacturing problems in the Dominican Republic and retail issues that forced it to revise 2008 guidance in April are short-term and being remedied. She also anticipates to hear that Gildan's 2009 growth outlook is on track.
In terms of the legal troubles, the analyst thinks any consolidated lawsuit could take as long as two years for discovery. Regardless of the outcome, she thinks the company's liability insurance would cover any litigation costs or potential settlements, and therefore sees no material financial impact on Gildan's results.