The stock price for Sarepta Therapeutics (NASDAQ:SRPT) has gone from under $4 following a 1:6 reverse stock split to around $16 in less than 2 months. The rise in the stock this past week was due to a positive report regarding the company's drug for muscular dystrophy, eteplirsen. This story profiled a 12 year old child who is participating in a study where he has been taking 50mg doses of eteplirsen. This boy has been reported to have the ability to participate in activities that match those of his peers after the treatment.
The drug, eteplirsen is currently in phase 2 clinical trial. The drug needs to complete phase 2, then phase 3 before Sarepta can file a new drug application with the FDA for approval.
Although final results of the trial are expected in October, Sarepta has two earlier presentations scheduled: The Stifel Nicolas Healthcare conference on September 5, 2012, and the Rodman and Renshaw Global Investment Conference on September 10, 2012. The company may have new information regarding its studies at these upcoming events.
I don't intend to take away from the outstanding work that Sarepta Therapeutics has accomplished thus far. I hope that the company is successful in developing solutions for serious diseases to significantly improve the lives of others. However, my concern from an investment standpoint is that the stock may have risen too far, too fast. The Street.com stated that Sarepta needs to raise money to further the development of its treatment for muscular dystrophy. This may be in the form of an additional stock sale which could dilute the current shares. Details of how this money will be raised might be announced in the company's upcoming events.
It looks like the market is pricing in a future FDA approval of eteplirsen. This means that the stock may not have much more upside heading into the approval. Since the company does not yet have an FDA approved drug, it is highly speculative as an investment. The company does not have a positive history of financial information to effectively value the stock.
What is known is that there is an estimated 1 of every 5,600 to 7,700 males aged 5 to 24 years with muscular dystrophy in the United States according to the CDC. This is approximately equal to a prevalence of 1.3 to 1.8 per 10,000 males aged 5 to 24. If this drug can allow these patients to live a more active life similar to their peers, then it would be considered a groundbreaking drug.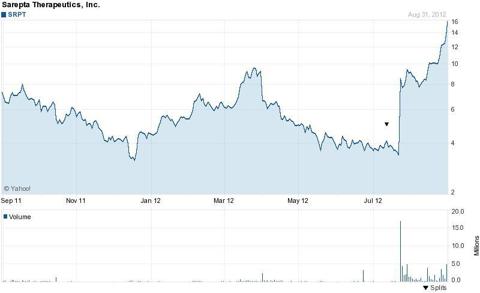 Click to enlarge
Although the drug looks promising and I hope it does prove to help those with muscular dystrophy, I think there will be a better entry point for the stock. The stock is now overbought and due for a pullback as a result of profit-taking. Possible share dilution is also on the horizon as Sarepta needs more funds to further the development of eteplirsen. I would wait for a better entry point as stocks with no current FDA approvals are highly volatile. I do think this stock has risen too far, too fast.
Disclosure: I have no positions in any stocks mentioned, and no plans to initiate any positions within the next 72 hours. I wrote this article myself, and it expresses my own opinions. I am not receiving compensation for it (other than from Seeking Alpha). I have no business relationship with any company whose stock is mentioned in this article.