As partisan politics filters down into the new age of McCarthyism, no greater accusations of failed policy been aimed than at those striving to make biofuels a reality for the future. On August 28, the New York Times released an article found here criticizing the Navy's expensive pursuit to harness renewable energy. In a point aimed to stir outrage, the article states: "In 2009, the Pentagon spent roughly $424 a gallon on algae oil from Solazyme."
While true in itself, the resulting backlash against Solazyme (SZYM) remains unfounded on several principles that are often not explored by the media. Those appalled by the high costs ought to consider that the price of the oil was derived from a contract win, and was not necessarily representative of the cost to produce the oil itself. The claim also fails to explore the fact that the fuel had to be derived from contract manufacturers and was not necessarily indicative of the technology's capability.
Most importantly, such intentional use of this glaring cost fails to follow up on just how fast the price of Solazyme's production costs have fallen in the two years to follow - much in part due to the support found in the Navy. From the offset of its IPO in 2011, Solazyme has alluded in its S-1 filing that it had achieved key performance metrics that allowed for oils to be manufactured at a cost below $1,000 per metric ton were they to be made in a built-for-purpose commercial plant. On a per gallon basis, this resulted in a production cost of $3.44/gallon - a far outcry from the previously stated figures.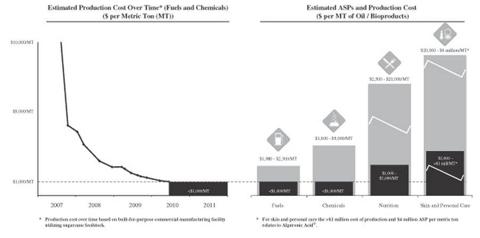 Though 100% unblended commodity biofuels remains the eventual target market in the fuels segment of the company, Solazyme has clearly asserted for some time that the blended fuels, additives, and sweeteners markets are a more logical choice to pursue based on capacity restraints. An often understated advantage of Solazyme's biofuels is its capability to improve traditional biodiesel in order for it to meet qualifications in large markets such as distribution within the European Union. Overcoming biodiesel's issues with cold weather, for instance, is what allows for this to be possible. As a result, the company is able to leverage significantly higher margin prices for the same cost production of its fuels. Seen in the chart below, the use of the company's oil increases the average selling price to $2,255/MT.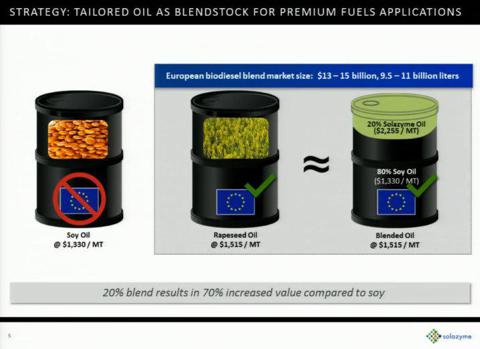 For investors deterred by the politicized media's spin on Solazyme's algae-based fuels, one needs only to break down the actual business model to understand why the company's confidence remains strong regardless of a Pentagon rendered impotent. Fuels remains only a very small portion of the current market breakdown that Solazyme will be addressing. Indeed, chemicals and nutrition hold much higher margins and stability which gives the company the largest bang for its buck when it comes to wisely utilizing manufacturing capacity. With large partners such as Dow Chemical (NYSE:DOW), Bunge (NYSE:BG), Chevron (NYSE:CVX), and Unilever (NYSE:UL) acting as investors and partners in Solazyme, the company's future remains strong apart from a government reliance typified by most companies associated with biofuels.
For this company now currently trading with a $727 million market capitalization, near-sighted critics are often quick to assert that the company is losing money fast as net losses increased to $54 million in 2011 alone. Yet those who understand the business model realize that the company's ramp-up into its first production facilities (scheduled to come online in 2013 and 2014) will serve as catalysts to swing the company into profitability in a very rapid fashion. Company fiscal guidance and a slow cash burn rate suggest that the balance sheet remains strong. Based on released guidance, the company also expects 30-60% gross profit margins in the fuels segment alone. Such guidance's accuracy can already be verified and measured by the margins found in sales through the company's cosmetic segment, which comfortably fall around 70% to date.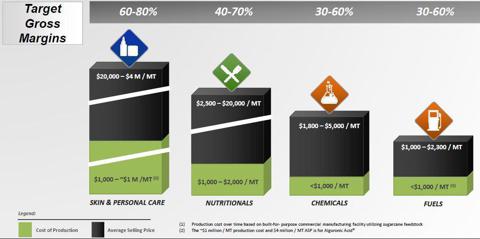 With such lucrative margins and an addressable market space that exceeds $3.1 trillion, it remains difficult to believe that Solazyme will be unable to hone in on key niches that give it a highly profitable business model for years to come. The company's latest oil profiles serve as a fresh reminder that Solazyme's core strength actually remains in its ability to create value through its tailored oil profiles - a fact lost upon any conversation that deals with biofuels itself. Altogether, the company remains adequately capitalized and well on course to exercise its profitable business model once it's production facilities come online. Based on the current 34% discount to the company's IPO price, it remains yet to be seen when investors will recognize the opportunity set before them.
Disclaimer: Please refer to my standard disclaimer found here.
Disclosure: I am long SZYM. I wrote this article myself, and it expresses my own opinions. I am not receiving compensation for it (other than from Seeking Alpha). I have no business relationship with any company whose stock is mentioned in this article.