by Eric Roseman
No other precious metal has a tighter supply than platinum.
Though platinum prices have remained high over the last few years, supplies are getting thinner by the day as South African production draws to a standstill. Lately, these tight supplies have helped platinum prices shoot up north of US$2,000.
In fact, platinum has climbed so high that its sister metal, palladium is becoming the new exciting speculation. Right now, palladium is sitting at 56% off its all-time high in 2001 of US$1,100 an ounce. The platinum-to-palladium differential hit its widest level in history in late May as platinum prices rocketed to new highs.
So the question is: Has the price of platinum climbed so high that industries will start switching to palladium?
The Boom in Platinum

Platinum has a variety of uses. The automobile industry uses platinum for gasoline-powered catalytic converters and it's also widely used in jewelry.
Investment demand is also draining platinum supplies. Recently, another platinum exchange traded fund [ETF] began trading in New York. In 2007, two platinum ETFs began trading in London and Zurich, respectively, effectively draining more supply from a thinning market.
Platinum initially led the bull market in the precious metals complex earlier this decade. But now platinum has fallen behind silver (+330%) and gold (+234%). Since December 2001, platinum has recorded a 230% total return.
Meanwhile, platinum's sister, palladium has lagged behind the other metals. Palladium also still has an abundant supply. That's mainly because Russia dumped a large supply of palladium on the market earlier this decade. As other metals have risen in price, palladium prices have declined 54% over the last seven years.
Deficit of 480,000 Ounces in 2007, 711,000 Ounces in 2008
No other precious metal has suffered more from growing supply shortages since last year than platinum. And it's getting worse.
According to Johnson Matthey, a metals and chemicals forecasting firm, platinum reached a deficit of 480,000 ounces last year. They're forecasting platinum will hit yet another record deficit of 711,000 ounces in 2008.
Platinum Sails to the Moon and Beyond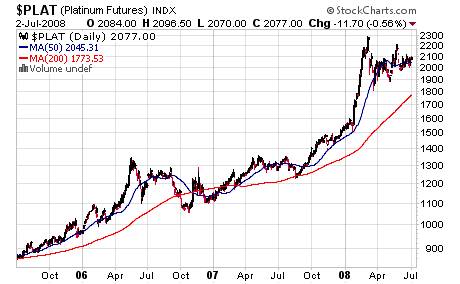 This follows massive production downgrades from AngloPlatinum (OTCPK:AGPPY) and Lonmin (London-LMI.H) - two of the world's largest platinum mining companies.
Platinum production in South Africa accounts for about 80% of global output. Just in 2007, South African production declined 4.9% to 5.04 million ounces. South African mines are facing several issues including smelter closures and a host of safety issues interrupted mining operations.
Worse, widespread electricity shortages in South Africa this year are lending to another major price increase. Still, supplies continue to shrink and extend into a major net deficit situation. South African platinum output has hit its lowest levels since 2002 and continues to contract in 2008.
Can't Hide Production
Unlike crude oil, which has doubled year-over-year in the midst of a parabolic bull market, spot platinum is much easier to quantify in terms of overall supply.
It's hard to hide platinum output. We know that one country mines more than 75% of all output. And if that one country can't boost supplies, it's an easy speculation that prices are going to rise much higher.
In short, South Africa can't produce enough supply to meet demand. And according to Johnson Matthey, global platinum output last year fell 4.1% to 6.55 million ounces and that amount was easily absorbed by the auto industry and jewelry market.
Palladium to Benefit?
Palladium is the worst-performing precious metal this decade. But it might receive a big boost if platinum prices remain so high.
Palladium always competes with platinum in the auto industry for catalytic converters. So if prices continue to rise, the industry will have to switch to the cheaper metal — palladium.
In the absence of a significant drop in jewelry demand or a major recession in new auto sales outside of the United States, platinum prices are likely to remain high. That should help palladium, which has gained a cumulative 29% in 2008.
Palladium Starts Its Rise to the Top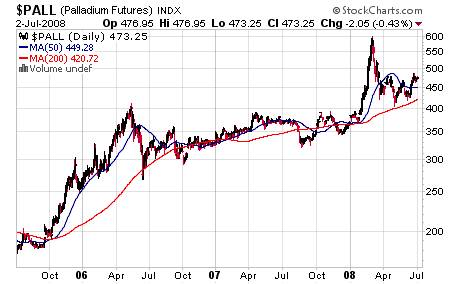 Palladium, however, remains in net supply surplus heading into 2009. Unlike platinum, there are no threats to palladium's production. Russia is the main palladium producer. And unlike South Africa, where mining output has stalled, Russia continues to supply the palladium market.
Platinum prices will have to rally significantly from current levels if palladium is to absorb market share in the auto industry. Still, judging by technical chart patterns since 2006, palladium is looking strong.
Platinum Up-Crash Ahead?
Since 2003, spot platinum prices have soared a cumulative 250% from US$594 an ounce to US$2,077 now. Platinum reached an all-time high of US$2,290 in March and sits 9.3% below that best level.
According to RBC Capital Markets, platinum demand continues to average about 3-4% annual growth. Once again, that's mainly from catalytic converters and jewelry.
If platinum supplies continue to shrink, which is almost a virtual guarantee with these production problems in South Africa, we will have a much higher platinum price by Christmas.
The advent of exchange traded funds investing in platinum since last year in Switzerland and now in the United States since May will continue to suck more supplies from an already strained market. This is bad news for consumers, but great news for investors seeking the Perfect Storm in the commodities markets.
Platinum and palladium are probably two smart speculations in mid-2008. If you divide your portfolio equally between these two metals, you're likely to get a handsome reward over the next 12-24 months.]
Disclosure: none