Edited by Marianna Avilkina
Encana Corporation (NYSE:ECA) is a Canadian giant in the business of natural gas exploration and production, operating in both the US and Canada. The company was established in 2002, when PanCanadian Energy Corporation and Alberta Energy Company merged, creating one of North America's largest natural gas manufacturers. As the company comes close to its tenth anniversary of service in the gas industry, Encana is adopting a long-term strategy of dividing and re-evaluating the best path for its assets.
In North America, Encana is mainly occupied with expanding the use of natural gas for power generation and transportation. This strategy includes measures to obtain access to new natural gas markets, including the export of liquefied natural gas at a stronger international price than the current one. At the end of 2011, Encana has reported proven reserves of about 14.2 trillion cubic feet of natural gas. Last year, the company acquired a 30% stake in the planned Kitimat LNG export terminal in British Columbia.
The company's cash flow is benefiting from the hedging program, as the North American market currently offers ultra low gas prices. Encana is quite busy diversifying its revenue streams to stabilize them. Therefore, on December 1, 2009, ECA split its oil-manufacturing division into two separate companies: an integrated oil company - Cenovus Energy (NYSE:CVE), and its exclusive natural gas company - Encana.
For the latter part of 2012, the company plans to invest $600 million to build on the first positive results achieved in natural gas experiments. With the incremental investment, Encana predicts that in 2013, it will reach an average daily production of between 60 000 barrels and 70 000 barrels. In 2012, ECA was listed in 2012 Global 100 Most Sustainable Corporations as well as placed in the list of the World's Most Ethical Large Companies. In addition, Standard & Poor has given Encana a grade of BBB with a stable outlook.
Financial Situation
For 2012's Q2, Encana recorded a cash flow of $794 million or $1.08 per share. This is a 27% decline in cash flows, the key indicator of a capability to fund projects in the future. Operating revenues were $198 million or $0.27 per share. The EPS for 2012's Q2 was negative 2.01%. Revenue tumbled to $731 million from $1.99 billion. Recent dismal EPS and revenue targets followed the same negative trend, due to a decline in the 12-month average trailing natural gas prices and, thereby, a $1.7 billion non-cash after-tax deterioration. In addition, Encana has been facing investigations by watchdogs on the company's possible collusion with Chesapeake Energy (NYSE:CHK) to reduce the cost of exploration lands in Michigan.
Over three months ending on June 30, 2012, Encana paid dividends of $0.20 per share, totaling $147 million. Net earnings have revealed a loss of $1.5 billion, a 12.5% decrease compared to the previous year. Even without the impairment charge, Encana's 2012 Q2 performance seems pretty poor, with gross profits of only $155.6 million, compared to $286.37 million in the 2012 Q1.
Company Stock and Dividend Profile
Encana's main competitors are Devon Energy (NYSE:DVN), Rosetta Resources (NASDAQ:ROSE), Venoco (NYSE:VQ), Cabot Oil & Gas (NYSE:COG), and Anadarko Petroleum (NYSE:APC). At the moment, the company's market capitalization is $22.15 billion, declined after a baffling Q2 2012.
The figure below illustrates how Encana's stock quote performance fails to match either the S&P 500 or the Dow Jones Industrial Average. For the last two years, its performance has been trending down and remaining far below the two key benchmarks. Moreover, the observed trend does not suggest any positive changes in the current Q3, coming Q4, and 2013 overall.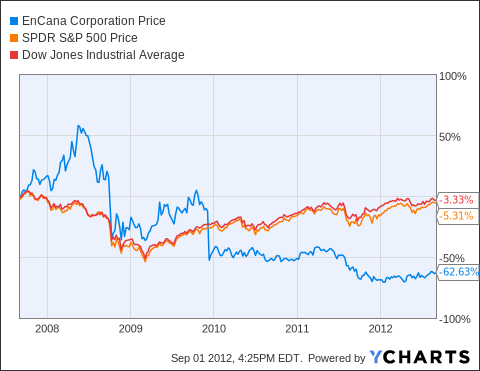 ECA data by YCharts
The stock quote is expected to fall further after the report of Encana's involvement in land-price collusion with Chesapeake Energy. Furthermore, the company will most likely face a high risk of losing investors' confidence as soon as they discover the company's lack of cash following the tax impairment charge. This catch-22 situation makes the company's goal of attracting new investors unattainable.
The figure below demonstrates that Encana is far from being an industry leader. In fact, the company is the worst performing compared to its direct rivals in the industry. Analysis of both recent financial results and business conditions argue strongly that the company will most likely be hit by sanctions and obligated to cut production in order to cover the losses expected in Q3 and Q4 2012.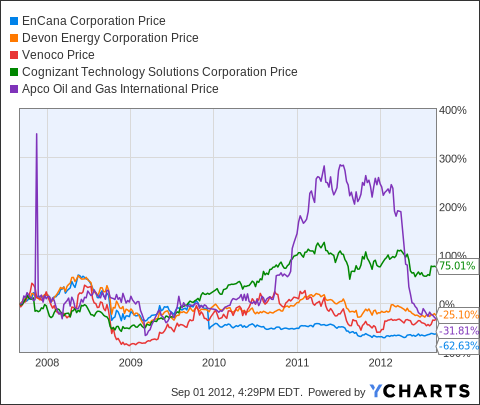 ECA data by YCharts
As of August 31, 2012, Encana's price-to-earnings ratio is negative 11.7, whereas the industry average stands at 26.5. The 52-week range is from $17.02 to $25.75. Since 2011, return on investment is 2%. Keeping in mind the negative news and actions surrounding Encana, its beta of 1.11 makes the surmise about the company's potential breakdown on stock markets viable.
Encana pays out quarterly dividends to shareholders at the discretion of the Board of Directors. In 2011, dividend payments were $588 million or $0.80 per share over the year. By contrast, the company's quarterly dividend payment was $0.20 per share over 2010 and 2011. The Board of Directors likewise declared a dividend of $0.20 per share payable on March 30, 2012. The five-year dividend yield for these shares was fixed at 3.4%.
Present Economic Outlook
Encana has hedged an estimated 1,955 million cubic feet per day of anticipated 2012 natural gas production with fixed-price contracts. The average price was fixed at $5.80 per thousand cubic feet. In addition, it has also hedged an estimated 505 thousand cubic feet daily at an average price of $5.24 for gas production in 2012.
As the verdict on Encana's alleged collusion fraud is awaited, economic upgrowth does not look promising for this Canadian giant in the coming years. Moreover, the company's performance trends are declining in all markets where Encana operates while its competitors are truly racing ahead.
In 2011, Encana handled capital investment of $2,022 million, land acquisition worth $410 million, and divestitures of $350 million. It also sold two natural gas plants in the Cutbank Ridge area for nearly $920 million. Furthermore, Encana entered a partnership with Mitsubishi Corp. to develop undeveloped lands around Cutbank Ridge in British Columbia. At the same time, the company's operating expenses have been swelling up. They increased by $54 million due to higher property taxes and the unfavorable US/Canada exchange rate.
Since Encana's first gas association in 2010, the company has been facing difficulties in bringing about profits largely due to prevailing gas prices, which are relatively low. For this reason, the company is aiming to develop various partnerships to tap into export markets and asset sales in order to stay afloat in the difficult market conditions. They have been somewhat successful in their pursuits, as the above-mentioned Mitsubishi alliance suggests. Furthermore, Encana has also been able to reach a deal with Toyota Tsusho Corp. According to the contract, in 2012, this Japanese company acquired a share of Encana's vast coal bed methane reserves in southern Alberta. Since natural gas sold abroad earns higher profits, Encana has been aiming at selling the extracted gas in developing Asian countries.
Summary
In hindsight, Encana's decision to cut its gas and oil divisions into two different companies appears to have not been a smart move. This is because its competitors operating in both the gas and the oil industry have an inherent advantage over Encana. The gas industry offers exceptionally difficult market conditions for the producers as gas prices are too low to earn significant revenues and profits. Moreover, the Achilles' heel for Encana is the current collusion scandal that is still under investigation. This is probably a reason to expect further losses from fines imposed by the verdict. Coupled with the $1.7 billion noncash after-tax impairment charge already incurred by Encana, further penalties could provide financial headaches for the company's board.
From the current investor's point of view, Encana's future short-term earnings are expected to be poor even if they are cleared of the collusion charges. Market conditions appear likely to continue to put pressure on the company's business, unless they capitalize on the export potential of gas. I suggest that investors already holding Encana shares should keep their stocks and not sell them at the extremely low prices prevailing since 2009. Perhaps, in the long run, Encana's stock quote will be improved on the ground of both export earnings and lower operational costs. Thus, holding this stock is the optimal option at the present time.
Disclosure: I have no positions in any stocks mentioned, and no plans to initiate any positions within the next 72 hours. I wrote this article myself, and it expresses my own opinions. I am not receiving compensation for it (other than from Seeking Alpha). I have no business relationship with any company whose stock is mentioned in this article.