Back in June, I opined that after the purchase of El Paso Corp. by Kinder Morgan Inc. (NYSE:KMI), El Paso Pipeline Partners LP (NYSE:EPB) might become the forgotten step-child to Kinder's own Kinder Morgan Energy Partners LP (NYSE:KMP). During the research for my recent article on KMP, I was pleased to find evidence that I had been wrong back in June. Shareholders in El Paso Pipeline Partners should be more pleased.
The recent Kinder Morgan presentation materials include some detail on the company's plans for El Paso Pipeline Partners. Increased value points for EPB include cost savings from being integrated into the Kinder Morgan system, organic growth prospects and the receipt of drop down assets from KMI. The last point is important, since Kinder Morgan Inc. still owns a significant amount of El Paso Corp assets and has the choice of two LP underlings into which to drop energy transport assets.
The bottom line is that Kinder Morgan expects the distribution rate from El Paso Pipeline Partners to be increased by 17% in 2012. After several quarters of a distribution increasing at one penny per share per quarter rate, the 2012 second quarter distribution was 55 cents per share/unit, up 4 cents or 8% from the 2012 first quarter and up 14.5% from a year earlier.
Gazing into the crystal ball
It will be interesting to see where Kinder Morgan goes with El Paso Pipeline Partners. The MLP currently works only in the natural gas game - with 88% of revenue from pipelines and the balance from liquid natural gas (LNG) operations. Over 90% of revenue is from capacity reservation charges. Will this MLP stay focused on natural gas or will Kinder Morgan throw some other types of revenue streams into the mix?
With a distribution yield right at 6%, El Paso Pipeline Partners is attractively priced on a yield plus distribution growth basis. Existing investors should be happy with their investment. As a new investor, does the natural gas focus fit well into your portfolio or would one of the larger, more diversified MLPs, such as KMP, make more sense?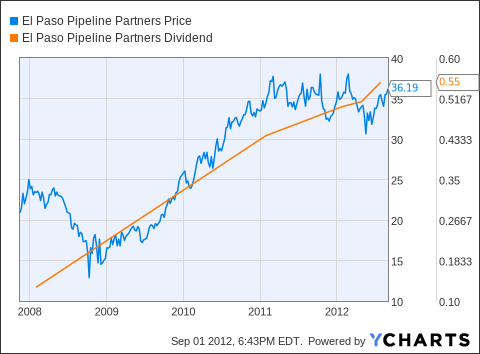 Disclosure: I have no positions in any stocks mentioned, and no plans to initiate any positions within the next 72 hours. I wrote this article myself, and it expresses my own opinions. I am not receiving compensation for it (other than from Seeking Alpha). I have no business relationship with any company whose stock is mentioned in this article.
Additional disclosure: This article discusses an MLP investment. LP companies have units and pay distributions. I may use the terms shares and dividends, but this is in the common use sense. MLP distributions are treated significantly differently for tax reporting. Understand the tax ramifications before buying units of any listed MLP/LP.