On August 23, QEP Resources (NYSE:QEP) announced a $1.38 billion asset acquisition in the Bakken and Three Forks Sanish (TFS) plays in the South Antelope area of the Williston Basin. The transaction implies a record-setting valuation of $40,000-$43,000 per undeveloped acre or $6.0 million - $6.5 million per undeveloped drilling location and provides an important reference point for gauging asset values within Bakken-focused E&P portfolios.
A significant portion of Kodiak Oil & Gas's (NYSE:KOG) acreage has similarities to the leasehold being acquired by QEP. However, in order to derive meaningful value implications, a detailed comparative analysis on a property-by-property basis is required. In Part II of this note, I go through each of Kodiak's operating areas in detail and draw parallels and distinctions versus the South Antelope block. I also discuss how the implied return metrics from the QEP acquisition can be applied to estimate potential value of Kodiak's acreage in each operating area. Here, I provide the summary results.
In my analysis, I use a valuation approach based on threshold rate of return required by the M&A market (in my view, transaction-implied per-acre or per-location multiples are not directly applicable). I estimate that QEP's South Antelope acquisition implied a rate of return to the buyer in the low 20% range based on readily identifiable drilling locations, flat $90 WTI, $11 million average drilling and completion costs per well, and an accelerated development plan. Using the QEP transaction as the valuation reference point, I assign values to Kodiak's undeveloped acreage such that a potential asset acquirer would see a 20% return under similar assumptions.
The undeveloped acreage is the biggest, albeit the most contingent and difficult to appraise, component of Kodiak's asset value. The company's acreage in the Koala, Polar, Smokey, and, to some degree, the Dunn County operating areas is comparable to the South Antelope block (Kodiak leases are shown in the picture below, the South Antelope property is located half way between Kodiak's Smokey and Dunn County areas).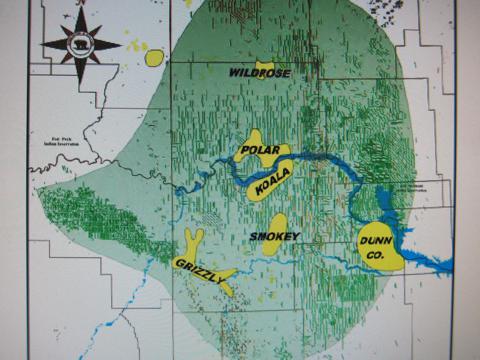 (Source: Kodiak's August 2012 Presentation)
The South Antelope well results appear to be stronger on average than those for Kodiak's acreage, which I factor in the estimated EURs in my analysis. Another significant difference is in the degree of delineation, particularly in the Three Forks interval. Helis Oil & Gas, the selling operator of the South Antelope property, has completed most of their wells in the deeper Three Forks zone (to HBP both horizons). With 27 "modern" wells (long laterals with multi-stage, high proppant-volume stimulations) and 20 older-generation wells, the 92-section (gross) South Antelope block is essentially fully delineated in the Three Forks. Each TFS well provides rich geophysical data about the overlaying middle Bakken interval supplementing the production results from the seven "modern" middle Bakken producers as well as a dozen older wells. The aggregate data gave QEP confidence in the property's productivity in the middle Bakken despite the low well count. By contrast, the majority (over 75%) of Kodiak's wells have been completed in the middle Bakken, providing no additional information about the deeper TFS interval. While there are reasons to expect that the TFS zone may be highly productive across a significant portion of Kodiak's acreage, judging by several excellent TSF wells drilled by Kodiak and other operators in the vicinity, the discount to the potential Three Forks value can only be eliminated by a more detailed delineation (may require one to two years of drilling to complete).
Below is the valuation summary by major asset category. The analysis is based on the assumption that the Three Forks interval is prospective and productive across most of Kodiak's operating areas (as detailed in Part II). This assumption, until validated through additional drilling, bears geological risk. The differential between the low and high ends of the range is attributable mostly to the uncertainty with regard to EUR estimates, particularly in the Three Forks. The range should narrow as additional drilling results become available.
Developed Assets: $925 million - $1,025 million. Includes proved developed reserves, wells in progress and production infrastructure. The lower end reflects estimated PV-12% value of developed reserves at flat $90 WTI; the higher end reflects the $860 million PV-10% value of developed reserves as of June 30, 2012 provided by the company (page 26 of Kodiak's August 2012 presentation).
Undeveloped Acreage: $1,635 million - $2,850 million. The valuation is based on a 20% required rate of return to potential acquirer in an asset transaction which is derived from the analysis of the South Antelope acquisition. Detailed property-by-property valuation is discussed in Part II of this article.
Total Asset Value: $2,560 million - $3,875 million.
Net Liabilities: $774 million. Includes $806 million Senior Notes and 6 million ARO, net of the working capital surplus of $20 million and long-term mark-to-market hedging gains of $18 million, as of June 30, 2012.
Net Asset Value: $1.8 billion - $3.1 billion.
Market Value of Equity: $2.4 billion ($8.94 KOG closing price per share as of 8/31/2012 and 268 million fully diluted shares as of June 30, 2012).
The results of this analysis have several notable implications.
The analysis indicates that the aggregate $1 billion price that Kodiak paid in three recent transactions for the properties in McKenzie and Williams counties may prove (through additional drilling) to be attractive, particularly in light of the high price that QEP agreed to pay for the South Antelope property.
The analysis illustrates valuation uncertainties and property performance risks that even the most geologically "in-the-know" acquirers face when paying a high price for unproven assets in a highly competitive M&A environment. For undeveloped acreage in delineation stage, the gap between full potential value and conservatively discounted value can be very wide.
For Kodiak, the results of the analysis imply that a meaningful premium to the company's current stock price in a potential M&A transaction would require from the acquirer a leap of faith with regard to the EURs and Three Forks prospectivity. From that perspective, a takeout event is not very probable for the time being.
Another year of drilling should help Kodiak tremendously in proving up the value of its assets and reducing potential discount. In addition, as more operating knowledge is accumulated in the recently acquired core areas, Kodiak may be able to perfect its completion techniques and surprise to the upside with regard to the EURs.
The QEP transaction highlights value within property portfolios of several companies that have acreage immediately adjacent or comparable to the South Antelope block. These include ConocoPhillips (NYSE:COP), Hess (NYSE:HES), Continental Resources (NYSE:CLR), WPX Energy (NYSE:WPX), EOG Resources (NYSE:EOG), Enerplus (NYSE:ERF), and Newfield Exploration (NYSE:NFX). Newfield, Enerplus, WPX and Continental offer the greatest exposure on a per share basis. On the smaller cap side, Triangle Petroleum (NYSEMKT:TPLM) has significant for its size leasehold interests in the McKenzie and Williams counties although its acreage is scattered and often non-operated. The picture below highlights some of the operated acreage positions around the S. Antelope (Helis) area shown in the red rectangle.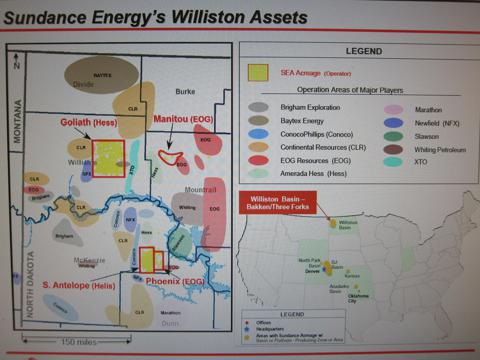 (Source: Sundance Energy S. Antelope Divestiture Presentation, August 2012)
It is important to note that the valuation approach I am using has relevance in the context of an M&A transaction but does not readily translate into a measure that would be applicable to the public market stock price analysis. There are several reasons for that:
Stock price reflects the value of a business (with its specific operating plan and evolving asset portfolio), whereas in this analysis, I estimate the value of assets from a viewpoint of a strategic acquirer and under a different set of operating assumptions.
Stock price reflects the company's ability to create value through proactively responding to changing business conditions and undertaking strategic initiatives (Kodiak has made many transformative moves in the past four years). The value of that benefit is partially offset by the negative impact of the corporate G&A. Neither of the two components is relevant to the asset value analysis.
Finally and most importantly, the stock price reflects a rate of return required by the public equity market for the set of risks inherent in the company and its industry sector. That rate of return may differ substantially from the one that corresponds to the 20% return at the well level I am using as the benchmark.
Disclosure: I have no positions in any stocks mentioned, and no plans to initiate any positions within the next 72 hours. I wrote this article myself, and it expresses my own opinions. I am not receiving compensation for it (other than from Seeking Alpha). I have no business relationship with any company whose stock is mentioned in this article.
Disclaimer: This article is not an investment recommendation and does not provide a view on the value or price direction of any security. Any analysis presented in this article is illustrative in nature, is based on an incomplete set of information and therefore has limitations to its accuracy, and is not to be relied upon for investment decisions. Please consult a qualified investment advisor.