Since our last report on the Vodafone Group (NASDAQ:VOD), in which we suggested a limited upside potential for the stock, it is down almost 2.5%. Despite VOD's strong global brand presence, and its existence in emerging markets, the company has suffered from weaker spending in Europe by consumers, as well as a slowdown in India; these have reflected adversely in the company's financials. We reiterate our previous 'limited upside' stance on the stock; however, it remains attractive from a dividend perspective, currently yielding 5.5%, which is well-backed by its operating cash flow yield of approximately 14%.
Vodafone Group , a U.K.-based telecommunication company, with operations in over 30 countries, serves more than 400 million customers worldwide. It is a global telecom giant with a significant presence in countries like Germany, Italy and Spain, as well as India, Africa and the Middle East. It is a $143 billion enterprise, with its shares currently trading near $29.
The group derives its revenues from two segments, Europe and Africa, and the Middle East and Asia Pacific, with a total market share of 35% in Germany alone. The company has had tremendous success in terms of customer additions in India, and as of March 30, 2012, the company had a total of 150 million customers in India alone. Latest quarter's results, reported by the company, were disappointing across Europe, which suffered from a drop in revenues of almost 8%. However, an unfavorable exchange rate movement largely led to this decline. Germany, which continues to be the major revenue contributor to the company, showed strength on an organic basis, with its revenues improving by 4% in the first quarter, after the year end in March. As at the quarter ended June 2012, the company had almost 36 million mobile customers in Germany, which along with high smartphone penetration, and an increase in smartphones sold, led to the revenue growth. The company's operations in both Spain and Italy showed deterioration, largely due to the persistent economic weakness and the resultant weaker spending by consumers. Both operations experienced a decline in revenues of 17% and 15%, respectively. The group has significant exposure to the prepaid mobile market, and apart from India, Greece and Egypt, it has suffered from customer losses with major losses coming from Europe. Offsetting these customer losses was the group's AMAP segment, which added almost 3.3 million to its mobile customer base.
As mentioned previously, VOD has significant exposure to the prepaid market (80% as at quarter ended June 2012), and with that significant exposure, the group will likely suffer a great deal from the push towards a reduction in mobile termination rates. Even though the decision to cut termination rates by the Competition Commission has been welcomed by companies like BT and 3UK, Vodafone has contested the decision, arguing that it will hurt its prepaid customers. The U.K. telecom regulator, Ofcom, earlier told operators they had to cut down termination rates by almost 10% by 2014. Termination rates are basically the charges that one operator charges to another for connecting or terminating calls to its network. What this reduction in termination rates means for Vodafone is that it will become even more difficult for the company to keep subsidizing the cost of the phones it sells to its customers, because eventually it will pass on the costs to its customers, making it more expensive to own phones.
Table: Quarterly Churn Rate showing an overall disappointing trend (company results)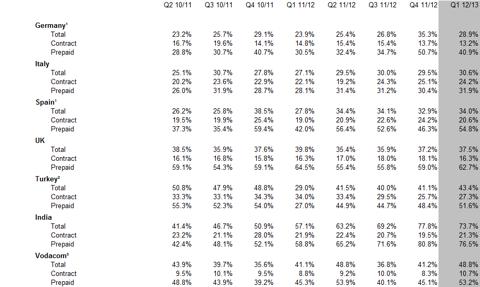 The table above gives a very clear picture of the company's struggles in terms of its key business metrics. One such metric is the churn, which has increased across almost all the regions of its operations. With the exception of the U.K., the company struggled from equally deteriorating churn percentages in prepaid and postpaid markets. With a group as diversified as Vodafone, one can expect poor results in an economically depressed region like Europe to be offset by higher growth markets like India and the Middle East, but that hasn't happened with the growth slowing in those regions.
It is clear from the table that India, which is a high growth market for the group, hasn't quite produced the results that the company was expecting, to offset the slowdown in Europe. In the quarter ended June 2012, total mobile customer churn in India increased to 73% from 57% a year ago, due to a significant increase in churn in its prepaid market. To aggravate the situation in India, the country intends to tax Vodafone on its acquisition of a Hong Kong-based company that had assets in India. According to Reuters, it could set back the company by over $2 billion in taxes.
Another key metric, average revenue per user, decreased in almost all regions, which signals the extent of the problems faced by the company.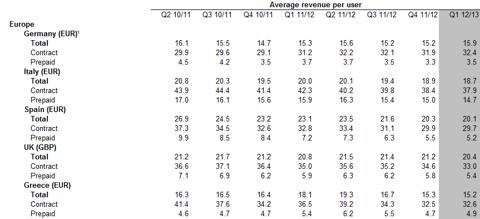 Source: Company Results
Tough economic conditions in Europe and weaker consumer spending have forced the company to cut its medium-term outlook, and write down the value of assets by almost $6.3 billion, which is a reason behind the drop in quarterly organic growth. The problem the company is facing is that despite the growth in revenues and stable margins, it hasn't been able to translate that growth into earnings growth. Despite the upward trending revenues since FY2010, its earnings have kept on contracting.
Despite the soft results produced by the company, it has been able to grow its dividends on a consistent basis (see chart below), which is always a plus in a low yield environment. The stock currently yields 5.5%, which is well supported by its operating cash flows. The latest dividend also includes a special dividend of 4 pence per share. In the financial year ended 2012, the company paid a total dividend of almost 6.6 billion Pounds, and generated almost 13 billion Pounds in operating cash flows, which indicates the company's ability to keep paying out dividends with its operating cash flows. Net change in cash after foreign exchange effects was 880 million Pounds as at the financial year ending 2012.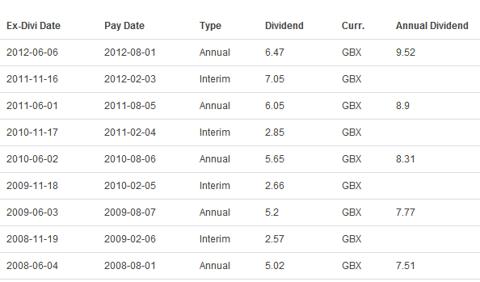 Source: www.stockopedia.co.uk
| | | | | |
| --- | --- | --- | --- | --- |
| | P/E[TTM] | P/S | YTD (%) | Gross Margins |
| VOD | 14X | 2X | 3.90% | 32% |
| TEF | 3X | 0.7X | -26% | 70% |
| FTE | 8X | 0.6X | -11% | 56% |
The stock is trading at 11 times its forward earnings, 66% higher than Telefonica's (NYSE:TEF) forward P/E as well as 30% higher than France Telecom's (FTE) forward P/E. Moreover, its trailing P/S multiple of 1.95x is also at a premium to the industry multiple of 1.3x, which indicates that the stock is currently overvalued. Stock performance on a YTD basis hasn't been so impressive when compared to other global telecom operators, and going forward, we expect the upside potential to be limited.
Disclosure: I have no positions in any stocks mentioned, and no plans to initiate any positions within the next 72 hours.
Disclaimer: The article has been written by Qineqt's Telecom Analyst. Qineqt is not receiving compensation for it (other than from Seeking Alpha). Qineqt has no business relationship with any company whose stock is mentioned in this article.