I would like to claim that I was prophetic, that Monday's post was a brilliant prognostication. But it wasn't, it was just common sense analytics combined with lucky timing. Even so, it was good to see today's reversal, and across all sectors. It appeared that the session started out with more of the same old pattern of an early sheepish surge followed by the Bears taking control and dragging the markets down.
As you might expect, I was monitoring Apple (NASDAQ:AAPL) along with the Wilderness Investors Group, while keeping a finger on the pulse of market internals. Then out of nowhere there was a sudden reversal. The Bulls had had enough, capitulation time was here! But was it the real deal? The move was sharp off the bottom, and all the technical factors were in place, so I issued a long alert for AAPL.
Then about 2 points into the rally, I noticed that the advance-decline line across all markets had not improved one iota. I immediately urged members to abandon the alert as a false alarm. And things leveled off for a time, it looked like the right thing to do. In fact AAPL started to consolidate into a descending wedge, a pattern that usually precedes a move downward.
To my surprise, AAPL and the markets picked up steam and never looked back. Some investors stuck with the original trade, others exited with only small gains. I guess I have become shell-shocked over the past several weeks and perhaps a little over-cautious, a little fast to pull the trigger.
(click to enlarge)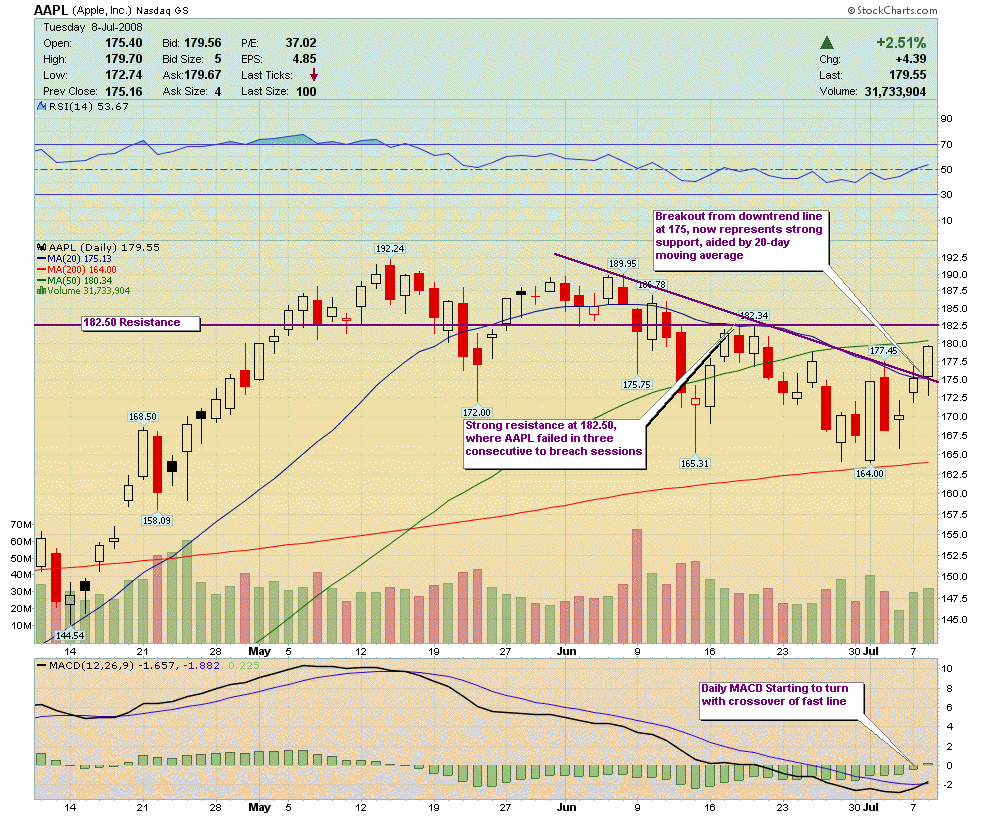 The Nasdaq was definitely the leader, although the reversal was broad based. Market internals gained through to the end of the session as well. This is important, because without broad-based health in market internals there's little chance that such a reversal will stand future tests. Ben Bernanke's comments help lift the financials, like JPMorgan Chase (NYSE:JPM) up 4.5%. It was good to see, as many of the financial leaders skirted certain defeat. Will they maintain this leg up? That will depend on how they perform going forward, will they be able to ward off a breakdown in the face of another market selloff? If they do, that would be very bullish and a strong confirmation that this reversal was the real deal.
So, what are some of the factors that would lead me to believe that there is a true reversal in place? Well, we need to get confirmation that the markets can sustain this move, and that means we need a few consecutive up days. Recent reversals have all failed. One clear plus would be to get the MACD on the daily charts to turn and start moving up. The weekly charts are showing positive divergences, now we need the dailies to join the poker party. If this happens, then it will be time to go all in, as they say in Texas Hold-em. How long has it been since we've been all in? Man that would feel good!
There are barriers to overcome before things get going though. The Dow is still in poor shape, with resistance at 11,635 and monster resistance at 11,750, the January and March lows. The S&P is just under the march low at 1275 and strong resistance at 1316. The Naz, which is currently at 2294, has strong gap resistance at 2350. The markets should be able to make good advances towards these levels due to the oversold conditions, and hopefully this will provide the lift that AAPL needs to shoot through it's own 50-day moving average at 180.34 and strong price support at 182.50. Although with the iPhone 3G release coming on Friday, there's plenty of wind under Apple's sails as it stands.
Market guidance and several rally stock alerts will be on deck for members of the Wilderness Investor Group to consider today (Wednesday, July 9). Check it out, it's FREE! There are great discussions among many talented investors. Even if you aren't inclined to join the conversation, you can learn a great deal about how professional investors go about their business.