On May 24, 2012, I wrote "As Gold and Silver Reawaken, It Is Time to Buy Cheap Miners like Pan American Silver." I relayed the case for the cheapness of the valuation on Pan American Silver Corp. (NASDAQ:PAAS) from former Board Member Bill Fleckenstein ("Fleck"):
Its "…market capitalization, for example, is so low you could buy the whole operation, sell off just the gold it recently acquired from its Minefinders acquisition and make a profit on your purchase, and you'd still own rest of the company…"
Three months later, PAAS is essentially flat with the late May levels and traded even lower at one point in July.
Click to enlarge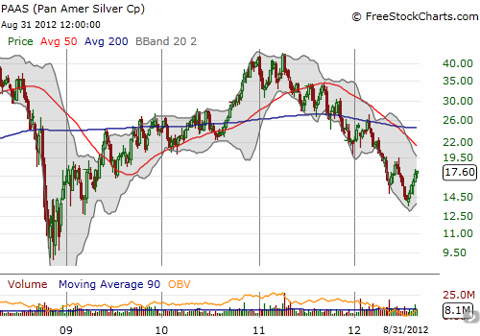 Click to enlarge
PAAS has followed silver prices downward, but its steep descent dropped it to 3 1/2 year lows at one point this year
Fleck recently updated his case on PAAS's cheap valuation. In this piece, he gave a very brief review of PAAS's most recent earnings report on August 15th. I decided to read the transcripts (posted on the company's website) for myself, particularly given my interest in the details regarding the company's political wrangling in Argentina and Bolivia.
First, why bother with a silver miner that is experiencing operational difficulties due to political turmoil? I think the company's description of itself provides a good summary of the attraction for investing in PAAS (with the potential exception of the Navidad mine):
Diversified political and economic exposure in Latin America
Industry-leading team with vast experience in mine development & operation
Reliable operational and financial performance
Strong financial returns and superior balance sheet
Core assets with exceptional exploration potential
Long-life silver resources (+1 billion ounces of silver in resources, including P&P reserves)
Outstanding growth profile (with Navidad & La Preciosa)
Unhedged exposure to strong silver & gold prices
PAAS's 6.4M ounces of silver production last quarter was its second highest total ever. The recent acquisition of Minefinders in Mexico generated 3.3M ounces of this production. The 32,244 ounces of gold was the company's best gold production ever. This performance helped PAAS build up $520M in cash and $770M in working capital. PAAS generated higher than expected inventories of silver and gold, but the company expects to draw this down significantly in the near future.
PAAS has received "clarity on the timing of repatriations required under Argentine law" and expects to normalize inventory at its Manantial Espejo mine "over the coming months." At the newly acquired Dolores mine in Mexico, PAAS experienced a buildup of inventory from integration hiccups. However, the company does not "…anticipate any further delays in sales at Dolores and would expect that sales volumes would approximate production volumes each period." In the previous quarter, Dolores delivered 924K ounces of silver at a cost of $2.06/ounce.
The company remains on target to produce 24.25-25.5M ounces of silver "…at a cash cost between $11.50 and $12.50 per ounce net of byproduct credits." Spot silver is currently priced at $31.72/ounce.
PAAS is currently valued at only $2.68B, paying a 1.1% dividend yield. PAAS started paying a dividend in 2010. The board just approved the company's third increase since then. PAAS may further increase the dividend in another two quarters if by then the company is not able to deploy cash for working certain mines.
The price-to-sales ratio for PAAS is 2.9, and its price-to-book ratio is 0.93. The company is extremely cheap on a historical basis. On an annual basis, over the last 10 years, PAAS has never been this cheap. PAAS referenced this discount in announcing another buyback and dividend increase (emphasis mine):
"As we previously announced and consistent with the theme of returning value, we re-started our share repurchase program in late May, having stopped the program late last year during the period of time that was required to complete the acquisition of Minefinders. We continue to firmly believe that the current market price of the Company's common shares does not reflect the underlying value of our operations, our properties, and our future growth prospects. We have now completed this program, perhaps one of the few or even the only mining company to have announced a share repurchase program and actually then executed it…

…We intend to apply for approval to buy back an additional 7.6 million shares, as it remains our belief that equity valuations do not currently reflect the economic reality of our business, and therefore reducing our issued and outstanding share balance at these levels represents a compelling way to return value to our shareholders."
PAAS spent an average $18.08/share to buy back 1.3M shares last quarter. PAAS has spent $124.9M to buy back a total of 5.4M shares on the current repurchase program.
Troubles in Argentina and Bolivia have helped drive PAAS to its current low valuation.
"Stringent importation, revenue repatriations and currency restrictions, along with the severe inflation [running at close to 25% over the last 3 years], have all impacted our business in Argentina, and our teams are spending an inordinate amount of their valuable time trying to manage these realities in a safe and prudent fashion…In the face of this uncertainty, coupled with the recent headline project capital blowouts, we are proceeding extremely cautiously with our businesses in Argentina on all fronts."
Navidad is the troubled mine in Argentina. PAAS has been working with the government there for 2.5 years to get mining started. The governor of the province with the mine introduced enabling legislation that also included unexpectedly large new tax burdens:
"This level of government participation and tax burden is unprecedented relative to any of the other jurisdictions where Pan American operates, including the Province of Santa Cruz in Argentina, where the Company's Manantial Espejo mine is located."
PAAS determined that the additional government burdens render the Navidad mine uneconomical when combined with Argentina's high inflation and a "reasonable estimate of long-term silver prices." PAAS is confident that the government did not intend to force PAAS to shut down the mine and remains hopeful that the legislation will get changed. The stakes are high: "Navidad is still one of the best undeveloped silver deposits in the world today." PAAS expects more clarity on Navidad by the end of the year.
In Bolivia, PAAS was forced to make higher payments to the Bolivian government, its joint venture partner in the San Vicente mine. PAAS maintains strong and positive working relationships with the local government there. (PAAS management is tops in the industry). PAAS was able to produce 928K ounces of silver at a cash cost of $18.21/ounce compared to 897K ounces with a cash cost of $12.85/ounce a year ago.
PAAS faced additional challenges in the second quarter. The drop in silver prices reduced earnings, an impact felt across the industry. PAAS lost $9.6M on concentrate contracts priced in the first quarter when the prices for silver and base metals were higher. Costs have also escalated industry-wide. PAAS paid an average 7% more in per tonne year-over-year. Costs were driven higher by government action as mentioned earlier and harder than expected ore at the Alamo Dorado mine. Finally, "…as expected, higher levels of depreciation attributable to the Dolores mine were evident in Q2 2012, thereby reducing our overall mine operating earnings." Most importantly, PAAS expects to hold costs down to its original forecasts.
Since some of the challenges that have hit PAAS have also hit its peers in the industry, some junior miners have also become extremely cheap. PAAS's strong balance sheet puts it in a prime position to take advantage of the bargains out there. PAAS is now considering some additional acquisitions, especially if its Navidad mine remains shuttered:
"…it has not gone unnoticed that there has been a huge revaluation of the assets and companies within our sector over the last nine months, particularly in the junior exploration and junior development stage category. Opportunities that, in our opinion, were incredibly overvalued, have now become interesting, and we will be looking closely at these over the coming months.

While we have no intention whatsoever of using our stock, we do have a considerable cash reserve that could be deployed for the right opportunity in the right jurisdiction…Now with Navidad potentially sidelined or at least delayed, it now makes sense to look elsewhere for growth, and from a market and cost perspective the time is right."
This interest makes sense given PAAS also expects silver to "move solidly upward later this year." Using iShares Silver Trust ETF (NYSEARCA:SLV) as a proxy, the weekly chart below supports the company's expectations. After a persistent downtrend from the 2011 peak, SLV finally looks ready to break out.
Click to enlarge
SLV is on the verge of a breakout from a long downtrend
Source: FreeStockCharts.com
Silver surged on August 31 by 3.9% as the market responded positively to Ben Bernanke's speech at Jackson Hole. Assuming the accuracy of this interpretation for imminent easing by the Federal Reserve, the current discount on silver and PAAS are not likely to last much longer. I continue to be a buyer on the dips.
Disclosure: I am long PAAS, SLV. I wrote this article myself, and it expresses my own opinions. I am not receiving compensation for it (other than from Seeking Alpha). I have no business relationship with any company whose stock is mentioned in this article.