Microsoft (NASDAQ:MSFT) investors have had a very unexciting six months as the stock has traded in a narrow $28 to $32 a share range. However, given recent and upcoming catalysts this cheap stock should be ready to break out of its recent doldrums and take its next leg higher.
Positive catalysts for Microsoft:


"Microsoft Corporation develops, licenses, and supports a range of software products and services; and designs and sells hardware worldwide." (Business description from Yahoo Finance)
5 additional reasons MSFT is worth more than $30 a share::

The company has over $50B (Enough to close California's budget gap for the next four years) in net cash on its books which represents approximately 20% of its market capitalization.
The company has become a consistent dividend payer. The stock yields 2.6% and has grown its dividend payout at better than 14% annual pace over the past five years.
The company is selling near the bottom of its five year valuation ranged based on P/E, P/S, P/B and P/CF.
Subtracting cash, MSFT is selling at just 7.5 times forward earnings.
The stock looks like it has medium term technical support at just under these levels and is solidly over its 200 day moving average (See Chart)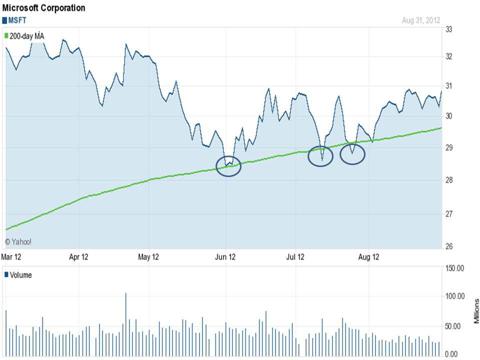 Disclosure: I am long MSFT, NOK. I wrote this article myself, and it expresses my own opinions. I am not receiving compensation for it (other than from Seeking Alpha). I have no business relationship with any company whose stock is mentioned in this article.