Industrial REITs are performing well and the $20 billion sector has produced a combined year-to-date total return of 16.54 percent. The seven REITs in the industrial sector are paying an average dividend yield of 3.49 percent.
One leading performer for the industrial sector is Monmouth Real Estate Investment Corporation (NYSE:MNR). The Monmouth County, New Jersey based REIT is paying a current dividend yield of 5.37 percent and the REIT has returned an extraordinary 46.29 percent (year-over-year). Monmouth has extraordinary track record of sustainable dividend performance (Monmouth has never cut its dividend).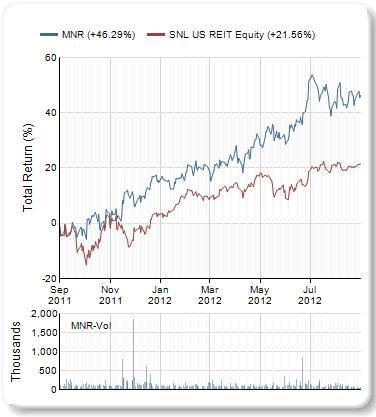 Recently I caught up with Monmouth's founder, chairman, president, and CEO, Eugene W. Landy. In an exclusive TheStreet.com interview, I was able to gain insight into Monmouth's dividend performance and the details of the stalwart REIT's exceptional results and durable income performance.
Brad Thomas (Contributor for TheStreet): The industrial sector is among the most stable, low-volatility asset classes in the United States (as evidenced by the sector's historical occupancy rates of roughly 88 percent-92 percent). How do you feel about the industrial market today?
Eugene W. Landy: The industrial market should strengthen. The amount of industrial space needed varies directly with our gross domestic product. If the gross domestic product increases 20 percent in ten years, then the nation should need 20 percent more industrial warehouse space. There is little new supply being built. Therefore, we are optimistic about the market for our buildings now and ten years from now.
Thomas: Monmouth is one of the oldest REITs in the United States and the company is celebrating its 45th year as a focused net-leased industrial REIT. How have you been able to weather the storms for so long?
Landy: Our philosophy is that real estate is a great investment vehicle. The basics are in favor of long-term real estate investment. The U.S. population grew 150,000,000 in the last fifty years and will grow another 150,000,000 over the next fifty. Inflation since 1982 is 230 percent. The trend is with you. The most important factor is surviving any periodic economic crisis. The task is to maintain a very conservative balance sheet so that cash is always available to meet obligations.
Thomas: Monmouth has a very stable portfolio of around 70 industrial properties and around eight and a half million square feet. Many strong tenants including FedEx (NYSE:FDX), Siemens (SI), Anheuser Busch (NYSE:BUD), Caterpillar (NYSE:CAT), Coca-Cola (NYSE:KO), Keebler-Kellogg (NYSE:K), Sherwin-Williams (NYSE:SHW), United Technologies (NYSE:UTX), and others. A majority of your revenue is derived from FedEx, what is the attraction to the company as it relates to the concentration of FedEx?
Landy: FDX is a very well-run company. Its business is state of the art. The computer and the Internet have revolutionized logistics and retailing. The nation shops on-line and ships FDX. Our policy is to never turn down the opportunity to acquire a good FDX leased property, so we work very hard to do both FDX and non FDX deals.
Thomas: Monmouth has maintained a conservative capital structure consisting of around $250 million in debt, $110 million in preferred equity, and $450 million in common stock. You have a spectacular debt-to-market cap ratio of under 30 percent. Has your balance sheet always been that way?
Landy: Not always. When we were an $80 million asset REIT, we had $40 million in capital. That was conservative, but not as conservative as we are today. We believe perpetual preferred provides long-term capital and enhances common stock long-term returns.
Thomas: Monmouth is unique in that the company owns around $45 million in REIT securities. What is your investment strategy relating to this REIT ownership?
Landy: Our program of "REITs investing in REITs" continues to be successful. It is based on the simple premise that, when REIT shares sell at a discount from net asset value, they become excellent investments. There is an improvement in the yield and there is improvement in the safety of the investment. Investors invest for current yield plus appreciation. Appreciation is the future increase in value of the properties over an extended period of time. When you purchase REIT shares at a discount to asset value, appreciation can be both future gain and the realization of the current discount. We buy securities for yield spread investing, appreciation and liquidity. Liquidity is paramount to operating a REIT through multiple business cycles.
Thomas: Monmouth has a market cap of around $453 million and the stock is trading at $11.21 per share. This translates into a dividend yield of 5.35 percent. Also, year-over-year total returns are exceeding 44 percent. Clearly, Monmouth is hitting all cylinders. Do you see any risks that could impact your investment platform?
Landy: There are many favorable trends. The industrial market is getting stronger. Our borrowing costs are lower. We have a large pipeline of acquisitions. Of course, there is always the risk of unanticipated difficulties. That is why you maintain liquidity.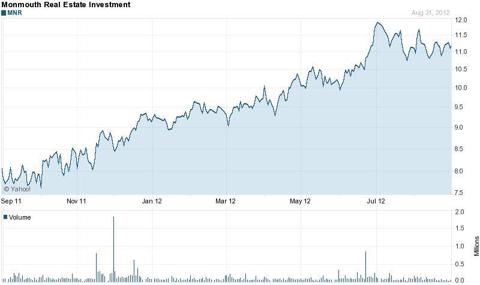 Source: SNL Financial, Yahoo Finance, and NAREIT
Disclosure: I have no positions in any stocks mentioned, and no plans to initiate any positions within the next 72 hours. I wrote this article myself, and it expresses my own opinions. I am not receiving compensation for it (other than from Seeking Alpha). I have no business relationship with any company whose stock is mentioned in this article.