The airlines are in trouble – no doubt about that. The airlines operating in the US are facing legacy costs in the form of pensions, rising fuel prices (fuel is 60% of operating costs for airlines), and a weakening consumer. Yes, things are bleak for the airlines of the United States, but I don't buy the argument that things are as bleak for Boeing (NYSE:BA). Ever since Goldman Sachs (NYSE:GS) added BA to their conviction sell list on June 25, the stock has been in freefall – and at $65 I think it's a darn good bargain.
Overview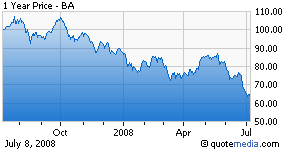 Boeing is the world's largest aerospace and defense company (second largest according to some sources). Moreover, Boeing operates in over 90 countries and is American's largest exporter, according to Wikinvest.com. Boeing gets 50.3 % of its revenue from commercial airplane sales, 48.3% from integrated defense sales, and 1.2% from leasing small aircraft.
Commercial Planes
Boeing has one main competitor in the 100+ seat aircraft business, Airbus. The competition there has caused resulted in some margin compression, but I think that the introduction of the 787 Dreamliner – scheduled to test fly in Q 4 2008 and start deliveries Q3 2009- will give Boeing the competitive advantage to leave Airbus behind. Unfortunately, the 787 has been delayed three times so far, marred by the fact that 75% of the 787's production is outsourced. But when the plane finally gets launched it is going to be awesome – this coming from someone who is afraid to fly.
Aside from looking cool, the 787 is a lot lighter than the competition and will consume 20% less fuel than the 767, making the 787 a far more cost-effective plane. There are already 892 unfilled orders for the 787 – which means Boeing will have its hands full for many years. All and all Boeing has a backlog of $346 billion in orders – and that is why I am not worried about problems with the Airline Industry. Several US airlines can cancel their orders before Boeing will have trouble selling their planes. A $300 billion-plus cancellation is not an issue for me – I simply do not believe it can happen to BA. Not when two-thirds of their orders come from foreign countries where the air travel industry is booming.
Throughout Asia and the Middle East, air traffic is on this rise and there are only 2 companies in the entire world that make 100+ passenger planes. The weak dollar makes BA more competitive.
Integrated Defense Systems
Boeing also receives about half its revenue from the IDS. The company sells a variety of planes (F-22), helicopters (Chinooks) and missiles (Harpoons) to the US. The war in Iraq has drastically increased the demand for BA's products and this demand could wane if politicians try to cut defense spending. But I think that is unlikely given the current geopolitical situation and the strong lobbying of BA in Washington.
More interesting is the tanker deal that Boeing lost to an Airbus subsidiary and has consequently disputed. The deal is worth about $21 billion in revenue, and the decision is currently under review with a decision deadline of Aug 21. I think this ruling, if favorable for BA, could be a great catalyst for the stock. So keep your eye on news as this situation develops. I have a gut feeling that this ruling is going to be heavily influenced by Boeing's very prominent team of Washington lobbyists and I want to profit from this pork. Hey, they are my tax dollars - I think I deserve some pork.
The Numbers
Boeing trades for about 11 times next year's earnings and sports a nice .80 PEG. Unfortunately the company has a relatively unattractive profit margin of 6.5%, but the margin has been increasing lately. The company does pay a dividend of about 2.5%, but I do not like BA as a dividend stock, I like BA for its EPS growth potential. Boeing also has a healthy $9.6 billion in cash and a market cap of $48 billion.
What the Company is Undervalued
Because Goldman added them to their conviction sell list and the herd got upset. But really, there has been some bad news recently, the tanker contract, the 787 delays, but I think that BA was sold off too much and people are unfairly worried about BA losing orders because of high oil prices. With a $300 billion backlog ($174 billion of which is commercial planes), the air traffic boom in Asia and a  fuel efficient plane launching, I think BA is fine and there has been too much panic selling. Also people take analysts at institutions way too seriously - when I heard Goldman downgraded BA I was ecstatic, because I knew I could get it much cheaper.
Conclusion
The 787 could flop, BA could lose the tanker contract, input costs could soar (aluminum), and the US could drastically reduce defense spending. But despite these risks I like Boeing's position in the commercial jet arena and I like Boeing's chances at winning the tanker contract. I think there could be a lot more downgrades on the way - especially if oil stays at $140 + - so don't buy this one all at once (though at 65 it's tempting). But I am not worried because I love the backlog and I love the potential of the 787. There are risks, but it's called a risk premium for a reason and I think BA offers a very attractive risk/reward ratio.
If you have any questions/comments/just want to tell me to go to hell – feel free to e-mail me at domenic@domenicstrazzulla.com
Also – never invest on someone else's advice – do you own research.
Disclosures- At the time of this article I have no positions, but am planning to be long BA in the near future.