We wrote about DHT Holdings (NYSE:DHT) a couple of months back and suggested buying DHT while shorting the shares of Frontline (NYSE:FRO). Since our recommendation, FRO's share price has dropped from $4.27 to $3.19, a 25% decline. In the meantime, DHT's share dropped from $7.608 to $5.48 and we collected a dividend of $0.24, also a decline of 25%. Needless to say that while the shares of FRO seam to provide a good hedge, we believe that in the long term DHT will outperform FRO.
We have provided our view as to way FRO will probably not survive the current tanker market. In this article we would like to provide some updated figures on DHT and why it will survive the crises.
The following table sets out our estimate of fair value of a DHT share in the current tanker market. Based on our estimates, at current tanker selling prices, the NAV of DHT is $10.35 per share. This value is based on values of approximately $20 million for the 8 year old Aframaxs, $30 million for the 11 year old Suezmax and between $35 and 40 for the VLCCs. In addition, we have provided what we think is the fire-sale/scraping values of the DHT fleet and the corresponding NAV: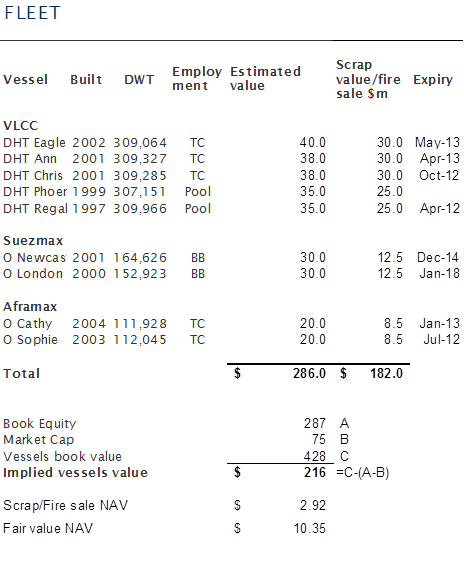 As we stated before, we believe that DHT is worth in the current marker environment approximately $10 (which is about half of its book equity). Since the current share price is significantly lower than our "target" price, obviously investors have concerns regarding the company.
Most of DHT's charters have a rate which is higher than the current market rate. These charters will be terminated between 2012-2018 and the vessels will be re-hired at prevailing market rates. On the other hand, DHT does not have any scheduled debt repayments prior to 2015, which should provide the company with flexibility which most companies do not have.
In order to test this effect on the company's performance, we have provided the following two tables. The first table provides for the company's performance in the next 3 years assuming the current hire rates stay the same (we have modeled VLCC rate at $25,000, Suezmax at $20,000 and Aframax at $12,500). We have accounted also for capex investment in the vessels maintenance and also for the current dividend payments. Based on our estimates, DHT will have no problem to trade in the current market, survive it and reach 2016 with $50 million in cash.
Furthermore, assuming the tanker marker recovers slightly (gradually VLCC rates increase to a modest $35,000, Suezmax increase to $30,000 and Aframax rates to $15,000), DHT will be generating free cash flow, even after paying the current dividend.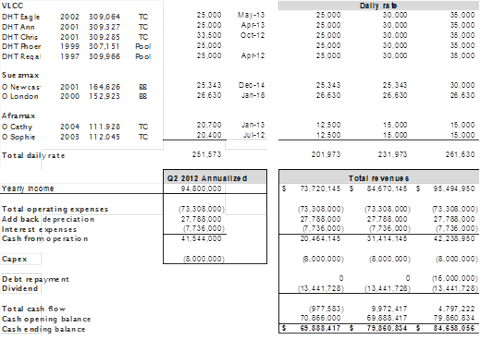 It is worth mentioning that under the assumptions of the second example, when the market is slightly stronger than the current market, DHT will generate great cash flow while FRO will still be in the pricing area where it pays all its cash to SFL.
To summarize, we believe the market is punishing DHT more than it should without accounting for the company specific situation: no debt payments scheduled until 2015, some long term charters at rates above current rates and $70 million cash on hand.
Disclosure: I am long DHT. I wrote this article myself, and it expresses my own opinions. I am not receiving compensation for it (other than from Seeking Alpha). I have no business relationship with any company whose stock is mentioned in this article.
Additional disclosure: I am also short FRO.