MarkWest Energy Partners, L.P. (NYSE:MWE) continues to offer investors a growing quarterly distribution and share appreciation. The midstream master limited partnership currently yields 6.0%. MarkWest has increased the distribution over the past 8 quarters. Management growth initiatives provide the partnership with an asset base to generate higher revenues and increased distributions. MarkWest is a 'must own' midstream operator due to their asset base and lead midstream operator in core midstream markets.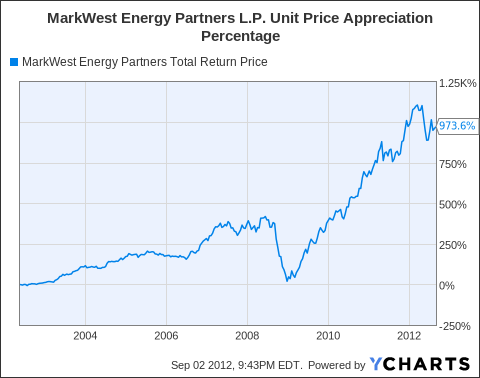 MWE Total Return Price data by YCharts
Growing Distribution and Increasing Unit Holder Wealth
MarkWest has increased the quarterly distribution for 2 years. An investor, who reinvested distributions since the 2002 initial public offering, has recognized an average annual 26.81% return.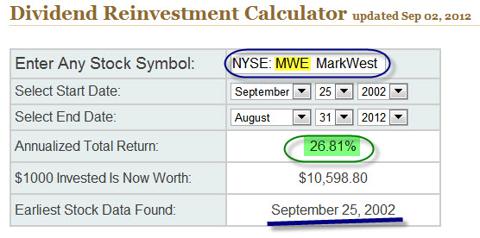 The company has increased annual distributions every year since 2002, except for the 2009-2010 time frame.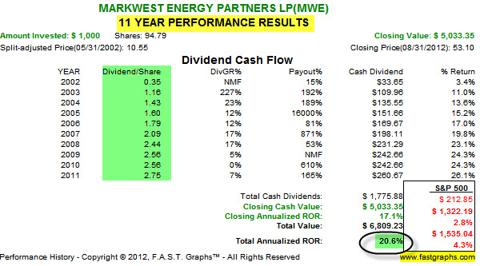 Business Model
MarkWest Energy was established in September 2002. MarkWest Energy provides midstream operations. These activities include the gathering, processing, and transportation of natural gas and natural gas liquids (NYSE:NGLS); and fractionation, storage, and marketing of NGLs; and the gathering and transportation of crude oil.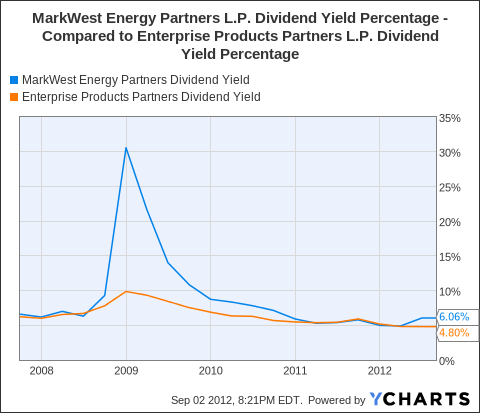 MWE Dividend Yield data by YCharts
Growth Initiatives
MarkWest has midstream assets in core natural gas and NGL midstream locations. The company has a capital expenditure plan to increase cash flow and distributions.
Marcellus
The Marcellus formation is a core component to make MarkWest Energy the largest midstream operator in the United State's Northeast. MarkWest has long term contracts with key producers. MarkWest is expected to have a $2 billion capital expenditure by 2014.
MarkWest recently closed on a secondary offering. The terms were the sale of 6,900,000 common units at $50.72 per common unit. The net $338 million funds will be used for ongoing operation capital expenditures.
Utica Shale
MarkWest is aggressively growing their Utica Shale midstream operations. Utica Shale is considered a major discovery in recent years.
The area holds an estimated fifteen trillion cubic feet of natural gas in Ohio. Drilling indicates the property will be liquids rich.
Chesapeake Energy Corporation (NYSE:CHK) is a major owner of Utica Shale assets. Chesapeake and EV Energy Partners LP (NASDAQ:EVEP), a midstream operator, have established favorable terms for Utica Shale development. A March 2012 agreement signaled the recognition of the Utica Shale as a major asset play. The two entities agreed to a $900 million pipeline deal.
Huron and Berea Shale
MarkWest is the largest processor and fractionator of natural gas in the Appalachia area. Land rights, contracts, and infrastructure provide MarkWest to be a major play in the Huron and Berea Shale. MarkWest is the largest natural gas processor and frationator in the Appalachian Basin. These assets are located in Kentucky, W. Virginia, and Michigan.
Woodford Shale and Granite Wash
These are core assets in the Southwest. These are expected to be long lived assets. Chesapeake Granite Wash Trust (NYSE:CHKR) is a royalty trust with ownership of oil, NGLs, and natural gas properties located in the Colony Granite Wash play in Washita County in the Anadarko Basin of western Oklahoma.
Haynesville Shale
MarkWest has dedicated over 200,000 acres to the Haynesville resource play. This location is in MarkWest's East Texas midstream operations.
Action
MarkWest teaches investors the midstream operators are based on owning core assets in key locations. MarkWest is establishing itself as a core market leader in the major production areas within the United States. This is a long term play on midstream capital expenditures and increasing distributions. The current 6% yield should only increase with time. The partnership is in the right place at the right time.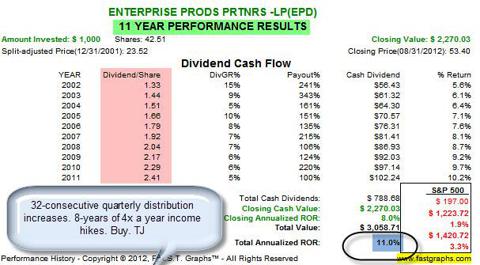 MarkWest remains my second largest midstream investment. The number one midstream asset play continues to be Enterprise Products Partners L.P. (NYSE:EPD). Enterprise Products Partners has increased quarterly distributions for 32 consecutive quarters.
Disclosure: I am long EVEP, MWE, EPD. I wrote this article myself, and it expresses my own opinions. I am not receiving compensation for it (other than from Seeking Alpha). I have no business relationship with any company whose stock is mentioned in this article.