Last Thursday morning, The Gap, Inc. (NYSE:GPS) reported August 2012 net sales that showed surging comp sales for all of the domestic brands. This news sent the stock surging to a new 52-week high of $36.60 before closing at $36.11.
The company is a leading global specialty retailer offering clothing, accessories, and personal care products under the Gap, Banana Republic, Old Navy, Piperlime, and Athleta brands.
With the stock now up 100% for the year, many investors wonder when will the rally end and what could've predicted these gains. At Stone Fox Capital, the one predictive reason all year continued to be the huge Net Payout Yields (NPY). The company had consistently been in the top of the monthly NPY list, telling investors to stay invested.
August 2012 Sales Highlights
Comparable sales for August 2012 were as follows:
Gap North America: Positive 9 percent versus negative 8 percent last year
Banana Republic North America: Positive 8 percent versus negative 4 percent last year
Old Navy North America: Positive 12 percent versus negative 4 percent last year
International: Negative 2 percent versus negative 9 percent last year
For a company that had such a horrible time turning around, these numbers are both exceptional and the product of weak comparisons. Note how all the major retail concepts had significantly negative comps last year.
Net Payout Yields
With the stock taking over the top spot at the Net Payout Yields model at Covestor, the Q2 earnings report was crucial for determining if the company would signal a major slowdown, if not out right elimination of the buyback program.
Anybody following this concept (similar to the Dow of the Dogs) knows that the combined yield of the dividend and stock buyback indicate whether a stock is cheap or expensive compared to its available cash and willingness of management to spend the money on returning capital to shareholders.
The company surprisingly reported a solid buyback of $349M in Q2 at an average purchase price of $26.65. The company mentioned being more opportunistic going forward on stock buybacks. While the NPY concept doesn't rely on planned buybacks, it can be crucial to determining when to unload a huge gain.
Net Payout Yield - Gap
Click to enlarge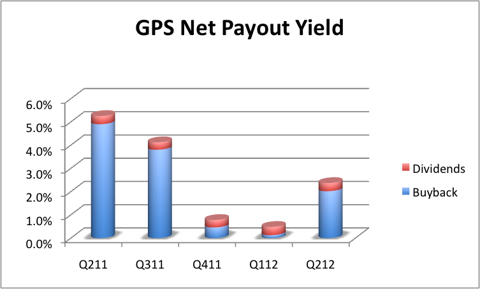 Click to enlarge
Valuation
Considering the lengthy struggles at Gap, or any similar situation, an investor always has to ponder when a turnaround is fully priced into the stock. Will the company see several years of strong comps? Is the 100% stock gain a factor of increasing multiples or the growing earnings?
At a market value of $17B and with three important concepts, Gap is difficult to compare to other stocks. Some worthwhile comparisons are with American Eagle Outfitters, Inc. (NYSE:AEO), Abercrombie & Fitch (NYSE:ANF), and Limited Brands, Inc. (LTD). The latter being as much for comparable market cap at $14B, as composition of sales.
Below is a comparison of forward multiples from other similar retailers:
| | | |
| --- | --- | --- |
| Company | Price/Sales | Price/Earnings |
| Gap | 1.09 | 15.1 |
| American Eagle | 1.25 | 14.6 |
| Abercrombie & Fitch | 0.63 | 11.5 |
| Limited Brands | 1.31 | 15.1 |
Based on these off the rack comparisons, Gap doesn't appear cheap anymore. The company has a lower forward price-to-sales multiple than American Eagle and Limited Brands, suggesting some possible room to gain efficiency via possible higher margins. The price-to-earnings multiple though maxes out with the competition, providing little room for expansion.
Investors looking solely at fundamentals might want to dig into deeper metrics, such as the margins and possibly sales per square footage, to gain more perspective. For those looking at the NPY to guide the way, the above multiples, combined with the lower yields over the last few quarters, suggest the stock might be peaking.
Conclusion
The stock appears to be reaching a level where the valuation outstrips the companies ability to keep up a sizeable NPY. The dividend yield is down to only 1.4%. In order to maintain a 10% NPY, the company will have to spend nearly $1.5B on buybacks over the next four quarters.
While the company's strong balance sheet and net cash position, it appears much more plausible that the buyback sees a major reduction, unless the stock price dips. The company produced $673M in free cash flow for the first six months of the year, so the cash might exist if it wants to remain aggressive. The company just isn't signaling that will happen, so investors might want to head with caution now.
Disclosure: I am long GPS. I wrote this article myself, and it expresses my own opinions. I am not receiving compensation for it (other than from Seeking Alpha). I have no business relationship with any company whose stock is mentioned in this article.
Disclaimer: Please consult your financial advisor before making any investment decisions.