Vice President Dick Cheney's office sought to alter a federal official's prepared testimony about the health consequences of global warming.
You would think that would be the story of the day in the news, but it barely rates a mention as we have come to expect deception and witness-tampering from our country's second-in-command. According to the WSJ: In a letter dated July 6 in response to questions from the chairwoman of the Senate Committee on Environment and Public Works, Barbara Boxer (D., Calif.), Mr. Burnett said Mr. Cheney's office and the White House Council on Environmental Quality "were seeking deletions" last fall to congressional testimony about climate change prepared by the Centers for Disease Control and Prevention. Mr. Burnett said the latter office asked him "to work with CDC" to remove from the testimony "any discussion of the human health consequences of climate change."
The issue of whether greenhouse gases endanger public health or welfare is significant because a finding by the EPA that they do would require the agency to regulate them under the terms of the federal Clean Air Act, spurring new rules across a range of industries. This is possibly one of the factors affecting coal at the moment as it seems that "clean coal" plants may be called into quesiton. We need to keep our eye on affected utility companies as well.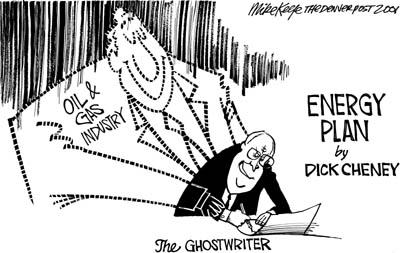 Cheney's pals in Iran had a missile test today that has sent oil back up $2 pre market for the 10th time the same excuse has been used in 4 years. Yes, Iran has missiles, yes, they test them once in a while. Perhaps if the Vice President didn't order secret war plans to be drawn up for Iran and then have one of his staffers leak his plans to the press, things wouldn't be so tense, but oil was languishing at $80 last October and the VP's actions were just what we needed at the time to boost the price over $100 as the "march to war" with Iran heated up. Of course, despite the fact that he was caught red-handed lying about intelligence on Iran back in March, Cheney keeps banging the drums - throwing the oil markets into a frenzy and driving the dollar relentlessly downward as investors fear yet another disastrous war is in the making.
That's why I'm optimistic! They can't keep this up forever. In fact, they can't keep it up past Jan 20th so the end draws near and there will be no more Pumper-In-Chief to keep what is now a $40 "terrror premium" in the price of the 21M barrels of oil a day that this country consumes. The end is near and commodity traders are not known for sticking it out until the last minute, so I figure they have until the end of hurricane season tops.
Asia didn't see this run-up until late in the day and the Nikkei fell off a cliff as crude climbed, dropping over 200 points after a nice open. The Hang Seng also dove in late trading, then recovered on last minute buying but the 22,000 barrier held tough to the upside. India flew up 614 points, a 4.6% gain on the day and the Shanghai Composite made it back to 320, a nice 10% improvement over last week but oil was "just" $136.74 at the close of China trading so, once again, we will be able to play the markets by keeping our eye on oil today.
Europe is up about 1.5% as the dollar rises to test 73 again today, which is great for their exporters and gives the EU reason to believe that the Fed may actually follow them and tighten rates to control inflation. Financials showed a lot of strength and UK homebuilders announced big staff cutbacks and were rewarded for their efforts.
We should be happy just to hold our gains from yesterday but I'd like to see us do better than that. We are very concerned with getting a big draw in crude inventories, caused by NYMEX traders refusing shipments of all but 21M barrels scheduled for July deliveries, effectively shorting our country 5M barrels a week to offset the dreadful news from Mastercard's Spending Pulse Survey that shows 4% less consumption than last July 4th weekend and, even more startling, a 4.3% decline in total US gasoline consumption in the past 3 weeks alone - that's VERY rapid demand destruction.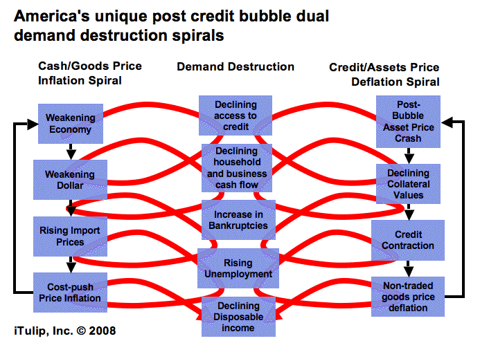 Let's remain cautiously optimistic today as we need to keep an eye on how many of the above factors are dogging our corporations as they report on Q2. Alcoa (AA) came up roses yesterday and we have a biggie from General Electric (GE) on Friday to look forward to, it's going to be an interesting week to say the least!
1PM is the re-announcement of the Air Force tanker deal, the loss of which diproportionately tanked Boeing (BA) from the $80s all the way down to $65 (it's only 2% of their projected revenue) so we'll see if we get a disporportionate reversal today…