The current bear market in U.S. equities has been characterized by broad fears regarding credit, the subprime consumer, the collapsing auto market, and the health of financial institutions. Credit Acceptance Corp (NASDAQ:CACC) has significant exposure to every single one of these pain points, yet the stock is flat in 2008 which seems illogical compared to the carnage of the KBW Bank Index (NYSEARCA:KBE) which is down 38% year-to-date. I believe that given worsening credit, a ridiculous valuation, opaque accounting, and concerns over access to debt, CACC has at least 50% downside over the next three to six months. I am short CACC with a $7.50 price objective, or a slight discount to book value.
CACC is a subprime auto lender focusing on the lowest end of the credit spectrum, the D credit market. These borrowers are consumers with FICOs between 0 and 520 and historically have been treacherous credits in economic downturns. CACC's main product, "Guaranteed Credit Approval Program," provides credit approval in under a minute and has very minimal discrimination among credit apps (think of a payday loan model for autos). According to past SEC filings, 75% to 80% of loans require collection effort during the life of the loan and typically 25% to 35% of loans are delinquent at a given point in time. This collection profile is only the tip of the iceberg for the problems brewing at Credit Acceptance.
Before looking further at the fundamental business issues that CACC shareholders face, let me briefly examine valuation. While valuation in a vacuum is surely the wrong reason to short any stock, the egregious decoupling of CACC's stock relative to its peer group can not be ignored. While many shareholders must realize that they have been "lucky" thus far with the performance of Credit Acceptance's stock, they must also realize that several large shareholders that have supported the stock are also engaged in a game of chicken that will have disastrous consequences when one of them blinks and sells stock.
The table below highlights the current valuation and market caps of subprime auto lenders that are dependant on bank and securitization financing. At 1.0x book value (still a 50% premium to the group average), CAC would trade at $9.38 per share, or 54% below the current stock price.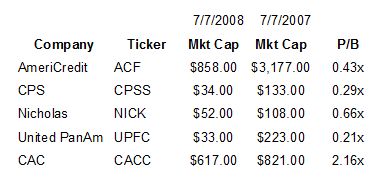 Accounting and Credit Concerns
The true economics of CACC's business are difficult to understand due to the company's complex accounting. CACC utilizes SOP 03-3 to determine revenue recognition and its credit allowances. This accounting is largely driven by one variable, "forecasted future cash collections." The only other financial services firms that utilize SOP 03-3 are the debt collection companies (Portfolio Recovery Associates Inc. (PRAA), Asset Acceptance Capital (AACC), Asta Funding, Inc. (ASFI), Encore Capital Group (NASDAQ:ECPG)).
The debt collectors provide significant disclosure, including prices paid and quarterly cash collections by vintage. These specific disclosures enable investors to make informed decisions about management's future collection assumptions. CACC on the other hand provides very limited disclosures around vintage and collections, and ZERO information on delinquencies. Therefore, investors must rely on management's assumptions, which arbitrarily drive the GAAP financials.
I believe that this is especially troubling after a deep dive into the forensics at Credit Acceptance. The overwhelming majority of CACC's loans were originated at a time when house prices went nowhere but up, gas was $2.00 per gallon, and the job market for low-end consumers was rather healthy. Despite these factors changing significantly over the last two years, Credit Acceptance management has not changed its assumptions on its collections.
Historically, companies with questionable accounting trade at deeply discounted multiples to a more conservative subset of peers. CACC trades at nearly 4x the comp group and over 2x book value. With glaring red flags in cash collection growth versus portfolio growth, and suspicious reserve ratios trends, CACC's "true up" may be near.
I believe historical and current cash collections are the best way to determine the reasonableness of management's future cash collection estimates, and given the significant lag relative to aggressive portfolio growth over the past few years, I am quite skeptical about CACC's assumptions. The loss curves on the 2007 vintage auto loans are tracking to some of the worst vintages in recent memory at other subprime auto lenders, and it was a year in which CACC grew its loan portfolio over 25%.
In addition, loss reserves have declined significantly over the past few years and are at the lowest level ever (the company has only provided restated financials back to 2002). In the first quarter 2008, the loss provision was $2.6 million compared to $22.7 million of charge-offs. In Q1'08, CACC was one of the only companies in the financial industry that had loss provisions that were lower than charge-offs. This could be construed as suggesting the credit cycle has not worsened since Q1'08!
Had CACC's first quarter provisions simply matched the reported charge-offs, EPS would have been $0.15 per share instead of the $0.57 that was reported. Allow me to state it a different way. Had CACC simply assumed that the environment in Q1'08 was not going to get worse (which we all know it has), then EPS would have been 72% lower than what was reported! The aggressive nature of management's assumptions can also be seen through its percentage of loss reserves to gross loans, which has declined from 23.5% in 2002 to 10.9% in Q1'08.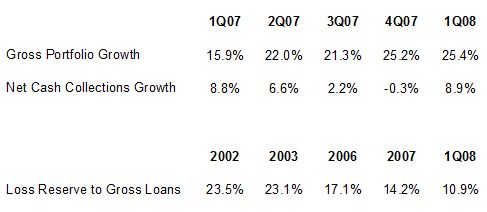 CACC's consumer is facing significant headwinds, which I believe will require CACC's management to true up their "forecasted collections." This action could lead to the elimination of quarters, if not years, of previously "reported" profitability. High gas prices, rising food prices, a week job market and limited access to credit is having a significant impact on the D credit consumer. In past credit cycles CACC was forced to take enormous reserve charges, totaling more than $50 million in 1997 and 1999. During the credit cycle of the late 90's CACC's stock lost more than 80% of its value, a fate we think may repeat itself again during this cycle. 
In the past, CACC attempted to reduce risk in the D credit market by requiring their car dealer partners to have skin in the game. The company required dealers to pay a $10,000 upfront fee, a $599 monthly recurring fee, and participate in a small part of the principal risk. The result was a good faith effort, driven by capital at risk, on the part of dealers to collect loans. However, given increased competition over the past few years (no different than the other niches of financial lending during the easy money bubble), CACC reduced many of these costs levied on its dealer network in order to generate origination growth.
Today, CACC typically waves or defers the upfront and monthly service fee, and has rapidly grown its "purchased loans," or those loans where the company acquires 100% of loan. While these changes drove significant loan growth, their network of auto dealers now have far less at stake (they are much more "in the money" at sale / origination than under the old model). Haven't we had this movie on repeat for the last year with other financial products where the actual originators became lax in their underwriting/collection efforts base on the removal of financial incentives?
Further, this aggressive loan growth, which can be seen in the portfolio growth statistics cited above, occurred in a deteriorating credit environment. I believe the divergence from CACC's historical model will amplify the down leg of the current cycle with credit performance that will be significantly worse than past cycles.
Despite all of the rosy assumptions, the financial health of the company has been further undermined by the ever-increasing use of leverage for an ever-unscrupulous cause. In 2005, CACC's management stated, "For the past several years we have targeted a ratio of debt to equity of 1:1. The target was a "stretch" goal when it was set…..."
Fast forward three years and CACC has significantly exceeded its "stretch" goal, with debt to equity of 2.23 times at March 31, 2008. What wonderful opportunity did the company have to utilize levels of leverage far beyond its"stretch" goal? Did it have the opportunity to build wind farms in Southfield, Michigan, down the road from the ailing auto manufacturers? Did it realize that under the lots of its hundreds of low-end dealer partners were proven reserves of oil that it wanted to extract through increased risky debt?
Sadly for shareholders, it was something far more sinister coinciding with a stock price that was at unsustainably high levels. CACC began to significantly increase its leverage with a 2006 Dutch tender auction. I believe this was done EXPRESSLY TO PROVIDE A LARGE BID FOR CACC's FOUNDER TO SELL HIS STOCK WHICH WOULD HAVE NEVER BEEN POSSIBLE WITHOUT THE COMPANY'S ACCESS TO DEBT.
In August 2006, with its stock at $27.94, CACC announced a modified Dutch tender offer of 3.5 million shares at a range of $28.00 to $31.50 per share. In the same press release, CACC's founder and chairman announced plans to tender his 20 million shares and that "the price at which Mr. Foss tenders his shares would likely be the price at which Credit Acceptance purchases shares in the offer."
In a sadly predictable move, Foss tendered his shares at the high end of the range, and in October 2006 the auction was finalized at $31.50. When the dust settled, Mr. Foss sold over 3.3 million shares, or 95% of the deal within 10% of the company's all-time high. According to the press release, the "Company financed the purchase of its securities in the tender offer by borrowing under its $135.0 million revolving credit facility and $325.0 million revolving warehouse facility."
While it is understandable that Foss wanted to sell stock at such elevated levels, the fact CACC provided the liquidity on the other side of his trade, and used levels of debt that were far beyond the company's targets (their words), is shocking. Instead of a traditional secondary offering (the usual method for a founder to get liquidity), which typically gets sold at a discount to market prices, Foss was able to receive a 12.7% premium, at the expense of shareholders. The fact this act has yet to show up in Barons, Risk Metrics, or other shareholder watchdog groups is probably a "stay tuned" data point.
As if CACC didn't have enough issues on its own, its recent growth has been fueled by the balance sheet of Wachovia (NASDAQ:WB). Most of CACC's business is financed with warehouse lines, which are used until a term securitization can payoff the lines. CACC's largest warehouse line was set to renew in February, when JP Morgan decided against renewing their portion of the facility ($75 million). This should have been a huge red flag in the marketplace, but tomorrow's Bear Stearns (NYSE:BSC) of National Banks stepped in. The other bank on the warehouse, Wachovia, stepped up and effectively took over JP Morgan's (NYSE:JPM) portion (for a total of $325 million).
Prior to 2008, CACC's securitizations, dating back to 2003, were insured by the financial guarantors Radian and XL (later renamed SCA). As any investor with a pulse knows, the securitization market has almost completely dried up and CACC's financial guarantors, Radian and SCA, have been downgraded. However, on April 18, 2008, CACC announced a new $150 million securitization, at terms somewhat similar to previous deals. When the 8K on the deal was filed, the unusual terms on the deal began to make sense. Wachovia had taken down the entire securitization at the depths of the first crescendo selling wave in the credit crisis. 
In less than six months, Wachovia nearly doubled its financing capacity to CACC, increasing funding from $250 million to $475 million, or greater than 60% of CACC's required debt capacity. I'm sure Wachovia's decision to aggressively take advantage of the credit dislocations over the last six month is being re-thought, and its CACC exposure must fall squarely in that "re-think" bucket. Clearly, Wachovia's aggressive lending to subprime auto lenders helps explain the predicament Wachovia finds itself in currently (40% of book value).
CACC's large exposure to the troubled bank adds significant risk, especially when one ponders what likely happens in seven months when the current $325 million warehouse facility from Wachovia matures (2/13/09).
The question I would ask shareholders is: given the laundry list of issues at Credit Acceptance, the asinine valuation, the panicky base of fellow shareholders, and the reliance on aggressive management assumptions – the same management that levered the company up dramatically to buy insider stock – when the Wachovia line does become an issue, will the stock be $22.00, or just $2.00? The safe bet in this environment may unfortunately be the scarier of the two options for existing shareholders.
Disclosure: Short CACC.