Earlier this year, reports surfaced that MIPS Technologies (NASDAQ:MIPS) was looking to find a buyer. Shortly after this got out, MIPS' stock saw a violent movement beyond $7 from $5 before settling into a narrow trading range between $6 and $7.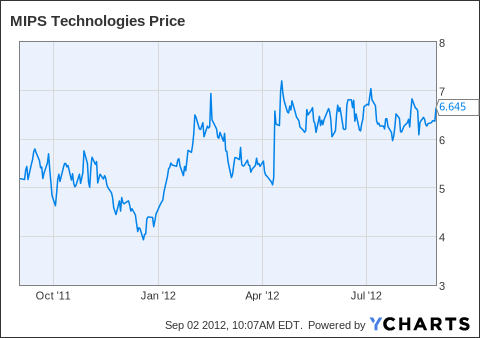 In my recent article, "3 Small Cap Stocks With Enormous Upside Potential", I argued that while MIPS is cheap at $340M, especially with 30% of its market capitalization in cash, it is unclear as to which corporation would be interested in such a purchase. The rumors, reports, and analysts have brought up the following companies:
Advanced Micro Devices (NYSE:AMD)
Imagination Technologies
ARM Holdings (NASDAQ:ARMH)
CEVA (NASDAQ:CEVA)
Google (NASDAQ:GOOG)
Synopsys (NASDAQ:SNPS)
So, let's dig a little bit deeper, shall we?
Analyzing The Potential Suitors
Google
While Google can certainly afford to buy MIPS with the $41B that it has on its books, I don't see a particularly compelling reason for Google to consider such a purchase. Such a move could be interpreted as a smartphone vertical integration play in concert with the Motorola Mobility purchase, but given that Google already works extensively with ARM and Intel (NASDAQ:INTC) to make sure Android runs well on the ARM and x86 architectures, it seems unlikely that building in-house MIPS-based phones and tablets would be likely.
Another potential reason could be to build up a larger patent portfolio (which, after all, was the main reason for the Motorola Mobility purchase), but since patent litigation isn't particularly rampant in the CPU space, especially since Apple (NASDAQ:AAPL) doesn't design its own CPU cores or hold many patents in this area.
CEVA
CEVA designs and licenses semiconductor IP for the handset, consumer electronics, mobile broadband, and portable markets. A MIPS acquisition would actually be right at home with what the company does, and it would further the firm's ability to offer complete system-on-chip solutions in the smartphone and tablet markets.
The issue here is cash. As of last close, MIPS is valued at $340M, and as there is likely to be a premium to this price, CEVA's $364M cash position would likely be wiped out in the purchase. What I could see happening is a merger rather than an acquisition, but it is unclear that such a merger would be the best for MIPS (since its IP could be much more widely deployed if under the roof of a much larger, better capitalized company).
ARM Holdings
While it would seem that the two companies are a match made in heaven given their similar focus on low power RISC architectures, such an acquisition wouldn't really make sense. ARM doesn't need anything that MIPS has. Further, ARM has only $579M on its books, so such an acquisition would either wipe the firm's cash reserves or tack on quite a bit of unnecessary debt. An all-stock deal may be possible, especially since even at a $500M buyout, this would only dilute ARM's shares by 4%, but again, there's nothing that MIPS has that ARM doesn't already have.
AMD
While much ado has been made about AMD's lack of presence in the smartphone space, acquiring MIPS wouldn't really do much for the company here. Intel has proven that when it comes to the CPU core, the x86 instruction set is not the bottleneck, so if AMD were to attempt to enter the smartphone space, it would probably piggyback on the software development efforts from Intel to get x86 chips into the smartphone and tablet space.
Analysts say that buying MIPS wouldn't bring AMD much, and I actually agree with them here.
Imagination Technologies
Imagination is most well known for licensing graphics IP to big names such as Apple and Intel for low power/embedded applications such as smartphones. MIPS' business model of licensing IP fits in perfectly, and it'd actually make sense for the firm to buy MIPS. The only problem is that a quick look at Imagination's finances shows that the firm only has $105M in cash. To buy MIPS at the current valuation (or a premium to the current valuation), it would need at least $340M. This, again, makes such a transaction unlikely. In this case again, a merger is probably the best bet.
Synopsys
Synopsys mainly provides design automation tools, which are used in the development of semiconductor devices. The firm also provides its own line of 32-bit customizable digital signal processors, or DSPs, for a wide range of embedded applications. I could see the company looking to add MIPS' intellectual property as a way to make a play in the burgeoning tablet and smartphone markets. The only issue here is that ARM dominates the space and breaking into the IP licensing business and convincing other SoC vendors to invest in building MIPS-based chips could prove unfruitful.
With $963M in cash on its books and only $142M in long term debt, it seems that Synopsys could afford to buy MIPS, even at a premium to current levels. The question is whether this purchase would be worth it.
Conclusion
While the reports state that MIPS is looking for a buyer, and the rumors have indicated the above as potential suitors, I'm not entirely convinced that such a deal will happen with any of the aforementioned firms for the reasons given above. There could be other players here; maybe Apple would want to buy MIPS as a vertical-integration move? Or perhaps Intel or ARM might take MIPS out in an attempt to remove any further competition in the space? Or maybe another company not mentioned here, perhaps a private equity firm, could take MIPS out?
In any case, it will be interesting to see how this plays out going forward, but I would not buy the stock solely on a buyout bet. MIPS is profitable and cash rich, so it's not inconceivable that the firm will grow itself organically.
Disclosure: I am long INTC, AMD. I wrote this article myself, and it expresses my own opinions. I am not receiving compensation for it (other than from Seeking Alpha). I have no business relationship with any company whose stock is mentioned in this article.