Moody's has issued a useful guide to interpreting the mark-to-market losses of monoline insurers. The new report specifically looks at financial guarantors Ambac (ABK), MBIA, (NYSE:MBI), Financial Guaranty [FGIC], Radian Asset Assurance, XL Financial/Security Capital Assurance (SCA), Assured Guaranty Corp (NYSE:AGO), FSA and CIFG.
In the past year, a number of financial guaranty insurers recorded significant mark-to-market losses relating to derivative contracts (principally credit default swaps [CDS] written to provide protection to investors in various types of structured financings.
The magnitude of these charges has raised reasonable questions among some investors about the nature and degree of exposures at financial guarantors, as well as some confusion about how to interpret this information in the context of a guarantor's financial strength.
For a variety of reasons, mark-to-market losses may not represent a true indicator of actual credit deterioration; however neither are they merely accounting "noise", particularly in the current environment, Moody's says.
Losses recorded for CDS marks do not result in claim payments unless an actual event of default occurs on the reference obligation.
In public disclosures, the guarantors have indicated they believe expected actual credit losses on their insured CDS portfolios will be materially lower than implied by estimated market values ascribed. This view is broadly consistent with the analysis performed by Moody's in our modeling of the guarantors' portfolios.
Large negative marks can, however, impact a guarantor's future business prospects, with structured finance or municipal clients choosing to avoid additional transactions with certain guarantors, or guarantors ceasing to write new business in the structured finance market.
Significant mark-to-market losses may also cause investor appetite for a guarantor's debt or equity securities to diminish, inhibiting its ability to raise capital in a stress loss scenario.
Looking at the regulatory capital cushion at the end of March, Moody's says mortgage-related Aaa stress loss would erode most of the surplus at Ambac and MBIA but significant cushion from contingency reserve and contingent capital would remain. For FSA and Assured, Aaa stress loss would be well contained within the statutory surplus. But for FGIC and XL, Aaa stress loss would fully deplete the surplus, contingency reserve, and contingent capital. Radian has insignificant mortgage exposure.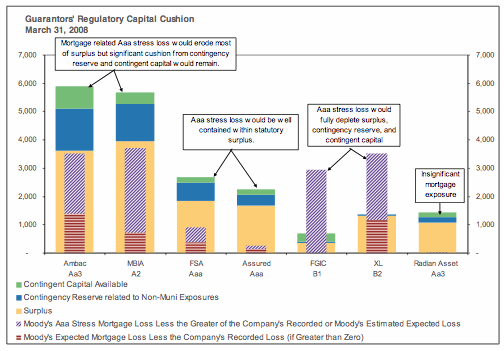 Full details are available in the Moody's report Interpreting Financial Guarantors' Mark-to-Market Losses.