Last week, BP Prudhoe Bay Royalty Trust (NYSE:BPT) was one of the most volatile equities in the market, losing about one-third of its value on the first three days of the week, and gaining nearly 20 percent on Thursday. BP Prudhoe Bay Royalty Trust, which was formed as a trust in 1989 by wholly owned subsidiaries of BP p.l.c. (NYSE:BP), fell to its lowest rate since late 2009. The recent sell-off appears primarily based upon a fear that BPT's market value overestimates the present value of BPT's depleting royalty interest, and that investors were bidding up the trust due to retail investor demand for a high present yield.
BPT is a royalty trust with an interest in oil from Prudhoe Bay, Alaska. Royalty trusts pay out distributions that are like dividends, but they are taxed as income. Royalty trusts cannot acquire additional assets and are designed to eventually terminate.
BPT's Costs, Taxes & Royalties
BPT's expenses including taxes and "chargeable costs" per barrel of royalty production. BPT's costs are pre-set and have nothing to do with BP Alaska's actual costs of production, including when it must repair operations. Chargeable costs have increased somewhat dramatically over the last few years, but are set to increase at a considerably lower rate over the next several years. The costs per barrel were increased by $0.25 per year between 2006 (when BPT's chargeable cost was $12.50) and 2010 (when it was $14.50). In 2011, BPT's chargeable costs jumped by $1.10 to $16.60.
BPT's chargeable costs are set to increase by a mere $0.10 per year between now and 2017, when BPT's chargeable cost will hit $17.20. Therefore, while the chargeable cost per barrel increased by about 33% between 2006 and 2011, it will grow by less than four percent between now and 2017. Chargeable Costs from 2011 through 2020 are shown in the following table: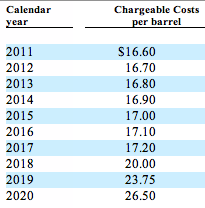 For those that believe commodity price inflation is coming, and that oil/gas prices will increase on account of such inflation, BPT's set costs for the next five years must be appealing. After 2017, though, BPT's chargeable costs will increase at a more significant pace, jumping by $2.80 in 2018, to $20.00, by $3.75 in 2019, to $23.75, and by an additional $2.75 per year for the remaining lifetime of the trust.
BPT's costs are modified higher by its cost adjustment factor, which is the ratio of current Consumer Price Index to 121.1, the CPI in January of 1989. The cost adjustment factor has increased over time and will likely continue to increase. In 2011, the average cost adjustment factor was about 1.7183, which would adjust the $16.60 chargeable cost to about $29.60. Due to this CPI-based adjustment, at least some of the theoretical increase to margins from oil price increases should be offset by a probable CPI increase.
In addition to BPT's increasing adjusted chargeable costs, Alaskan tax obligations have also increased over the last few years. Until August of 2006, there was a flat tax rate of 15% on the gross value of oil at the point of production, plus a surcharge of $0.03 per barrel of royalty production. Alaska then adopted a rate equal to the sum of 22.5%, plus a progressively increasing rate determined by average monthly production and a surcharge of $0.04 per barrel. About a year-and-a-half later, in December of 2007, Alaska's Clear and Equitable Share legislation increased the basic tax rate from 22.5% to 25%, while also expanding and increasing the progressive portion of the tax. Below is a chart that shows WTI price, BPT's chargeable costs, cost adjustment factor, adjusted charges, production taxes and average royalty per barrel for the last three years.
Click to enlarge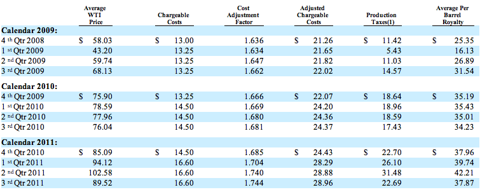 Click to enlarge
If you look at the chart above, you can get a good idea of how BPT's per barrel costs have been growing over the last few years, For example, WTI prices averaged $85.09 in the fourth quarter of 2010 (an increase of 11.9% or $9.05 over the prior quarter) and BPT made $37.96 per barrel. In the first quarter of 2011, WTI prices jumped to $94.12, (up another $9.03, or 10.6%) and BPT made $39.74 per barrel. In this case, chargeable costs made a large leap, growing from $14.50 to $16.60. Going forward, BPT's chargeable cost will grow at a rate of ten cents per year, and will adjusted costs will otherwise only be affected by CPI changes.
The other side to cost changes will be this progressive nature of taxes. For example, the very next quarter, Q2 of 2011, WTI prices increased to $102.58 (a jump of $8.46 or about 9%), but the production tax grew from $26.10 to $31.48 (an increase of $5.38 or about 20%). Even a fairly large CPI increase only accounted for $0.51 in an adjusted cost increase, while the $8.46 increase in WTI caused a $5.38 production tax increase. As a result, BPT's per barrel royalty only increased by $2.47. This is largely because the progressive tax has its top tier for per barrel valuations above $92.50. BPT will still stand to make a greater royalty for sales above this rate, but state has set a strong tax upon it. The current progressive tax is designed to max out at 50 percent.
BPT's Oil Flow
BPT is only involved in Prudhoe Bay. In the U.S., trusts are not allowed to acquire additional properties once they are formed. Moreover, BPT's interest in Prudhoe Bay is restricted to the crude oil output of the field. BPT holds a royalty interest for 16.4246% of the first 90,000 barrels of daily production that goes to BP from the Prudhoe Bay Field. BP operates Prudhoe's oil production and has a minority interest in it. The other production owners are Exxon Mobil (NYSE:XOM), ConocoPhillips (NYSE:COP) and Chevron (NYSE:CVX), with their ownership interests listed below.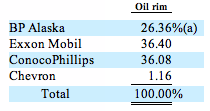 BP Alaska estimated that the net remaining proved reserves allocated to the Trust at the start of 2012 were 82.304 million barrels of oil and condensate, with 73.476 million barrels being developed reserves and 8.828 million being undeveloped reserves. Last year, BP converted 1.6 barrels of BPT's then undeveloped reserves into developed reserves.
Prudhoe Bay is in decline. Other major factors also affect its production rates. For example, oilfield and pipeline misfortune can occasionally reduce production, such as in 2006 when BP needed to shut down Prudhoe Bay operations in order to replace 22 miles of corroded lines. Prudhoe Bay has produced for over 30 years, where its original pipelines were expected to last about 25 years, meaning that maintenance and replacement issues that will reduce production are likely to be continuing.
BP's portion of of the production from Prudhoe Bay has already fallen below an average of 90,000 barrels per day. Production averaged 85,917 barrels per day during the second quarter of 2012, down from 94,335 during the first quarter. Average daily production was 91,925 for the fourth quarter of 2011. Throughout 2011, the portion of Prudhoe Bay that is relevant to BPT produced 80,000 barrels per day, with those interests producing between that and 85,400 barrels of oil on average per day over the last five years, plus between 6,200 and 9,400 in condensate.
BP Alaska anticipates that its average net production of oil and condensate allocated to the Trust from proved reserves will be below 90,000 barrels per day on an annual average basis during most future years. According to BPT's 10-K, "it is estimated that royalty payments to the Trust will continue through the year 2027," and though BP Alaska expects continued Prudhoe Bay field production at a declining rate after 2027, "for the economic conditions and production forecast as of December 31, 2011 the Per Barrel Royalty will be zero following the year 2027."
The other real issue in evaluating the future potential payout from BPT is that the future price of oil is unknown. Many investors in BPT may be anticipating that oil prices will increase, where the accounting estimates do not. In reality, predicting the future price of oil is probably even more difficult than predicting the quantity oil that might be coming out of some distant Alaskan oil field where tax laws are changing every few years. BPT investors mostly want Prudhoe Bay to produce as close as possible to 90,000 barrels per day for BP, without going over, giving BPT as close as possible to 14,782 barrels per day to sell.
Distributions
BPT has paid out $7.4721 so far in 2012, and will likely report its fourth and final distribution for the year during the second week of October. It looks like BPT will be paying out over nine dollars for the third consecutive year. Provided WTI crude oil can maintain the trading range it has been in for the last three years of between about $75 and $115 per barrel, BPT appears poised to earn a royalty of between $30 and $45 per barrel sold over the next five years.
Given the minimal changes that will occur to BPT's chargeable costs over this term and the progressive nature of the new Alaska tax, BPT appears unlikely to suffer a royalty below this level. If WTI can maintain a rate above $100 per barrel in any of the next five years, BPT appears capable of achieving a royalty averaging over $40 per barrel for that year. At $110, that royalty would be worth between $43 and $44 per barrel. Moreover, if WTI were to spike to its all time high of about $150 per barrel, BPT could achieve a per barrel royalty of between $58 and $60 (unless CPI happened to substantially spike alongside that move in crude).
Presuming WTI crude prices stay in the same trading range as the last three years for the next five, and that Prudhoe Bay continues to produce at approximately the same rate it has through that term, the annual distribution should end up between about $8.50 and $11. If WTI prices, Alaskan taxes and Prudhoe Bay field production do all stay in their respective ranges, BPT will likely distribute somewhere between $44.50 and $57 between now and the end of 2017, or roughly 50% and 64% of BPT's current valuation.
After 2017, it becomes far more difficult to calculate what BPT may be able to earn on a barrel of oil. Royalties per barrel should begin to decline somewhere between three and four dollars per year. Provided production levels remain stable, such increases should work out to about a one-dollar per year reduction to the annual distribution. Any significant changes to production, taxes or CPI rates could be as forceful in affecting distribution rates.
If WTI crude were to maintain its recent trading range throughout the life of BPT, after 2017, the trust would likely distribute between $36 and $66 before the royalty reduces to zero. If BPT were to achieve these estimated rates of return, during the estimated future lifetime of BPT, it appears likely to distribute between $80 and $123 and the discounted present value of these distributions should be lower than that.
Given BPT's current valuations, it appears most probable that many investors in BPT anticipate significant crude price increases that will overshadow the already known and factored-in chargeable cost increases. This differs from the real present value of future distributions from the sale of WTI crude oil priced at $96.19 per barrel, the 2011 12-month average WTI price.
Current market projections do not consider dramatic increases to WTI crude, though many investors do. For example, an individual anticipating WTI crude at $150 a barrel within the next five years and further increasing though 2027 would evaluate BPT rather differently. Even if crude did not make such a move up for five more years, a new investor would still likely receive around 50% of the current market price of BPT in distributions by the end of 2017. If WTI crude reached $150 in 2013 due to inflation, supply shortages caused by hostility involving an oil-producing nation, or basically any cause not affecting Prudhoe Bay and its pipeline, and stayed at that level, by 2017 BPT shareholders would likely receive nearly 80% of the current market value in distributions.
Crude oil prices are not likely to move so substantially in the next few months and then remain stable for years straight. Nonetheless, individuals that intend on holding BPT for more than five years likely anticipate higher oil prices in the coming years. Substantial increases to oil prices would not only increase distribution estimates in the near term, but also create value where current calculations forecast a per barrel royalty value of zero, thereby extending the life of the trust.
With BP Prudhoe Bay Royalty Trust, income-oriented investors that anticipate strong future oil price increases are likely to receive a high rate of present income and some potential exposure to higher oil prices over the next two decades. In many ways, this is like buying an income security that pays a floating rate, and paying a large premium because even with that premium the security provided one of the higher available yields. Long-term holders should understand that such premiums get amortized away. The difference with BPT is that if WTI crude increases in value, BPT's yield and life expectancy should also increase. Because of this, BP Prudhoe Bay Royalty Trust's estimates of future net revenues are likely undervaluing BPT's probable returns.
Disclosure: I am long BPT. I wrote this article myself, and it expresses my own opinions. I am not receiving compensation for it (other than from Seeking Alpha). I have no business relationship with any company whose stock is mentioned in this article.