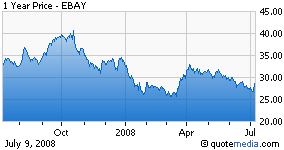 It's going to be an interesting Q2 earnings release. One on hand we have a vocal group of sellers clamoring that traffic is down, sales are down, listings are down and conversions are down. And on the other we have a growing group of research analysts stating the 2008 changes (NASDAQ:EBAY) has implemented are showing progress and raising estimates for Q2 and the remainder of the year.

Tuesday it was Morgan Stanley who claimed negative sentiment on EBAY was overdone and that it sees upside to current Q2 estimates. Wednesday it is Bank of America and Citigroup, who both raised their Q2 estimates and said EBAY is likely to beat consensus in Q2.

Zacks analyst Rob Plaza provides the 'consensus' view, stating that EBAY is fairly valued where it is withe the positives already reflected in the share price.