Hurricane Isaac, only briefly categorized a hurricane as it struck Louisiana, bashed through the Gulf and made its way quite a ways inland, causing significant damage. The latest figures for Hurricane Isaac's damage are estimated at $1.5 Billion. A high expense, considering the path of this storm was somewhat favorable, traveling mostly through open waters.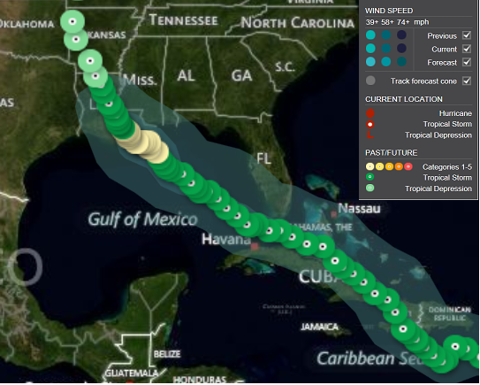 Unfortunately for some, the 2012 hurricane season still may have some storms to throw at the US coast. In fact, there are indications more are on the way: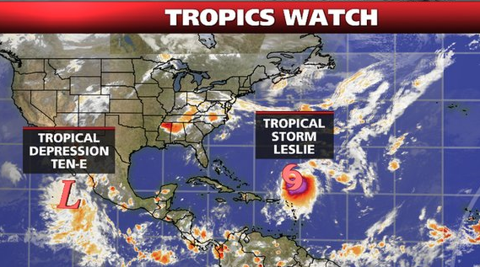 How to profit from these potential disasters? Some say to short insurance companies specializing in these coastal areas. Others say to play oil companies and/or the price of oil. I say the best possible way is to buy companies that actually assist in rebuilding damaged homes and cities: Home Depot (NYSE:HD). Home Depot also benefits from "Hurricane Preparation", in which it does have a marketing campaign for. The hurricane preparation segment has been credited with boosting revenue and increasing results in the past.
Home Depot has many locations across the country, but it seems to be well positioned in coastal areas-making it well geared for profits this time of year: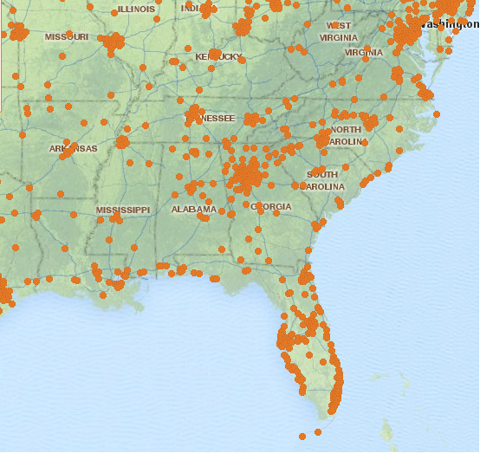 Since June, Home Depot has outperformed Lowes (NYSE:LOW) by nearly 10% and most of the broader market by 6%. It seems HD shares have had a steadier ride than LOW as well.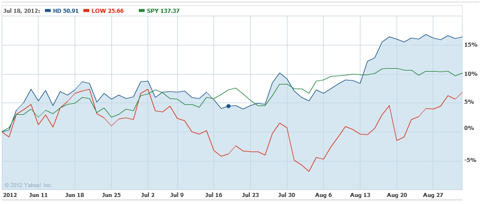 Lets look at some basic fundamentals comparing the 2 companies:
| | | |
| --- | --- | --- |
| | Home Depot | Lowes |
| P/E ratio (TTM) | 20.29x | 18.86x |
| Locations | 2255 | 1748 |
| Beta | 1.03 | 1.21 |
| Dividend | 2.04% | 2.25% |
| Dividend Growth (last 4 payouts ) | 0% | 14% |
| Expected Sales Growth | 4.6% | 0% |
| Short Interest as of 8/15/12 | 1.33% | 1.38% |
| Recent Guidance for Sales: | Increased | Reduced |
Even though the companies seem similar at a glance, the fact that Lowes lowered guidance while HD raised guidance, intrigues me enough to choose HD. This guidance was delivered straight from the company which serves as a clear indication of the health of the company. I feel HD's higher P/E is justified since its revenue growth is more reasonable. My opinion is that HD may be due for a dividend increase in the near future as well. In addition, HD has about 500 more stores, and lower Beta.
Summary:
There has been studies that prove damage from Hurricanes will only increase in the future as society develops and more people inhabit the coast lines. Although a debatable idea, HD seems like a great way to make a profit from these devastating storms. HD has been a great investment in recent months, and I see this trend continuing, damaging hurricanes or not. I suggest watching how the remainder of the season unfolds, and invest accordingly.
Disclosure: I have no positions in any stocks mentioned, but may initiate a long position in HD over the next 72 hours. I wrote this article myself, and it expresses my own opinions. I am not receiving compensation for it (other than from Seeking Alpha). I have no business relationship with any company whose stock is mentioned in this article.