We are bullish on Deutsche Telekom (OTCQX:DTEGY) based on its results, which are in line with analyst expectations. The company has posted profits at a time when most telecom operators in Europe have seen their profits fall. Moreover, it has continued to pay dividends, which it has been doing for the last few years (0.7 Euros per share). The continuation of its dividend payments is a sign of the company's confidence in its operations, despite other telecom companies cutting their dividends. The stock currently yields 7.5%, which is attractive from an income perspective, and based on a strong trend in customer base as well as operating margins, we believe there is some price appreciation potential as well.
Deutsche Telekom, a leading telecom carrier, provides mobile, fixed line and internet services to its consumers, business and corporate customers. It has an international presence with approximately 130 mobile customers in 50 countries around the globe. DTEGY has a total market capitalization of $51 billion, and its shares are currently trading near $11.9.
As mentioned previously, the company is internationally diversified with its major operations being in Germany, North America and several other countries. As of June 30, 2012, the company derived almost 45% of its revenues from Germany and 27% from North America. In 1H2012, DTEGY generated total revenues of almost 29 billion Euros, which largely remained unchanged from the first half of the previous year. Germany and Europe both reported a slight deterioration in revenues, which was offset by a 5.3% increase in revenues from the company's operations in the U.S.

Source: Company Presentation
Despite the tough economic situation currently prevailing in Europe, and almost all global telecom players losing customers due to weak spending, DTEGY has done well in the region in terms of mobile customer additions. The company has equal exposure to both the prepaid and postpaid markets in Germany. As of June, total mobile customers in Germany increased to 35.47 million, which is a 3% improvement from the first half of the previous year, with the increase in contract customers offsetting the slight decrease in the number of prepaid customers (see chart below). Total number of smartphones sold in the first half also rose to 1.6 million, which now accounts for almost 70% of the phones sold by the company. A higher number of smartphone sales in the first half also led to the increase in data revenues generated by the company. The weakness in results for the Germany operations came from its fixed telephony business, where the company suffered from fixed network line losses, largely as a result of customers switching to various mobile products. However, this deterioration in the traditional fixed line business was offset by a growth in revenue coming from its TV business, with both business and residential customer subscriptions increasing in the first half by 40%. Despite the slight drop in revenues from its Germany operations, EBIT margin increased by 60 basis points in the first half, which signals the operational strength shown by the company despite the current economic troubles in the region.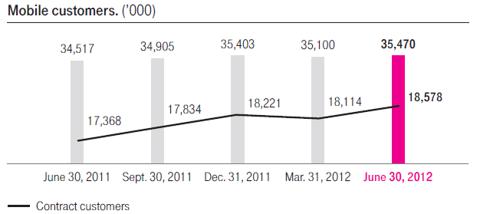 Overall in Europe, the company reported a 1% increase in its mobile customer base as compared to the first half of 2011, largely due to net customer additions. This is impressive considering its rival Vodafone (NASDAQ:VOD) reported customer losses.
As mentioned previously, the U.S. was the only region to report growth in revenues for the company in the latest filed reports. Total revenues reported were almost 8 billion Euros, which even though mean a growth of 5% from the previous year's first half, were largely due to the strengthening of the Dollar against the Euro. In Dollar terms, however, revenues declined slightly due to a decrease in service revenues. Its subsidiary, T-Mobile, lost contract customers; however, this decrease was offset by its 692,000 prepaid customer additions compared to 513,000 additions in 1H2011, with churn decreasing to 3.3% in the first half as compared to 3.4% in 1H2011.
From an overall group perspective, the company reported a 19% growth in profits from the first half of the previous year, and a 5% increase in EPS over the last year.
T-Mobile is expected to initiate its unlimited data plan in the first week of September, and the prices offered are rumored to be cheaper than what other rivals in the U.S. are currently offering. The fourth largest telecom operator in the states, currently not selling iPhones, but with a significant exposure to Samsung products, is planning to lure customers to its low-priced unlimited package. We think it will serve the company well to gain more customers, especially in light of other carriers phasing out their respective unlimited data plans. Despite the fact that T-Mobile doesn't sell iPhones, its plans allow customers to keep using their phones on their network in exchange for a lower fee, which is a positive considering the upcoming launch of the iPhone 5, as well as the holiday season. Currently, T-Mobile has approximately 1 million iPhones connected via its network.
Financial Position
The company is cash rich, with almost 5.5 billion Euros in cash and short term investments on its balance sheet. DTEGY has a significant amount of debt, but also sufficient sources to cover its upcoming debt maturities. The company has an interest coverage ratio of 2x.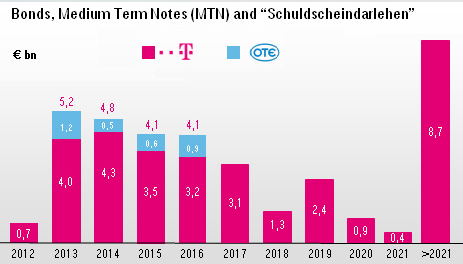 Source: www.telekom.com
The company has historically posted high gross margins, which have more or less remained stable at 42% despite dropping revenues. Its rival Vodafone Group posted gross margins of 32% in FY2011. Moreover, an opposite trend can be seen with its operating margins, which have expanded since FY2009.
Dividends
The stock currently offers a dividend yield of 7.5%, higher than Vodafone's 5.5%. In the first half of 2012, the company paid total dividends of approximately 3.4 billion Euros, well backed by its operating cash flows of 6.2 billion Euros. Moreover, operating cash flows generated by the company were also sufficient to cover its capital expenditures. DTEG's free cash flow yield of over 11% compares well to its dividend yield of 7.5%, indicating the company's ability to finance its dividend payments through its cash flows going forward.
DTEGY trades at 0.7 times its sales, at a slight discount to the industry's 0.72x and a significant discount to Vodafone's 2x. On a forward P/E basis, the stock is trading at a higher multiple than its competitors. The stock has outperformed other rivals like Vodafone and Telefonica (NYSE:TEF) on a YTD basis.

Disclosure: I have no positions in any stocks mentioned, and no plans to initiate any positions within the next 72 hours.
Business relationship disclosure: The article has been written by Qineqt's Telecom Analyst. Qineqt is not receiving compensation for it (other than from Seeking Alpha). Qineqt has no business relationship with any company whose stock is mentioned in this article.