Dynex Capital Inc. (NYSE:DX) is a real estate investment trust (REIT), which invests in mortgage assets on a leveraged basis. The Fed is keeping interest rates low and fairly steady. The housing market is bottoming or perhaps even beginning to recover, as some of the latest economic data indicates. For instance the Case-Shiller 20-city Index for June was up 0.5%. With low, steady mortgage rates and low steady interest rates for repurchase agreements, many companies investing in MBS (mortgage backed securities) are able to make excellent money, especially when they are significantly leveraged. This allows them to pay hefty dividends such as the 11.10% Dynex Capital is currently paying.
In its latest quarter (Q2 2012), Dynex Capital's cost of funds (through repurchase agreements) was 1.11%. Its investment portfolio returned 3.29% for an interest rate spread of 2.18%. The 6.1x equity capital leverage allowed for a great dividend payout of $0.29 for the quarter (11.10% annualized). The 2.18% interest rate spread was down from 2.41% in Q1 2012 and 2.45% in Q2 2011. Yet this has been the trend for most of the mortgage REIT companies. It does not indicate a weakness particular to Dynex Capital. Rather Dynex Capital has a higher interest rate spread than many of the other mortgage REIT companies, which compensate by having higher leverage (more risk).
DX has been doing a great job of keeping its CPR (constant prepayment rate) down. It was 14.3% in Q2 2012 versus 15.4% in Q1. This is too lower than many other mortgage REITs. However, it expects this to rise in 2H due to HARP 2.0. Plus the exact mortgage situation is unclear at the moment. Operation Twist, which has been keeping the mortgage rates down will end at the end of Q4 2012. Further the Fed may start buying MBS with a QE3 program at almost anytime. Pundits continue to speculate about when. No one can say they know. However, it seems likely that the fiscal cliff and tax-maggedon will result in another bout of deflation. Even if these last two are largely kicked down the road, they will still have negative economic effect. This will likely mean the Fed will at that point (if not sooner) step in with QE3. This should mean that mortgage rates should stay relatively stable. It should mean that homes will remain affordable, and the housing market will continue to bottom. The housing market may even recover slightly. The mortgage REIT business should remain profitable for some time. The chart below of the net interest income and the net interest spread shows that the market has been relatively stable recently.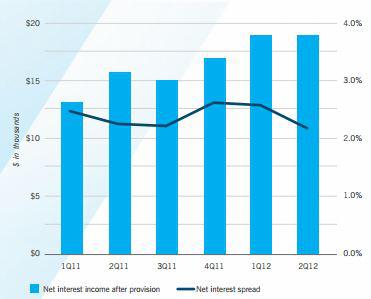 As of the close on Friday August 31, 2012, DX traded at $10.45. This is only slightly higher than the book value per common share of $9.66 at the end of Q2. This was up slightly from $9.62 at the end of Q1 2012. It was up more dramatically from $9.20 at the end of Q4 2011. This is at least steady value that should make you comfortable about buying DX to get its 11.10% dividend. A portfolio of 82% agency MBS, 15% non-agency MBS and 2% mortgage loans, and less than 1% other should help. A portfolio rating of 89% AAA, 3% AA, 7% A, and only 1% below A should help. The raise of the dividend from $0.92 in 2009 to $0.98 in 2010 to $1.09 in 2011 to $1.16 in 2012 annualized should help. Finally the table below of recent quarterly results shows stability. It tells you that you can buy into the 11.10% dividend with relative safety.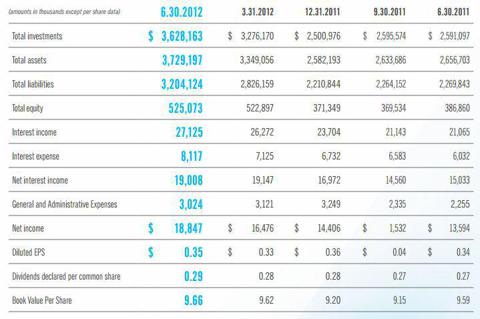 Click to enlarge
The table below of agency MBS holdings shows the approximate distribution in the different kinds of MBS.

Click to enlarge
The two year chart of DX stock price provides some technical direction to this trade.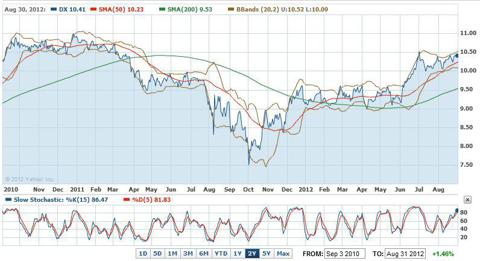 Click to enlarge
The slow stochastic sub chart shows that DX is currently overbought. The main chart shows that DX is in an uptrend. It shows that the price line is near the upper Bollinger Band (near overbought levels). It shows the price line is far above the 200-day SMA, and it is above the 50-day SMA. This probably means you should average in. The price could fall back toward the 200-day SMA. The overall market is overbought. It could retrace at any time, and it could bring DX down with it. Still DX is paying a great dividend, and it is in an uptrend. It should be reasonably safe. It is a buy. The dividend is several times the Treasury bond yields, and DX is reasonably safe with the Fed supporting the mortgage industry. DX's P/E of 9.43 is reasonable. It has an average analysts' rating of 2.2 and a CAPS rating of five stars. Both ratings are BUYS.
If you like this kind of company, you might want to also look at American Capital Agency Corp. (NASDAQ:AGNC), CYS Investments Inc. (NYSE:CYS), Armour Residential REIT Inc. (NYSE:ARR), and Annaly Capital Management Inc. (NYSE:NLY). Please do your own research on these.
NOTE: Some of the fundamental fiscal data is from Yahoo Finance.
Good Luck Trading.
Disclosure: I have no positions in any stocks mentioned, but may initiate a long position in DX over the next 72 hours. I wrote this article myself, and it expresses my own opinions. I am not receiving compensation for it (other than from Seeking Alpha). I have no business relationship with any company whose stock is mentioned in this article.