Back on August 23, 2012, I wrote an article on Annaly Capital (NYSE:NLY) and other mREITs, which laid out the sensitivities of their net interest spread and their portfolios to changes in interest rates. In the discussion stream that followed the article, readers asked me to lay out the facts for other mREITs. This article is following up with the various sensitivities of the mREITs requested - it is not an analysis of these REITs, just the facts.
The REITs that will be addressed are:
ARMOUR Residential REIT (NYSE:ARR) invests in hybrid adjustable rate, adjustable rate and fixed rate residential mortgage-backed securities issued by or guaranteed by U.S. Government agencies or U.S. Government-sponsored entities.
American Capital Mortgage Investment Corp. (NASDAQ:MTGE) invests in, finances and manages a leveraged portfolio of mortgage-related investments, which include agency mortgage investments, non-agency mortgage investments and commercial mortgage-backed securities, commercial mortgage loans, mortgage-related derivatives and other mortgage-related investments.
Apollo Residential Mortgage (NYSE:AMTG): The company is a residential real estate finance company that invests in residential mortgage assets in the United States. The company's principal objective is to provide attractive risk-adjusted returns to its stockholders over the long term, primarily through dividend distributions and secondarily through capital appreciation. The company pursues this objective by selectively constructing a portfolio of assets that currently consists of Agency RMBS and non-Agency RMBS, and that over time may be diversified to cover a broader range of other residential mortgage assets, including residential mortgage loans.
CYS Investments (NYSE:CYS) is a specialty finance company that was created with the objective of achieving consistent risk-adjusted investment income. We seek to achieve this objective by investing on a leveraged basis in residential mortgage pass-through securities for which the principal and interest payments are by U.S. Government agencies.
NOTE: In the sensitivity charts, CYS uses a +/- 75bp scenario whereas the others use +/-100bps.
Net Interest Margin Sensitivity: Rising Rates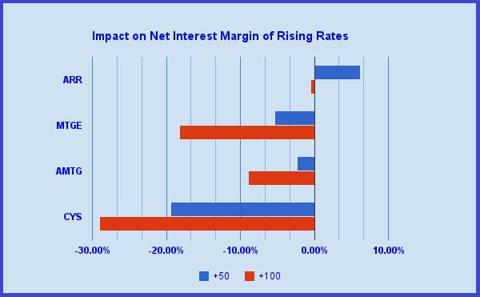 Only Armour has positioned themselves to benefit from rising rates, and CYS gets taken to the woodshed in their rising rate scenarios.
Net Interest Margin Sensitivity: Falling Rates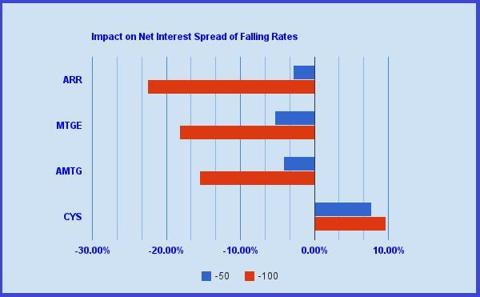 Armour will be most negatively impacted by falling rates and CYS has a positive impact in a falling rate scenario. This is the opposite of the rising rate scenarios and reflects the two mREITs' opposing viewpoint on rate outlooks.
Net interest margin bottom line: The charts above should assist an investor in determining the impact of rising or falling rates on net interest margin. ARR and CYS have opposing viewpoints as expressed through their spread impact profile.
Portfolio Value Sensitivity: Rising Rates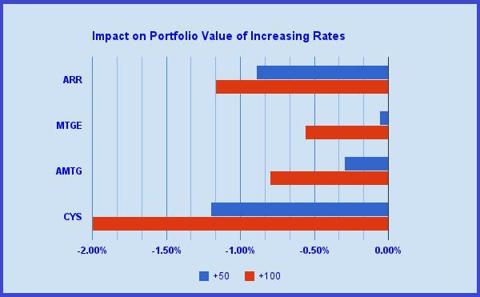 Again we see CYS taken to the woodshed in a rising rate scenario, while MTGE is the best protected.
Portfolio Value Sensitivity: Falling Rates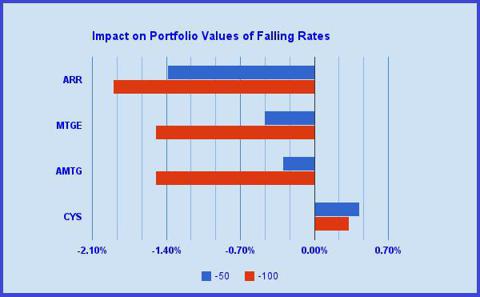 As we might expect at this point, CYS' portfolio performs the best in a falling rate scenario while, ARR takes it on the chin.
Portfolio value sensitivity bottom line: Due to the hedging policies of the residential mREITs, their portfolios should not exhibit significant swings in the event of either rising or falling rates (although +/- 2% is a decent amount of swing). Essentially, this data should be combined with the net interest margin sensitivity (i.e. not a standalone basis for inclusion/exclusion) if an investor is positioning an mREIT based on her/his interest rate outlook.
Leverage:
Leverage is a fundamental concept in mREITs, much as it is in all financial entities. If the margin you are earning is smaller (the average of the group for Q2 was 2.17%, slightly lower than the mREITs covered in the first article), then you magnify the income (and the return on equity) by borrowing money to buy more product. The following chart shows the leverage of these residential mortgage REITs as of June 30, 2012, and December 31, 2011 (average leverage was 7.24x and 7.21x for those timeframes, respectively):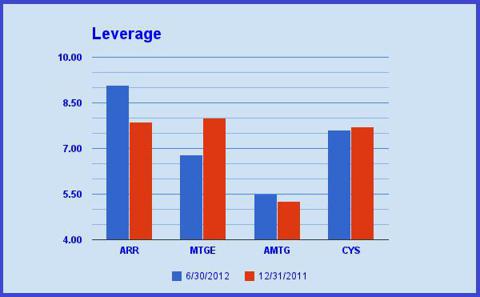 As the above chart shows, ARR is most levered as of June 30, 2012, whereas Apollo employs the least leverage due to their inclusion of non-agency mortgages.
Net Interest Margins: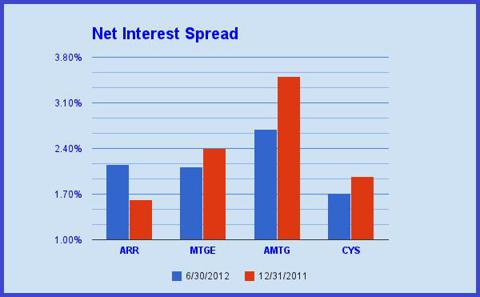 It is no surprise that Apollo has the highest net interest spread due to their use of non-agency product.
Bottom Line: I hope this article has given an unbiased presentation of the facts and the characteristics of this peer group of residential mortgage REITs. This information should help investors - and potential investors - align their interest rate outlooks with an investment in mortgage REITs.
NOTE: Most of the sensitivities are based on parallel shifts in the yield curve, which rarely ever happens. Hedging strategies may yield different results than the modeled results due to changes in swap rates, swap levels, prepayment speeds, etc. The information collected here is from the filings of the companies themselves, so model assumptions are unknown. The use of leverage will magnify results - good and bad - and must be considered prior to investing or reinvesting.
Disclosure: Long REM (not for long) and NRF. I wrote this article myself, and it expresses my own opinions. I am not receiving compensation for it (other than from Seeking Alpha). I have no business relationship with any company whose stock is mentioned in this article.
Additional disclosure: This article is for informational purposes only, it is not a recommendation to buy or sell any security and is strictly the opinion of Rubicon Associates LLC. Every investor is strongly encouraged to do their own research prior to investing.