The 2012 European situation has caused extreme market volatility and has forced investors to seek safer stocks. With the economic and political climates becoming more tumultuous, I have been concentrating on high-yield opportunities. Blue-chip dividend companies are well known, but there are attractive equities with high yields going ex-dividend every week. This strategy can work in one of two ways: either you buy before the ex-date to receive the dividend or buy after if the stock declines far below the after-tax amount of the dividend. Regardless of your short-term strategy, these equities can be attractive longer-term investments depending on your individual circumstances.
Buying the stock to receive the dividend is intuitive, but many have contacted me requesting further details on the second strategy. Investopedia has a great example of how this works. To explain this, I will use AT&T (NYSE:T) as an example. AT&T declared a $0.44 dividend to shareholders of record on July 10, 2012. On the ex-dividend date, the stock price should decline by the after-tax dividend amount, with an assumed tax rate of 15% because many dividends qualify for a preferential tax rate. It is true that you can personally avoid immediate taxation by owning the security in an account with beneficial tax treatment, but this serves as a benchmark.
As a result, an investor would expect the stock price to decline by $0.37 = [$0.44 * (1-.15)]. If AT&T declined by more than $0.37 in the absence of negative news, you might have an attractive opportunity. For conservatism, you may ignore the tax aspects and only trade if the stock price declines by the full dividend amount. Executing this strategy can generate returns over short periods of times but should only be performed on companies that you would be comfortable owning.
To focus on these opportunities, I ran a screen with a focus on relative safety for the investments, as the objective is to concentrate on liquid companies that are affordably priced. I began with a specification of a dividend yield greater than four percent and an ex-dividend date within the next week. To provide some layer of safety, I narrowed down the environment by looking at companies with market capitalizations greater than $1B, P/Es between zero and 20, and institutional holding percentage in excess of fifteen percent (except ADRs).
While not a precise requirement, I prefer companies that have underperformed the S&P 500 year-to-date, as it indicates reduced downside relative to peers. With the impending European crisis, I now avoid companies with significant European exposure. This is summarized below:
Dividend Yield ≥ 4.0%
Ex-Dividend Date = Next Week
Market Capitalization ≥ $1B
P/E Ratio: 0-20
Institutional Ownership ≥ 15%
Ideally Modest S&P 500 Underperformance
Minimal European Exposure
After applying this screen, I arrived at the equities discussed below. Due to the number of utility companies this week, I have analyzed them in a separate article. Although I envision these as short-term trading ideas, you still need to exercise caution. The information presented below should simply be a starting point for further research in consultation with your professional financial advisor before you make any investment decision. My goal is to present new companies to you and provide a brief overview of their recent developments, and this should not be considered a substitute for your own due diligence.
Avoid: Biotechnology & Drugs
PDL Biopharma Inc. (NASDAQ:PDLI): 8.16% Yield - Ex-Dividend 9/5
PDL Biopharma is a biotech company run by fewer than 10 employees with a patented process to create humanized antibodies. For those who have not thought about biology since high school, antibodies are proteins in the immune system that help fight against diseases. PDL's technique is unique because its humanized antibodies are more easily accepted by the human body, which makes them more useful in drugs. In this way, PDL is very unique in that it relies on the development of other companies who utilize their patents in different drugs. The most lucrative drugs thus far have been cancer treatments Herceptin (breast) and Avastin (colorectal). Thus far, the business model sounds very attractive, but it apparently is too good to be true.
The company's key "Queen et al. patents" expire in the next 15 months, and the company will be at a critical crossroad. The company can either "obtain new revenue generating assets" or wind-up around 2016. The second option may not realize significant value for shareholders as PDL has a significant debt load. In fact, the convertible notes payable are significantly greater than total assets ($300M vs. $260M). The situation gets bleaker as the company has a $160M shareholder deficit. There may be additional hidden value to unlock, but I would be uncomfortable owning PDL long term. Thus PDL Biopharma is not a candidate for dividend capturing.
Avoid: Publishing & Printing
Gannett Co., Inc. (NYSE:GCI): 5.27% Yield - Ex-Dividend 9/5
Gannett Co. is a media conglomerate that owns numerous newspapers and news websites, including USAToday. The company has faced tremendous difficulty adapting to a digital society, which is reflected in its stock price that has declined from nearly $90 in 2003 to $15 today. The company has made recent steps to increase its digital offerings, but this will not be a quick turnaround story. Earnings have been steadily decreasing as declines in publishing have been partially offset by growth in digital and broadcasting. The dividend history is equally rocky as it was slashed in 2009 from $0.40 to $0.04 per quarter. The dividend has been restored to $0.20 per share now, but the company will have to reverse improve its earnings to maintain such a payout going forward. The stock has unexpectedly jumped 17% in the past quarter largely due to the 150% rise in page views for Gannett's mobile app, spurring speculation that the company is succeeding in digital. Gannett might look attractive with a 5% yield and 9 P/E, but I would avoid this company until it is able to consistently prove that it can grow earnings
Consider: Waste Management Services
Waste Management (NYSE:WM): 4.10% Yield - Ex-Dividend 9/5
Waste Management specializes in a business that few others want to deal with: waste and garbage. WM offers collection, transfer, recycling, and disposal services for both residential and commercial customers. The business is not just simply picking up garbage and depositing it in landfills anymore. Now there are high-tech recycling and related operations that are integral to the business and offer WM a competitive advantage over smaller rivals. Aside from Waste Management's massive fraud in the 1990s, this company has been a steady performer that capitalizes on an unpopular business. The stock has lagged the S&P this year as its earnings continue to be a mixed bag, with the company missing both top and bottom line estimates. Revenues continue to climb slightly, but earnings were soft as a result of higher costs for fuel. The company plans to cut 700 jobs in an attempt to rein in costs, but I think the weakness will continue in the absence of an external catalyst. The economy continues to challenge municipalities, so Waste Management has necessarily began exploring alternative revenue sources. The company recently announced plans to partner with Renmatix to investigate the feasibility of converting consumer garbage into manufacturing sugar. These are the sort of deals that Waste Management will be forced to pursue if it wants to return to its growth days.
The dividend is on the lower end considering its P/E, but this quality company is still worth considering due to its 'safe haven' reputation. The image is starting to deteriorate as Barron's has logically questioned the safety of the dividend - "dividends this year will consume more than 57% of projected free cash flow, and about two-thirds of expected earnings of $2.14 a share."
Consider: Tobacco Companies
Reynolds American (NYSE:RAI): 5.11% Yield - Ex-Dividend 9/6
Reynolds is the other "big tobacco" company like Lorillard (NYSE:LO), which I covered last week. RAI is one of the "big tobacco" companies, with brands including Camel and Kool. I have invested in both Altria (NYSE:MO) and Philip Morris (NYSE:PM) with tremendous capital gains and dividends over the years. Lorillard does not have brands that are as strong, but it is a similar investment hypothesis. U.S. cigarette volume is declining, but tobacco is still a strong worldwide seller. Furthermore, declines in cigarettes are being partially offset by demand for smokeless tobacco and other products. Tobacco companies are both mature and safe, which presents the opportunity to return money to shareholders via dividends and share repurchases. The recent legal appeals ruling against graphic cigarette warning labels should act as a rare short-term catalyst for this subdued industry. For these reasons, I hold PM in my "Great Recession II" portfolio. The stock has appreciated 9.8% in the past quarter alone and has logged a solid 23.6% one-year gain.
The information presented has been summarized below. Yellow and red represent "avoid" and "consider" classifications, respectively. All utility companies are represented with blue and have been analyzed in a separate article.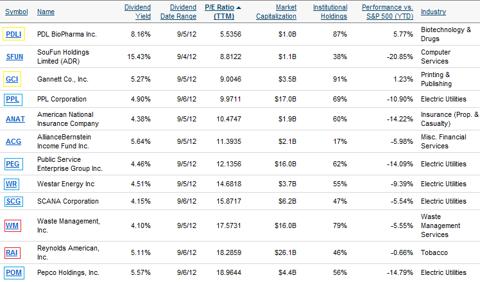 Disclosure: I am long MO, PM, T. I wrote this article myself, and it expresses my own opinions. I am not receiving compensation for it (other than from Seeking Alpha). I have no business relationship with any company whose stock is mentioned in this article.
Additional disclosure: Short PM Sept. $92.50 Calls