Since the 2008 recession, retail has become increasingly difficult and competitive. The rise of ecommerce and the changing consumer (in large part due to demographics) has made it more and more difficult to harness sales and ultimately drive earnings. There are two main ways that retailers can drive earnings. The first is that which The Fresh Market (NASDAQ:TFM) has been able to do: to capture a new market with its specialty food offering and ultimately drive sales at such a fast rate that earnings simply follow. The other way for retailers to drive earnings and investor returns is through cutting costs and truly understanding the business model. This is what T.J. Maxx (NYSE:TJX) has been able to do over the past year and the results are simply fantastic. These are two companies that have demonstrated strength in tough times and have gone about creating a sustainable business model that meets the needs and wants of the modern day consumer and subsequently have provided investors with market returns built upon retail success.
TJX: Cutting Costs & Driving Steady Sales
What TJX has been able to do is create a business that is founded upon providing customers with a strong value proposition due to the company's ability to cut costs and operate efficiently. This is evident in the company's second-quarter results. Carol Meyrowitz, CEO stated:
We are extremely pleased that our strong momentum continued in the second quarter. Our 24% increase in earnings per share and 7% consolidated comparable store sales growth both significantly exceeded our original expectations, with every business posting excellent results. We are raising our full-year guidance to reflect our second quarter earnings per share. In addition, this marks the seventh consecutive year of very strong second quarter operating performance, which we believe demonstrates the sustainability of our sales and profit growth in both strong and weak economies. Customer traffic was up substantially at all divisions in the U.S., Canada and Europe and drove most of the comparable store sales increase, reflecting our on-point fashions and brands at great values... It's important to note that TJX is a company with a business model that enables us to succeed in most macro environments and, at the same time, has terrific growth potential. We are leveraging our four powerful divisions and have deep confidence in our ability to continue delivering profitable growth and high financial returns in the near and long term.
This sentiment and clarity that Meyrowitz puts forth is evidence of the company's security and ability to drive sales in difficult economic times. The numbers speak for themselves:
Forward Price/Earnings:16.56
PEG Ratio: 1.49
EV/EBIDA: 10.06
Profit Margin: 7.10%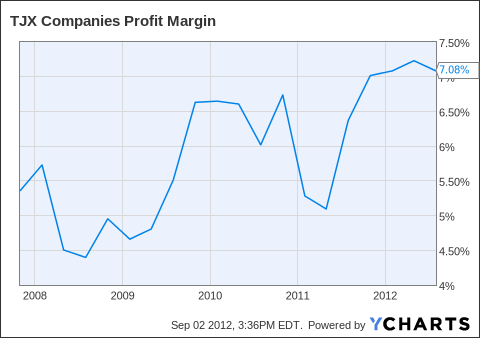 TJX Profit Margin data by YCharts
Revenue Growth (yoy): 8.70%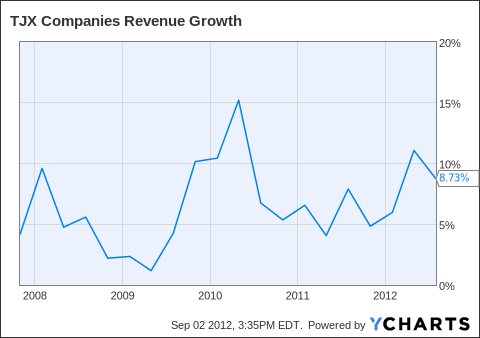 TJX Revenue Growth data by YCharts
Earnings Growth (yoy): 20.90%
Cash: $1.80B
Dividend: 1.00%
These financial and valuation metrics illustrate the company's strength and continued promise into the future. TJX is a buy due to its track record of achieving earnings growth that exceeds revenue growth.
TFM: Growing Footprint & Earnings
Since TFM went public in 2009, the company has achieved incredible profitability through its specialty offerings. The company is closely aligned with Whole Foods Market (NASDAQ:WFM) in that both companies are going after the health conscious shoppers with a unique offering and ultimately experience. What TFM has been able to accomplish and the growth the company has seen over the past year alone has illustrated the power of the format. TFM has tapped into a market that Whole Foods and regional grocers have been dominating for years and provides a strong alternative. The company's CEO & President Craig Carlock, states:
We are extremely pleased with our strong second quarter performance for both sales and earnings growth. Our comparable store sales grew 8.0% in the second quarter, led by customer transactions and continuing the sales momentum we've seen over the past several quarters. Additionally, during the quarter we opened five new stores, we made significant progress on our California expansion plans and, despite incremental public company expenses, transactions costs due to our public offering and legal settlement costs incurred during the quarter, we were able to increase our operating margin to 6.9%. We continue to be extremely enthusiastic about the consistency of our business and are therefore raising our fiscal 2012 guidance to reflect not only the strong first half performance but our continued confidence in our second half growth prospects. We now believe that fiscal 2012 comparable sales growth will be 5.5% to 6.5% and that our earnings per share will be between $1.33 and $1.38, including the absorption of equity offering transaction expenses and incremental legal costs incurred this quarter.
Carlock's sentiment and the results the company has delivered show the promise within the brand and how it can change the landscape of specialty food retailing. The growth within the company's store base is what is truly exciting. The company is planning to open 14-16 more stores this year and enter three new states: Kansas, Oklahoma, and New Hampshire. Carlock has constructed a plan for expansion that is disciplined and does not yield itself to excessive risk. This consistency makes TFM an interesting retail play and a company to watch. The company's financials are as follows:
Forward Price/Earnings: 32.80
PEG Ratio: 1.87
EV/EBIDA: 20.32
Profit Margin: 4.91%
Revenue Growth (yoy): 20.60%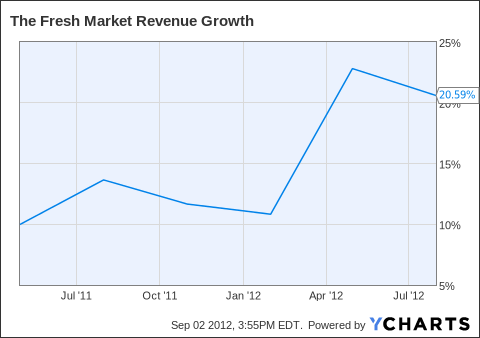 TFM Revenue Growth data by YCharts
Earnings Growth (yoy): 26.90%
These metrics illustrate that although TFM is not a "cheap" stock, it has the financial history to prove that it has a sustainable business model that has increasing potential. The valuation is something to continue to monitor as it could come to a point of being over-valued, but currently the company's growth outweighs the company's valuation, which from a PEG ratio is not outrageous.
Conclusion:
These two companies have demonstrated an ability to drive earnings through two different means: a consistent business model where costs are consistently being cut and to drive revenue through a hot, new, and sustainable concept. The two companies' stock performance over the past year speaks to the strength within these retailers and how they are both operating on sound footing in this difficult retail environment.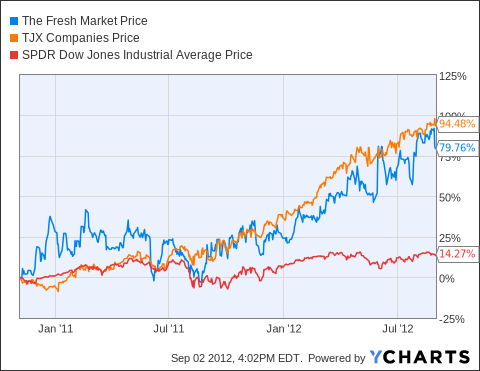 Disclosure: I have no positions in any stocks mentioned, and no plans to initiate any positions within the next 72 hours. I wrote this article myself, and it expresses my own opinions. I am not receiving compensation for it (other than from Seeking Alpha). I have no business relationship with any company whose stock is mentioned in this article.