George Soros is one of the world's most renowned investors and financiers of all time. He founded his investment firm Soros Fund Management in 1969, which served as advisor to the Quantum Group of Funds. The firm is known as one of the pioneering macro hedge funds. It has been recognized as one of the most successful hedge funds in history, averaging total returns of over 20% per year over the past four decades. Last year, the fund closed doors to outside money and returned about $1 billion in the process to transition into a family office due to increased regulatory scrutiny. Currently, the fund has about $25 billion in assets under management.
Known as "the man who broke the Bank of England" by shorting the British pound in September 1992, which earned him personally $1 billion in the process, Soros has been making broad bets in different asset classes and sectors based on macroeconomic events and applying economic theory. His hedge fund recently presented its positions in a 13-F regulatory filing with the SEC. Below is a closer look at four new dividend-paying stocks that have been added to Soros' hedge fund portfolio.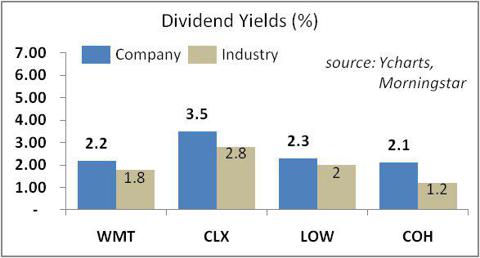 Click to enlarge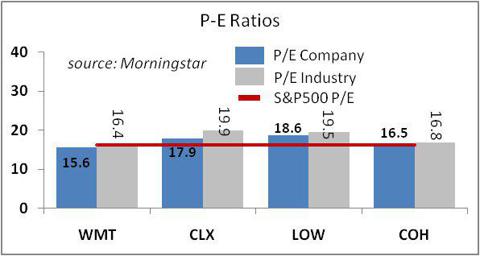 Click to enlarge
Wal-Mart (NYSE:WMT) is one of the newest additions to George Soros' portfolio and currently his single largest holding. At the end of the second quarter, Soros reported owning some 4.83 million shares of Wal-Mart, worth in total nearly $337 million. This world's largest discount retailer has raised its payouts every year since paying its first dividend in 1974. The company is currently yielding 2.2% on a payout ratio of 34%. Its core competitors Costco Wholesale Corporation (NASDAQ:COST) and Target Corp. (NYSE:TGT) pay dividend yields of 1.1% and 2.2%, respectively. Over the past five years, Wal-Mart boosted its EPS and dividends at average rates of 9.2% and 13.5% per year, respectively. The company is forecast to increase its EPS at an average rate of close to 9.0% per year for the next five years. Given its low dividend payout and the expected EPS growth, Wal-Mart may be expected to continue to raise its dividends at double digits in the foreseeable future. The stock will benefit from the general trend toward value purchases of cheaper generic goods. The company's international expansion bodes well for its future growth, given that by 2025 some half of all consumer spending in the world will come from emerging markets, according to consultancy McKinsey & Co. Wal-Mart has a free cash flow yield of 3.1%, a ROE of 24%, and a return on invested capital (ROIC) of 14.6%. Despite the recent run-up in prices, the stock is still trading at a discount to the broadline retailers' industry. Legendary investor Warren Buffett has also been a big fan of the stock as a value play.
The Clorox Company (NYSE:CLX) is also a new position in Soros' hedge fund. At the end of the second quarter, the fund reported owning 675,692 shares worth about $49 million. That was the highest reported holding of Clorox shares among hedge funds. Clorox sells consumer goods and institutional products such as cleaning products, bleaches, water filters and packaged food. The stock is currently yielding 3.5% on a payout ratio of 63%. Over the past five years, the company's EPS grew at a moderate average rate of 5% per year. That rate is expected to accelerate to 8% per year for the next five years. While Clorox's future dividend growth is likely to average less than 13.3% per year achieved over the past five years, its yield is still more competitive than that of some of its competitors. For example, Colgate-Palmolive (NYSE:CL) yields only 2.3%. Procter & Gamble (NYSE:PG) yields 3.4%; however, its future EPS growth outlook is somewhat cloudy as the company struggles to raise prices despite strong brand power. The Clorox Company has reported strong pricing trends and revenue growth for six consecutive quarters. The stock is a countercyclical play known to be resilient to downturns. The company is also growing through acquisitions that promise to boost Clorox's market share. Clorox's ROIC is high at close to 38%, compared to only 13% for P&G. On a forward P/E basis, the stock is trading almost on par with its respective industry; however, the shares are generally selling below their historical P/Es over the past decade. Among fund managers, billionaires Israel Englander and Jim Simons also own the stock.
Lowe's Companies Inc. (NYSE:LOW) is a new $27 million holding in Soros' hedge fund portfolio. The company is a $33-billion home improvement retailer. This Soros' bet on the housing rebound currently pays a dividend yield of 2.3% on a payout ratio of 43%. Its main competitor, Home Depot Inc. (NYSE:HD), pays a dividend yielding 2.0% on a payout ratio of 42%. In terms of total returns, Home Depot has outperformed Lowe's over the long-term horizon, including the year-to-date period. We recently wrote an article that analyzed the arguments in favor of or against Home Depot's continued outperformance compared to Lowe's. In terms of valuation, while both companies' average P/Es over the past five years averaged 16 times trailing earnings, Home Depot is currently trading at a significant premium to this average, while Lowe's is positioned right around the average. Home Depot is likely pricier due to its better fundamentals and higher ROIC, even though Lowe's is expected to post higher EPS growth in the next five years. Home Depot has a ROIC of 14.3% versus 7.9% for Lowe's. Both companies are likely to benefit from the impending housing rebound, although the expectations about the recovery seem to be priced into the shares. It is worth noting that Lowe's has been seemingly more willing to boost shareholder value through dividend hikes even during EPS contractions. Going forward, as its EPS growth recovers, the company could boost payouts at rates faster than those of Home Depot. Value investor Edgar Wachenheim (Greenhaven Associates-check out its top picks) holds more than $353 million in Lowe's stock.
Coach Inc. (NYSE:COH) was another new position in Soros' hedge fund in the second quarter. He reported owning 293,136 shares worth little more than $17 million at the end of the quarter. The company is a maker of "affordable luxury" accessories, including handbags, bags, footwear, sunglasses, and other products. It pays a dividend yield of 2.1% on a payout ratio of 34%. While most of the company's closest rivals are privately held, its peers such as LVMH Moet Hennessy Louis Vuitton (OTCPK:LVMUY) and Ralph Lauren Corporation (NYSE:RL) pay dividend yields of 2.2% and 1.0%, respectively. Over the past five years, Coach saw its EPS grow at an average rate of 16% per year. The company is expected to maintain its EPS growth close to 15% per year for the next half decade. Since 2009, when the company started paying a dividend, its payout has increased 15 fold. While Coach posted robust revenue and EPS growth in the previous quarter, the stock dived in response to weaker-than-expected sales in North America. Growth in China was especially robust, which prompted Cannacord Genuity to upgrade its rating on the stock from hold to buy with a $71 price target, a 22% upside potential. Coach is confident about sustaining double-digit growth in both top and bottom lines in fiscal 2012 through the expansion of its global distribution and entry into underserved markets. The rise of the middle class in China bodes well for a continued strong performance of Coach in the future. The stock is undervalued based on its 2013 forward P/E. The company has almost no debt, a free cash flow yield of 4.7% and a high ROE of 52%. It is popular with Jim Simons, who boosted his position in the stock by 154% to $238 million in the second quarter.
Disclosure: I have no positions in any stocks mentioned, and no plans to initiate any positions within the next 72 hours. I wrote this article myself, and it expresses my own opinions. I am not receiving compensation for it (other than from Seeking Alpha). I have no business relationship with any company whose stock is mentioned in this article.