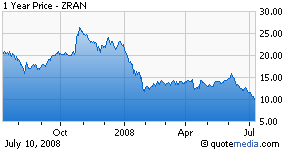 Time to sell Zoran (NASDAQ:ZRAN) shares, Jefferies & Co.'s Adam Benjamin advises this morning.
Benjamin, who actually already rated the stock Underperform, this morning cut his price target on the shares to $8.50 from $10. In a research note this morning, he asserted that recent channel checks find the company has lost two "material" TV converter box designs, "significantly lowering the upside opportunity in [the second half] that many investors are looking for."
In particular, he says Zoran lost key converter box designs for Apex [which sells at Best Buy (NYSE:BBY)] and GE/Jasco [which sells at Target (NYSE:TGT)]. "Given these losses, we believe the second half boost of potentially $20 million that many investors are waiting for has actually shifted to a slight headwind as Zoran will likely see a drop-off of in revenue of roughly $3 million from Q2 to Q3 as the Apex and Jasco SKUs shift to a new supplier," he writes.
Benjamin also says that checks suggest weakening orders in the company's DVD and digital still camera businesses due to "softer end market demand and increasing channel inventory."