By now, it is no secret that economic growth produced by accommodative monetary policy is not immune from the law of diminishing returns. Despite the best (or 'worst', depending on your point of view) efforts of the world's central banks, the global economic recovery has ground to a halt as reality sinks in and people realize that creating more money does not make society wealthier.

Today investors learned that, according to data provider Markit's final Purchasing Manager's Index (PMI), the eurozone manufacturing sector contracted for the 13th consecutive month in August. Markit's chief economist Rob Dobson suggests that the latest data show that far from being a problem unique to the periphery, the pain is spreading and indeed threatens to plunge the core into recession in the later half of this year:
Larger nations like France and Germany remain in reverse gear... the (manufacturing) sector is on course to act as a drag on gross domestic product in the third quarter.
Here is a graphical representation of the malaise: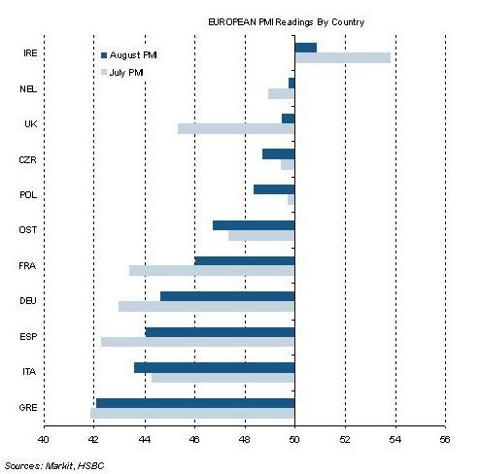 Click to enlarge
Source: Markit
Complicating matters for the ECB which, by today's zero interest rate policy (ZIRP) standard, still has room to cut rates, is the fact that eurozone inflation rose to 2.6% in August from 2.4% in July, according to Eurostat. Rising prices are generally thought to give central banks less 'room to ease.'
I would be remiss if I did not also mention that China's official PMI printed at 49.2 for August, falling into contraction territory for the first time in nine months, while HSBC reported China PMI at an even lower level (47.6) on Monday. Weak foreign demand has also caused South Korea's manufacturing sector to suffer a contraction that is now entering its fourth month. Similarly, China's slowdown has adversely affected Australia, whose PMI printed at just 45.3 in August, and an abysmal 40.3 in July.
For investors betting on a global recovery buoyed by central bank stimulus, this isn't good news. A true recovery can only begin when malinvestment encouraged by central banks' extension of created credit is purged from the system naturally via a sharp downturn. Until such a time as this is allowed to happen, economic activity will continue to grind slowly downward. What is needed is a contraction of credit and a forced reallocation of capital to where it can be most productively utilized, not a reinflation of the credit bubble and artificially inflated asset prices brought on by money printing. Central banks are now leaning against the wind. For my part, I recommend exercising patience and prudence and betting on a rise in the value of gold (NYSEARCA:GLD), hard assets, and volatility.
Disclosure: I have no positions in any stocks mentioned, and no plans to initiate any positions within the next 72 hours. I wrote this article myself, and it expresses my own opinions. I am not receiving compensation for it (other than from Seeking Alpha). I have no business relationship with any company whose stock is mentioned in this article.