We are bullish on PT Telekomunikasi Indonesia (NYSE:TLK) as it has produced impressive revenue growth over the years, while maintaining high and stable gross and operating margins, better than any other telecom in the industry. This is impressive considering the intense competition in Indonesia, where there are 250 million mobile subscribers, more than the nation's 240 million population. TLK offers a dividend yield of 3.5%, which is well backed by its free cash flow yield of 6%. Moreover, the stock is trading at cheaper valuations relative to its peers.
TLK is a telecommunication and network service provider operating through four segments: fixed wireline, fixed wireless, cellular and others. The company has a growing number of subscribers, which reached almost 130 million subscribers as at the financial year ended 2011. The company has a market capitalization of $20 billion, with its shares trading near $38.6 on the NYSE.
As mentioned previously, the company derives its revenues from four segments, with a major chunk coming from its fixed wireline and cellular segments. As at financial year ended 2011, the company derived almost 16% from its fixed wireline business. The company generated total revenues of 71 trillion Rupiah in the financial year ended 2011, showing an improvement of almost 4% from the previous year. This is particularly impressive considering the slight deterioration in its core fixed line business. Total wireline revenues dropped in FY11 by almost 7%, largely due to increased smartphone use and a rising mobile penetration in Indonesia.
Source: www.sutrisno.me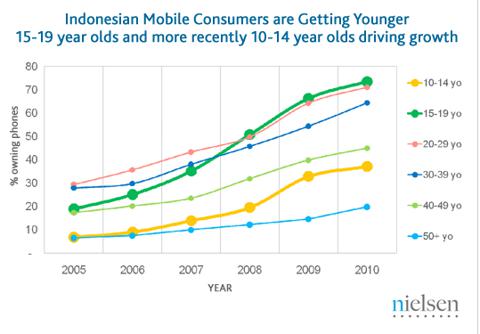 The fixed wireline business has continued to slip for a majority of telecom operators across the globe, as smartphones provide additional convenience, which traditional landline phones don't; this is why the drop in revenues from the company's wireline business comes as no surprise. The company's fixed wireless revenues also declined significantly in the financial year ended 2011. An intense competitive environment in the region, as well as deterioration in voice revenues, led to the 31% decrease in fixed wireless revenues. The company is facing fierce competition from local telecom companies, with every company introducing new and cheap packages for its respective SMS and voice call services.
The company's cellular business experienced a slight deterioration in 2011 as well, despite the increase in its mobile subscription base. Total subscribers grew by almost 14% in the year as compared to 2010. Subscriber growth has largely been possible due to increasing demand for mobile phone services in the country. In the prepaid market, the user behavior is more erratic as compared to the postpaid arena, which is exploited by various telecom operators that compete with each other to offer the best package with the cheapest rates. Perhaps that is one of the reasons why the company couldn't increase revenues from its cellular business, despite adding more customers. Data and Internet business was largely responsible for offsetting the drop in revenues from the company's fixed line and cellular businesses, growing by almost 21% in the financial year ended 2011. An increase in people using the company's SMS services, Internet and data communication services, led to this improvement.
A brief summary of the company's half yearly results as at June, 2012 is as follows:
Total revenue growth of 7%.
Cellular customer base growth of almost 15%, reaching 117 million subscribers with total additions of 10 million.
Broadband user growth of 13%.
A growth in profits of 12% and EPS of Rp333.9 as compared to Rp302 for 1H2011.
The company has consistently increased its revenues over the years. Since FY2007, it has increased its revenues at a compounded rate of almost 3.5%. Moreover, it posts one of the highest gross and operating margins among telecom operators in the region. In the year ended 2011, the company posted gross and operating margins of 72% and 31% respectively, much higher than its rival PT Indosat (IIT). TLK has a moderate debt-to-equity ratio of 32%, and sufficient cash reserves of approximately 10 trillion Rupiah, which roughly translate into $1 billion in cash and short-term investments.
The stock currently yields almost 3.5%, which is substantially higher than Indosat's 1.2%. Moreover, TLK has maintained a modest payout ratio of 55%, which has allowed for some dividend growth over the years.

Source: www.telkom.co
In the year 2011, the company paid total dividends of almost 6 trillion Rupiah, while generating operating cash flows of 30 trillion Rupiah, which have been consistently improving. Operating cash flows for the year were more than sufficient to cover its dividend payments, as well as capital expenditures of 14 trillion Rupiah, which shows the company's ability to afford and bring future growth in its dividend payments.
The stock is trading at 15 times its earnings, at a slight discount to its five-year historic average of 16x, as well as a 56% discount to Indosat's P/E multiple, indicating that the stock is currently undervalued. TLK's EV/EBITDA of 4.7x is also lower than Indosat's 5.1x.
Disclosure: I have no positions in any stocks mentioned, and no plans to initiate any positions within the next 72 hours.
Business relationship disclosure: The article has been written by Qineqt's Telecom Analyst. Qineqt is not receiving compensation for it (other than from Seeking Alpha). Qineqt has no business relationship with any company whose stock is mentioned in this article.