With Altria (NYSE:MO) raising its dividend by about 7.3% next quarter - from 41 cents to 44 cents per share - I decided to look at how the stock has traded against various yield levels over the past few years.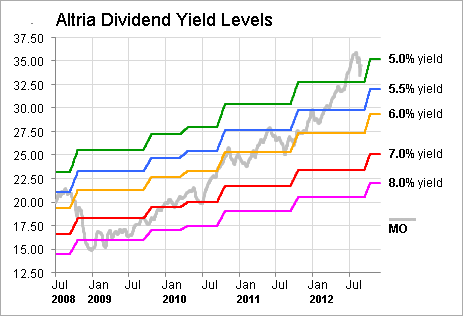 The chart shows that the stock trades with a market yield of around 5.15%, when you account for the new dividend, which has an ex-date of September 12.
Note, however, that as the stock has been rising - more than doubling since early 2009 - the yield has been falling. Altria has been a great core dividend holding (I own it myself). The company continues to raise its payout at a steady clip.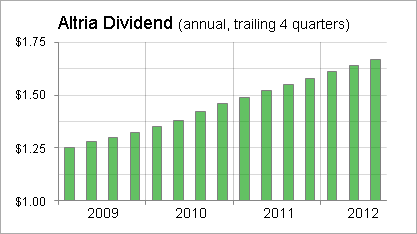 I have noticed that MO's yield tracks interest rates a bit more closely than some other consumer-oriented dividend stocks. Here's a look at Altria's yield plotted against the Moody's Seasoned Aaa Corporate Bond Yield (data per the St. Louis Fed)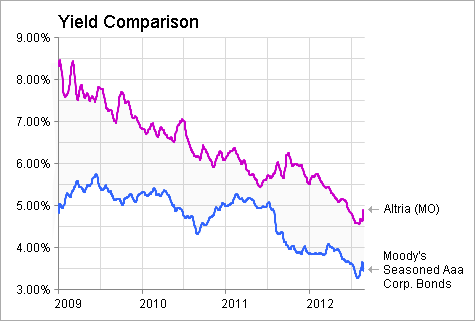 So what happens if interest rates rise? I know, unlikely in the near term, but it will happen someday. Then what? Well, you might expect MO's yield to rise again. After all, it was only two years ago when the stock offered a 7% yield to market price.
Here's a look at Altria's earnings per share and its PE ratio per YCharts: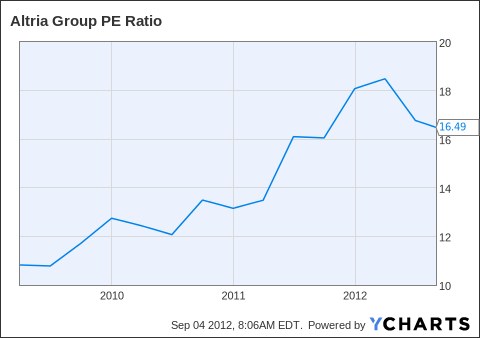 MO PE Ratio data by YCharts
I like MO and will continue to hold it, but I suspect based on the rising PE that it might be getting a bit too expensive to recommend buying a significant new position at these levels.
Disclosure: I am long MO. I wrote this article myself, and it expresses my own opinions. I am not receiving compensation for it (other than from Seeking Alpha). I have no business relationship with any company whose stock is mentioned in this article.