The S. & P. 500 "officially" entered bear market territory yesterday, meaning it's dropped 20 percent the October 9, 2007 peak. The index has seen similar declines six previous times since 1950, and while previous performance won't help us predict the future, it can at least be a guide.
The following chart shows the number of trading days it took the S. & P. 500 to hit bear market territory after reaching a peak, how long it took to go from the start of the bear market to a low, how long before it retraced its way back to the previous peak, as well as the percentage drop from peak to low: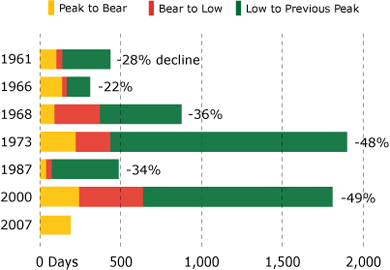 As is evident from the chart, there appear to be two kinds of bear markets:
1) relatively short ones like those which followed peaks in '61, '66, '68, and '87
2) or extended ones like those following the '73 and '00 peaks

Some think that we're in for something resembling type 2, but let's be generous and instead take the average of all six. Then we might expect the S. & P. to hit its cycle low at the end of next summer, and rebound back to its October peak somewhere around 2011-12.
Jeremy Siegel, Wharton professor and author of Stocks for the Long Run, thinks the way to avoid scenario 2 is for oil to drop to $100.
...if I were to say "What is bedeviling the market right now, worldwide?" I would say that the energy question is more important now than the credit question.
While I'm on the subject, it's worth pointing out that we've actually come out of another type of bear market recently.