Is General Electric (NYSE:GE) a value stock with serious growth potential? That is an intriguing question given the recent performance of the company's shares.
Click to enlarge images.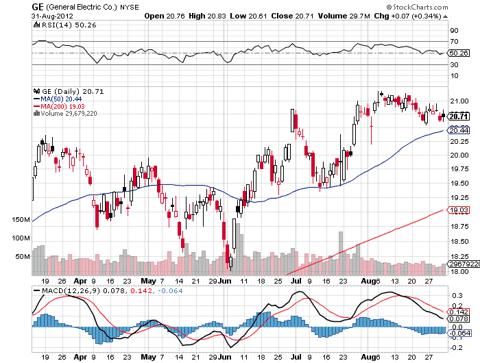 GE has been hovering around $20 per share since April, with a few dramatic fluctuations. It has gone up slightly in recent weeks and has even crossed the $21 threshold at one point. The margin price is low, but it is moving up.
GE is cheap right now, but there is a lot more to like about the stock. GE currently has a dividend rate of 68¢ and an earnings per share of $1.15. Some of the company's fundamentals look good as well. It had a net profit margin of 9.38%, and the revenue in the second quarter was up by around $1 billion. Revenue in the first quarter was $35.18 billion opposed to $36.50 billion for the second quarter.
Yet the real potential at GE is the technology it is working on, particularly energy technology. Even though we think of it as an appliance company, GE is at the cutting edge of energy and transportation technology. It has some interesting patents and products in the pipeline that can take advantage of the world's changing demand for energy, particularly electricity.
Opportunity on the Rails
Among other things, GE is now manufacturing what it calls the world's cleanest and most fuel efficient diesel locomotive, the Evolution Series. The Evolution is the first freight locomotive to meet the Environmental Protection Agency's strict emission standards. It employs new diesel technology that cuts particle emissions by 70% and nitrogen oxide emission by 76%. GE claims that railroads like the Berkshire Hathaway (NYSE:BRK.A) owned Burlington Northern Santa Fe (BNI) can move one ton of freight for 484 miles with an Evolution.
GE demonstrated some impressive technological research and design capabilities in the creation of the Evolution Series. The team that designed it included engineers in New York, Munich, Germany, and Bangalore, India. This kind of design expertise shows that GE is in an excellent position to capitalize on the growing demand for green technology.
GE in Mining?
The technology used in the Evolution can easily be adapted to other industries, including mining. GE has decided to enter the mining equipment industry in connection with the mining equipment manufacturer Joy Global (NYSE:JOY).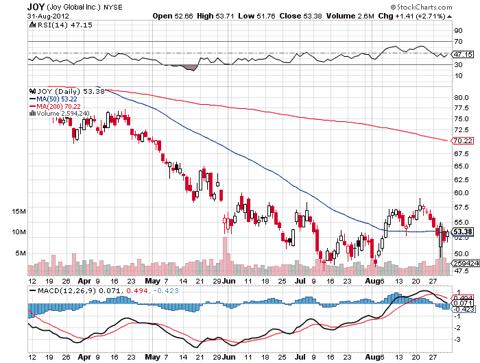 Mining giants, such as Rio Tinto (NYSE:RIO) and BHP Billiton (NYSE:BHP), are expanding their operations, which means more demand for mining equipment. It also means more demand for locomotives to haul ore from the mines to ports and factories. Rio Tinto operates 1,400 miles of railroad track to service its iron ore mines in the Pilbara region of Australia alone. The company and its competitor, Fortescue Metals (FMG), are planning massive expansions of their operations there.
Is GE in the Energy Sector or the Technology Sector?
GE is also active in the development of new battery and electricity storage technologies. The company is trying to develop a new sodium nickel battery that might be used to store large amounts of electricity. This technology might take the place of lithium batteries in electric cars and other devices.
GE is also active in the electric car market. It has developed the Watt Station, a charging station for electric cars. The sleek device sits next to parking spots and supposedly can charge an electric vehicle in less than four hours.
If that wasn't enough, GE has also developed a new series of Uninterruptible Power Supply systems for use with server farms and other IT infrastructure. The new VH devices are supposed to be capable of handling bigger disruptions than past technologies. That means they keep the servers working no matter what comes in over the power line. They are designed to rapidly switch over to another power source if the power goes out, which can keep the cloud and other applications up and running.
GE is also active in the development of fuel cell technologies. The company has been issued a patent for a new method making electrode supported ceramic fuel cells. Those devices might be lighter and thinner than current fuel cell technologies.
The company is poised for growth because of its expertise in creating new energy and electricity generation, transmission, and storage technologies. It has proven that it can create solutions for a wide variety of technologies, ranging from electric cars to locomotives.
GE has also reached out to the mining industry, which is facing critical shortages of electricity in some parts of the world. This includes Chile, where the electric grid cannot meet the needs of existing mines. Mining companies will be among those turning to companies like GE and Siemens AG (SI) for alternatives to the traditional grid.
So it might be a good idea to think of GE as an energy sector company as much as a technology company. After all, it is the world's growing demand for energy that will drive this company's revenue growth in coming years.
Disclosure: I have no positions in any stocks mentioned, and no plans to initiate any positions within the next 72 hours. I wrote this article myself, and it expresses my own opinions. I am not receiving compensation for it (other than from Seeking Alpha). I have no business relationship with any company whose stock is mentioned in this article.