As mentioned in my recent article, the transport sector, represented by the I-Shares Dow Jones Transportation Average IYT, has lagged the market rally this summer: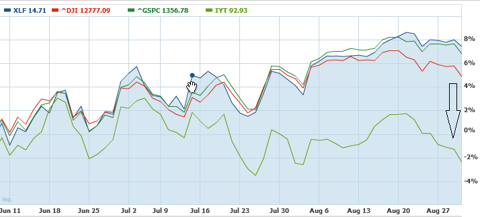 The top holdings contained in the IYT are: Union Pacific (UNP), FedEx (FDX), United Parcel Service (UPS), and Norfolk Southern (NSC) - which together account for nearly 40% of the fund.
There have been many experts referencing the lagging IYT as a reason to be cautious. Some feel it will be difficult for the market rally to continue without the transports bouncing back and providing more participation than their recent dismal display of fortitude.
The good news is the next several months can be an opportunity for the transports to respond to their recent underperformance. In recent years, the IYT has outperformed the SPY (S&P 500) from now until January - perhaps due to the seasonality of the demand of shipping. The growth of ordering gifts online via Amazon.com (AMZN) and others perhaps are contributing to this trend.
Here is some data proving this outperformance trend:
Period in 2010
Period in 2011
Price as of Aug 30
Price as of Dec 27
Gain
Price as of Aug 29
Price as of Dec 26
Gain
SPY
110.89
125.25
13.40%
117.85
125.50
6.49%
IYT
79.42
92.32%
16.24%
80.22
89.47
11.53%
IYT Outperformed:
2.84%
5.04%
As you can see, the IYT has been impressive during this time frame since 2010. If the last 2 years are any indication, from now until January 2013 looks promising for the IYT to recover.
Perhaps to limit exposure in this somewhat speculative situation, using a simple call spread could be a more appropriate trade than getting long shares.
IYT Call Spread:
Buy the Dec 2012 90 Strike Call for around 4.00 in premium
Sell the Dec 2012 95 Strike Call for around 1.80 in premium
IYT shares were trading at 89.32 as of 4 pm on 8/31
| | | |
| --- | --- | --- |
| Net Cost ( max loss ): | $220 | 4.00-1.80 |
| Max Profit: | $280 | (95-90)-2.20 |
| Share Appreciation Req. for Profits to Begin: | 3.24% | (90+4-1.80-89.32)=2.88, (2.88/89.32*100)=3.24% |
| Share Appreciation Req. for Max Profit: | 8.4% | (95+1.80-89.32)/89.32*100=8.4% |
Summary:
This trade offers significant upside exposure to the IYT, and can reward the holder with significant gains if the IYT holds true to historic trends. Investing lots of capital by getting long shares seems inefficient to me when such a strategy like this is available. The cost of the call spread is $220, while the Max profit is $280, or a whopping 127%. Basically, 127% profit is achievable if the IYT rallies 8.4% by December 21st, 2012. I feel the growing popularity of AMZN and other mail order companies during the holidays will contribute to the success of this trade.
Remember to stay disciplined with limit orders in this trade.
Disclosure: I have no positions in any stocks mentioned, but may initiate a long position in IYT over the next 72 hours. I wrote this article myself, and it expresses my own opinions. I am not receiving compensation for it (other than from Seeking Alpha). I have no business relationship with any company whose stock is mentioned in this article.
Additional disclosure: I may initiate IYT call spreads in the next 72 hours.