Mercadolibre, Inc. (NASDAQ:MELI), Latin America's leading e-commerce company, has showed a strong financial performance, and analysts expect the company's high growth rate to continue in the future - MELI's five-year growth rate has been 74%. Recently, the company has been successful in registering high profit margins, despite currency and macroeconomic headwinds. The company's stock is currently trading near $79, with a 52-week range of $48.3-$104.5. The stock has appreciated ~19% since Q22012 results were reported by the company. The current stock price seems to be an ideal entry point for investors. Therefore we recommend the stock as a buy.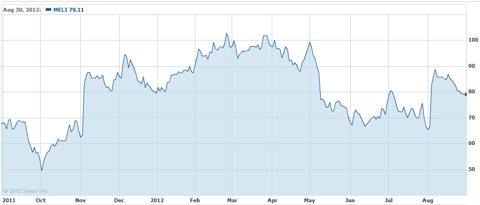 Click to enlarge
Source: Yahoofinance.com
The company provides services to its customers for selling, buying, collecting, and paying through its e-commerce platform. The services offered under different segments include Mercadolibre marketplace, MercadoClics advertising, MercadoPago payment solution and MercadoShops. Mercadolibre marketplace contributes around 70% of total revenues.
The company reported strong 2Q2012 results as the trend in e-commerce growth continues despite a global macroeconomic slowdown. The management is committed to providing services required by customers and increasing its user base to achieve long term growth.
The company reported revenues for 2Q2012 of $88.8 million, showing an increase of 47% in local currency and 28% in the U.S. Dollar YoY. The revenue growth was mainly driven by the growth trend in e-commerce in countries where the company operates, due to a growing middle class that is being attracted to online shopping. The availability of a better internet connection and increasing internet penetration in Latin America were key growth drivers. Internet penetration in Latin America was 38.4% in 2011, and it is expected to be 53.4% by 2016.
Internet user penetration In Latin America from 2011 to 2016

2011

38.4%

2012

42.6%

2013

46%

2014

49%

2015

51.5%

2016

53.4%
Source: newmediatrendwatch.com
Growth in Argentina and Venezuela has moved upwards in the recent quarter. These two countries experienced the highest growth rates in revenues (local currency) of 81% and 72% YoY respectively.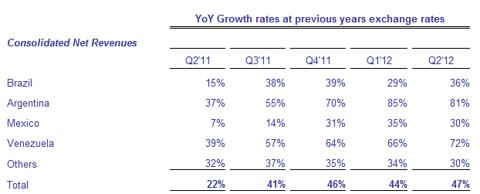 Click to enlarge
Source: mercadolibre.com
MELI was able to show growth in almost every key business metric. Items sold by the company during the second quarter reached 15.8 million, representing a YoY increase of 35.6%. Total confirmed registered users were up by 25.3% YoY to 73.2 million. Total payment transactions were up to 5.5 million in 2Q2012 from 3.1 million in 2Q2011.
| | |
| --- | --- |
| | YoY % Growth |
| Total confirmed registered users | 25.3% |
| Items sold | 35.6% |
| Total Payment Transactions | 78% |
Source: mercadolibre.com
The company has been able to improve and maintain its profit margins in recent years. Gross profit margin for 2Q2012 was 73.1%. Operating and net profit margins for the second quarter were 35.9% and 28.6% respectively. In 2Q2012, EPS was $0.57. The company beat earnings estimates by 16%. In the last ten quarters, and the company missed analyst estimates only three times. Historically, on an earnings beat, the stock goes up 19% on average the following month, which is the case right now as well.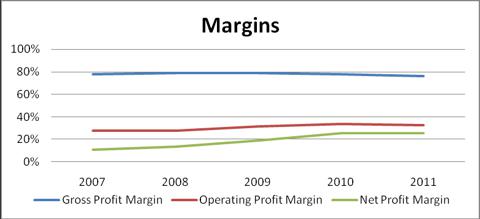 Click to enlarge
Source: Bloomberg and Qineqt's estimates
The company has total debt-to-equity of 0.1 against its industry average of 12.24, which indicates that it has a strong capital structure and will not face any problems going forward if the company has to raise debt to meet its capital requirement to achieve growth targets. The company announced a dividend of $0.44, meaning that its dividend yield is 0.55%, well backed by the company's free cash flow yield of 2.01%. 29% of the total shares are held by insiders.
There are a few factors that investors should keep an eye on which can become a hurdle in achieving growth in the coming years. This includes the lower growth rates in Latin America and the anticipated competition from Amazon (NASDAQ:AMZN) in the future. Also, currency risk remains a threat to the company.
The company's stock is trading at low valuations as compared to competitor Amazon. Although it has higher trailing and forward P/E as compared to its competitor ebay (NASDAQ:EBAY), MELI's valuations are supported by its high growth rate. MELI is expected to grow at an average of 28% compared to its industry average of 15%. Its PEG of 1.2 reflects that the growth offered by the company is cheap relative to its competitors. If we look at the company's P/E average of the last three years of 50x, using its historical P/E and EPS estimates of 2012, we get a price target of $112.5.
| | | | |
| --- | --- | --- | --- |
| | MELI | Amazon.com Inc. | eBay Inc. |
| P/E (NYSE:TTM) | 38x | 301x | 17x |
| Forward P/E | 28x | 104x | 17.5x |
| PEG | 1.2 | 9.52 | 1.53 |
Source: Yahoofinance.com
Disclosure: I have no positions in any stocks mentioned, and no plans to initiate any positions within the next 72 hours.
Business relationship disclosure: The article has been written by Qineqt's Technology Analyst. Qineqt is not receiving compensation for it (other than from Seeking Alpha). Qineqt has no business relationship with any company whose stock is mentioned in this article.