The stock has been socked since its IPO amidst concerns about slowing growth and fears relating to increased mobile usage having dampened investor faith. Although 2Q2012 earnings were in line with expectations, but a net loss of $157mn has left many disappointed. However, not all is lost with Facebook (NASDAQ:FB). Prior to the earnings release, it wasn't clear how Facebook was going to deal with the mobile user base puzzle, and whether its new ad formats would monetize growing users. The surprise in advertisement revenue and initial signs of monetization from the new ad formats reiterate the management's strategic focus and efficacy in improving the operating performance of the company. But this is only one side of the story, and like its other internet company counterparts, it must prove the effectiveness of the proposed plans in the long run. With the recent lockup period expiration, the subsequent fall in prices, the uncertainty surrounding the monetization plans, and another expiration coming up on October 15, 2012, we recommend a hold position.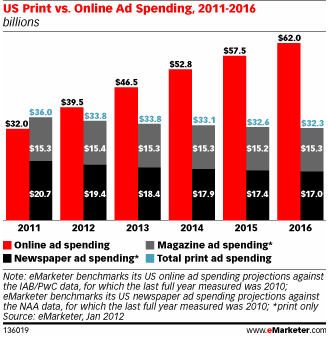 Facebook is a social media networking company, which not only connects users, but also provides a platform for advertisers to reach out to their potential customers. Given the fact that Facebook earns a hefty portion of its revenue through ads, its growth hangs on advertisement companies' continued perception of online marketing as an economically more efficient avenue. According to eMarketer, total U.S. online advertisement spending is expected to touch $39b this year, up by 23.3% from last year, surpassing the aggregate spending on print newspaper and magazines. The above chart reveals the expected growth in online advertisement over the coming years. eMarketer further notes that advertisers' admiration of online ads stems from the ever growing amount of time consumers spend on digital platforms, and from the view of the internet as a more measurable medium.
With 955mn MAUs, representing a 29% YoY increase, this huge user base overshadows other social networking giants Twitter, Google + (NASDAQ:GOOG) and LinkedIn (NYSE:LNKD). Having said that, Facebook's growth depends on its ability to expand, retain and monetize its user base. The recent surge in mobile usage has compelled the company to discover new avenues to spur ad impressions. Certainly, an indication of monetizing benefits accruing to the company would alleviate earlier concerns. Furthermore, the reliance on 85% of the revenue from advertisement means that a decline in advertisement spending by customers could lead to revenue contraction. However, advertisement through social media continues to expand, which trumps the negative concerns.
The company's imperative has been to translate expanding mobile use into higher CPMs and ad impressions. Although still in its inception, Sponsored Stories in News Feeds have begun showing monetization benefits with contributions amounting to 30x larger CPMs compared to the conventional right hand rail displays. Sponsored Stories is the cornerstone of Facebook's mobile monetization strategy, with a daily revenue potential of $1mn. Noteworthy is the point that Facebook is yet to launch this feature in every country, which could lead to another revenue surprise in 3Q2012. Should CPMs continue to expand at this rate, they will largely overshadow a concern relating to declining user engagement.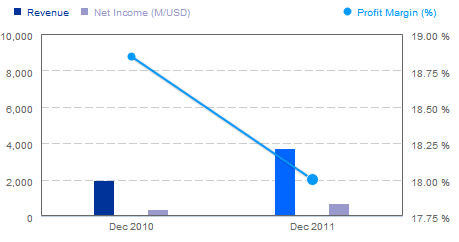 Source: Qineqt's Calculations
Total revenues of $1.184b, which came in ahead of FactSet consensus of $1.16b, were bolstered by an increase in number of ads and their pricing. Despite the fact that ad impressions growth lagged DAU growth (due to usage of mobile usage), Sponsored Stories led to a 9% YoY growth in ad pricing. Furthermore, despite concerns surrounding Zynga (NASDAQ:ZNGA)'s results, payments, which represent 15% of total revenue, stood at $192mn against a consensus of $198mn. This result is in fact better given the pessimism, and is backed by payments from other app developers. What's important to note here is the fact that although revenues have shown a downward trajectory, results came out to be better than expected, which will move the stock. The company's cash from operations and stepped up to $1,549 from $698 last year. Operating margin was slightly depressed this year, but the market expects it to rebound to 50% over the long term.
Another feature, which strengthens Facebook's outlook, is the testing of Facebook Ad Exchange (FEX), which allows marketers to bid in real time for ad impressions, and thereby greatly reduce the time it takes advertisers to reach consumers. Still in its nascent stages, this $2bn industry in the U.S. alone will further drive the company's revenue growth. Furthermore, ComScore has highlighted the power of Facebook when it comes to marketing for brands. GM's reengagement with Facebook might indicate that companies have begun to realize the potential.
A particular factor, which could temporarily plunge the stock lower and remains a major hurdle in the stock's performance, relates to the staggered lock up periods with one ending on October 15, and the other on November 13. This has the potential of flooding the market and driving the stock lower. Also, Facebook is involved in a number of litigations, which have the potential to materially impact the performance of the company.
Competitor comparison:
| | | | | | |
| --- | --- | --- | --- | --- | --- |
|   | Facebook | LinkedIn | Pandora (NYSE:P) | Yelp (NYSE:YELP) | Average |
| P/E (Forward) | 30x | 82x | 288x | 433x | NA |
| P/S | 3x | 16x | 5.5x | 12x | 9x |
As the lockup period expired on August 16, and some 271 million shares became eligible to be sold in the market, the stock's price came down. Have owners lost confidence in Facebook? More importantly, there are lockup expirations coming up in this year still, and this has the potential of depressing the stock price further. Also, although Facebook has shown it has taken steps to address the mobile monetization question, it will be too early to add this stock to your portfolio, based on initial marginal successes. Therefore, we recommend a hold position. We will recommend investors to buy the stock on any positive development on the mobile monetization front.
Disclosure: I have no positions in any stocks mentioned, and no plans to initiate any positions within the next 72 hours.
Business relationship disclosure: The article has been written by Qineqt's Technology Analyst. Qineqt is not receiving compensation for it (other than from Seeking Alpha). Qineqt has no business relationship with any company whose stock is mentioned in this article.