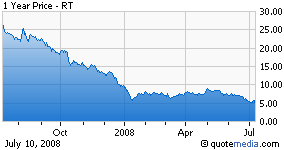 Ruby Tuesday, Inc. (NYSE:RT) reported its fourth quarter of fiscal 2008 (ending 6/3/08) earnings and held a conference call to discuss the results.

RT also updated its guidance and discussed its strategic initiative for fiscal year 2009 as follows:

Restaurant Openings/Closing - Open four company owned restaurants, and close 15 company owned restaurants. Franchisees opening 20 restaurants.

Same restaurant sales - a decline in the low to mid-single digits for the year, improving sequentially throughout the year. First quarter same restaurant sales down 8-9%.

Restaurant operating margins - down marginally, reflecting higher labor and other operating costs that are partially offset by lower food costs.

Interest expense - $36-$38 million.
Fully diluted shares outstanding - 53 million.

Earnings per share for the year - $0.50-0.70 range.

The stock was trading up 17.96% to $6.24 at Thursday's market close.

Quarterly Financial Highlights

Revenues - $341.3 million.
Diluted earnings per share - $0.27.
Net income - $13.9 million.
Cash - $16.0 million.

Capex - $7.2 million (excluding remodel initiative).
Capex - $5.8 million for remodel initiative.

Same-restaurant sales decreased 10.3% at company owned units.
Same-restaurant sales decreased 7.2% domestic franchise units.

Management Comments

General Environment

"Fiscal 2008 was a very challenging year for us and for many other restaurant operators also. The environment was as difficult as I've ever seen it, with significant top line pressure resulting from industry over capacity and a strapped consumer, among many other things."

"We're projecting to generate over $100 million free cash flow (over next 12 months)"

"There are three main points I'll make: first, our strategy, our strategic direction is sound; second, we are operating our company and restaurants very efficiently and controlling cost pretty well, I believe; and third, we are laser focused on improving our financial results, especially our balance sheet."

"We are getting operating results from our repositioning that again has only been complete for a quarter now."

Costs

"We have fixed contracts on our largest items through at least the end of the calendar year; in many cases, beyond. Beef, as an example, our largest commodity item, is contracted through February of '09 and we are in the process of extending that through the end of calendar '09. Chicken, I think we have that one almost locked even longer. Ribs are contracted through February '09, Jumbo Crab through July of '09."

"Food costs were a little below our expectations, primarily because of a couple of anticipated cost increases which were delayed, and we realized some savings from new procedures from using fry oil and a continued focus on waste control."

"Labor costs were also below our initial expectations as training costs were lower due to lower-than-projected turnover, lower bonuses and manager cost, and favorable workers' comp experience as we continue to see benefits from our ongoing programs in this area."

"Other operating expense line was 180 basis points higher than the prior year. The bulk of this increase was due to higher rent from leased restaurants purchased from our franchisees and increased impairment charges, and a loss of leveraging of certain relatively fixed costs."

Debt Situation

"...balance sheet, we ended the quarter with book debt of $605 million and total funded debt, including capitalized leases, of approximately $900 million."