Edited by Marianna Avilkina
Suncor Energy Inc. (NYSE:SU) is a Canada-based oil company specializing in the production of crude oil from oil sands. Its upstream assets include traditional and offshore oil as well as gas production facilities, a biofuel refinery and 255 MW of operational wind power. These resources are available in Canada, as well as in Libya, the United Kingdom, and Syria. In addition to production activities, Suncor conducts retail operations under the name Petro-Canada. Initially, Suncor and Petro-Canada were separate companies. However, the two companies have now merged to become Canada's largest integrated oil sands producer. This merger also means that Suncor's standard operations now also include downstream operations, such as those involving petrochemicals.
Suncor produces 550,000 barrels of oil equivalent per day. In fact, 90 percent of its extractions come from assets in Canada, whereas the rest is acquired from global locations. However, at the moment, Suncor's Syrian possessions are not operational due to the local violence. As with most Canadian oil manufacturers, success and growth is dependent on the accumulation of oil sand assets capable of producing over 330 mbpd from mining and in situ operations. Most of Suncor's mining and extraction products are sold on the international market or refined in one of this company's four refineries located in Canada and the United States.
Recent awards and recognition for Suncor included a place on the list of Canada's Top 100 employers for 2007 and 2008 by Maclean's magazine and Mediacorp Canada, respectively. Furthermore, in the integrated energy industry of Canada, Suncor is the market leader owing to its consistent outperformance of the competition.
Financial Situation
In early 2012, Suncor's net debt had fallen to $6976 million, a decrease of almost 50 percent, while net earnings stood at $4.304 billion. The current EPS stands at $2.74 after two years of successful progress. In the recent Q2, Suncor had operating earnings of $1.258 billion or $0.81 per common share, compared to $980 million or $0.62 per common share in Q2 of 2011. This was because of increased production in the upstream sector, combined with superior refinery efforts.
Meanwhile, the cash flow for 2012's Q2 was at $2.344 billion, compared to $1.982 billion in the Q2 of 2011. This increase can be attributed to the same, earlier discussed, factors that affected the company's operating earnings. By the end of 2011 and following the merger with Petro-Canada, Suncor managed to reduce its net debt of $13.4 billion to only $7 billion. In addition, it completed a $500 million buyback of its common shares between September and December 2011, and increased its quarterly dividend by ten percent starting in Q2 of 2011. The buyback and dividend growth both demonstrate confidence in the company's long-term strength and ability to provide responsible, steady and profitable growth.
Suncor plans to internally fund its economic growth and capital spending for the coming year. In fact, as of July 20, 2012, the company had returned $1.237 billion to shareholders. $872 million was returned in the form of share repurchases and $365 million was in dividends. The company has the authority to repurchase up to $1 billion of common shares in the year 2012. Suncor's second quarter dividend also increased by a full 18 percent up to $0.13 per share, from $0.11 per share in Q1 of 2012.
Stock and Dividend Profile
Suncor's main peers are Barnwell Industries (NYSEMKT:BRN), EnCana Corporation (NYSE:ECA), Imperial Oil (NYSEMKT:IMO), and Lone Pine Resources (LPR). The company's current market capitalization stands at $30.94 billion.
The figure below shows that Suncor's stock price has remained above main stock indices such as S&P 500 and the Dow Jones Industrial Average. In fact, analysis reveals that the company's stock prices have dwarfed key indices ever since its merger with Petro-Canada. For this reason, many investors have been drawn to Suncor stock. However, despite the promising appearance of this stock, with foreign production units in the Middle East going periodically offline, it is important to remember that some risk is still involved with this purchase.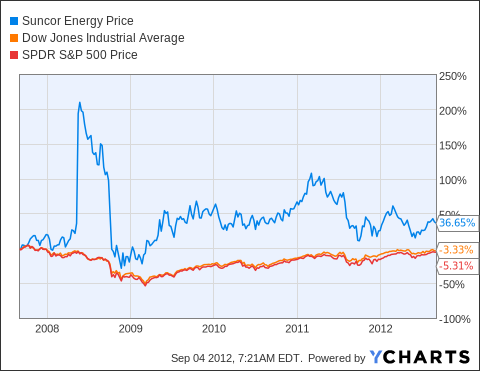 Furthermore, the figure below demonstrates that Suncor's performance is fully in line with its peers, if not better. Since the first quarter of 2012, the only company outperforming Suncor in this peer group is Imperial Oil. This relatively strong position is reflected by the continued high performance records of Suncor's various energy projects across the US and Canada. Depending on how the company performs through the third and forth quarters, Suncor could end up rivaling Imperial Oil as the industry's leading integrated energy provider.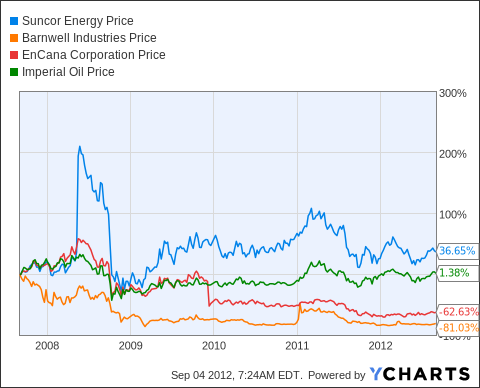 As of August 31, 2012, Suncor's price-to-earnings ratio was 10.7, compared to an industry average of 9.1. The current 52-week range stretches from $22.55 to $37.37. As of June 30, 2012, the Return on Capital Employed rate was 14.3 percent compared to 11.1 percent for the same period last year. Furthermore, Suncor's Beta of 1.76 raises warning bells about the stock's high volatility relative to the global market. When considered in conjunction with Suncor's considerable financial strength, this Beta is extremely encouraging for investors who are comfortable with daily price fluctuations.
Also of note, in 2011 Suncor's dividend yield was at 1.52 percent, with a further increase announced in the early months of 2012. As of July 25, 2012, Suncor's Board of Directors announced a quarterly dividend of $0.13 per share.
Present Economic Outlook
Canada's oil sands represent a tremendous opportunity to provide for the world's growing energy needs. Suncor, therefore, is in a particularly advantageous position to take advantage of this expected boom. As of June 30, 2012, the company's net debt was at $5.624 billion, compared to $6.976 billion for December 31, 2011. Company debt has been following a consistent downward trend since the 2009 merger. Since that time, Suncor has also expanded massively and divided its operations into those concerning the oil sands, exploration, and production, as well as a separate sector dealing with refinement and marketing. As a result, oil sands revenues grew by 21 percent, while exploration and production revenue increased by 12 percent. Meanwhile, refinery utilization averaged 94 percent in Q2 of 2012, compared to 84 percent for the same period of 2011. However, it is important to remember that three of the company's four refineries underwent planned maintenance activities during Q2 of 2011. For this quarter, higher refinery utilization has resulted in a much larger profit margin on refined products.
Even with such positive results, there are some activities on the international front that are not performing so well. In December 2011, Suncor declared force majeure under its contractual obligations for its operations in Syria due to violence, political interference and international conflict. Most of the exploration and extraction activities in that region have been halted, though assessments are being carried out with regard to restarting activities in 2012. During the most recent quarter, production of oil from Libya averaged around 42,700 barrels per day. In addition, no production from Syria has been recorded at all for the year 2012, as the political climate there has moved from bad to worse. For this reason, Suncor has no definitive notions of when operations might restart in that country. Meanwhile, in regard to North American onshore operations, production from oil fields in northeastern British Columbia and southeastern Alberta have been closed due to low prices and a lack of access to a third-party processing plant. These North American fields turned over significant capital, representing approximately 23 million cubic feet per day of natural gas during the second quarter of 2011 alone.
Summary
Nevertheless, the vast majority of the available facts stand in favor of Suncor Energy. Its operations are widespread and, therefore, provide the company access to different markets. Generally, the performance of Suncor's overseas activities reveals the power of this company's operations. However, at the same time, some of these operations have been forced to close recently for political reasons. Yet, despite these setbacks, Suncor continues to be a leader in its industry, outperforming many of its competitors on a number of different fronts. The favorable EPS and ROI values, as well as a price-to-earnings ratio above the industry average, make Suncor a promising company. Its long-term efficiency and development plans confirm this company's dedication and responsibility to its stakeholders. Moreover, the continuing increase in dividends demonstrates the importance of shareholders for the company. With returns expected to top the industry average over the next eight to twelve months, Suncor's stock seems pretty overweight. It is therefore highly recommended that this stock be purchased at this current stage.
Disclosure: I have no positions in any stocks mentioned, and no plans to initiate any positions within the next 72 hours. I wrote this article myself, and it expresses my own opinions. I am not receiving compensation for it (other than from Seeking Alpha). I have no business relationship with any company whose stock is mentioned in this article.