Very recently, I stepped the rest of the way out of Zalicus (ZLCS) after I watched the bears move in on one monstrous 600K share sell that plunged the share price to $1.28/share (the share price has since recovered to ~$1.40/share). With the phase IIA launch of Z160 and reading about a new Prednisporin patent, the market sold and the market is always much bigger than me. No knock on Zalicus, but I'm not going to play Synavive's phase IIB results because it simply makes me too nervous and I'm not willing to accept the risk. Investors should never risk more than they're willing to lose, so after a long weekend of thinking, I decided it was better for me to go elsewhere. For those who hang in for Synavive's news, I wish you the very best.
But as trading goes, the proceeds from my Zalicus sale opened the door to Astex Pharmaceuticals (NASDAQ:ASTX), a firm I've covered before that remains on my radar screen. Astex has been on a monstrous run since May 2012, and I partially agree with an analyst's buy call for $3.50/share. The chart (referenced below) signals that Astex is on the verge of a major break-out to the upside. Upon European approval of Dacogen for leukemia (as reported earlier by Bloomberg), I think the stock will push towards, if not above, $4/share.
Quick Take on the Chart
First, traders will want to take a good look at Astex's chart.
(click image to enlarge)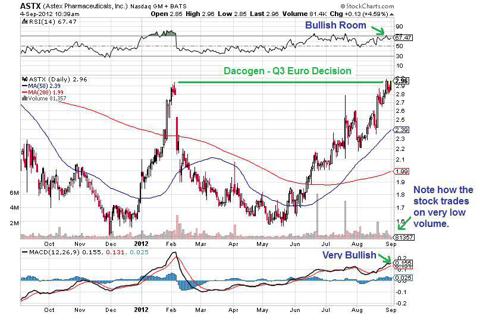 Click to enlarge
The share price is at a critical break-out point. Observe the bullish RSI and MACD signals. But more importantly, notice Astex's low trading volume (695,914 average volume 3/mths). A biotech stock with a low trading volume can be very volatile, which in the current case, is a significant advantage with Dacogen news on the Q3 2012 horizon.
Astex Opportunity
Astex is very unusual for most biotechs below $3/share in that the company sits on more than $119M in cash, has zero debt, and generates around $20M/Q in revenue. So investors don't need to worry about bankruptcy -- that's for sure!
I favor the odds that Dacogen will be approved in Europe for leukemia treatments, primarily because the recommendation for Dacogen's approval has already been given by the Committee for Medical Products for Human Use (CHMP) of the European Medicines Agency (EMA). This bodes very favorably for the drug's approval. For those unfamiliar with CHMP, the EMA's website explains:
The Committee for Medicinal Products for Human Use is part of the European Medicines Agency. It is responsible for drawing up the opinion of the Agency on any matter concerning the evaluation of medicinal products for human use.
Elsewhere, CHMP's purpose is explained as:
Assessments conducted by the CHMP are based on purely scientific criteria and determine whether or not the medicines concerned meet the necessary quality, safety and efficacy requirements (in accordance with EU legislation, particularly Directive 2001/83/EC). These processes ensure that medicines have a positive risk-benefit balance in favour of patients/users of these products once they reach the marketplace.
I venture the weight of CHMP's opinion on Dacogen for leukemia will lead to its approval. And while the market has known this for some time, Astex will receive a $5M cash infusion (Q2 2012 earnings report), but more importantly, the company will gain a new market for Dacogen.
My observation is that Astex's low trading volume may imply that the stock is flying below the market's radar. Once traders see the opportunity, I expect the daily volume will jump. This will increase bullish pressure, and send the share price towards $4/share.
Of course, there is risk. The risk is that Dacogen may not be approved, and then most likely, the share price will fall. But while that is most certainly possible, current events suggest that Astex is on the upside.
For example, in August investors learned that: "its president and director, Harren Jhoti, PhD, will be presented with the 2012 Prous Institute-Overton and Meyer Award for New Technologies in Drug Discovery by the European Federation for Medicinal Chemistry." Furthermore, the company has a very busy conference schedule here in September. Plus, just this morning, investors learned that: "James S.J. Manuso, PhD, chairman and chief executive officer, will participate in a Rodman & Renshaw Global Investment Conference panel discussion titled, "Epigenetics: The Silent Revolution in Oncology Research" on Monday, September 10 at 9:15 a.m. ET in New York." My read is that Astex is on the move: strategically and corporately.
Now a year beyond Astex's merger, the firm has only gotten better. Rarely do you see a biotech buy below $3/share that already has a very profitable drug in the market (Dacogen) and at least four drug candidates deep in phase 2 clinical studies:
Amuvatinib/MP470
AT13387 - HSP90 inhibitor
AT7519 - CDK inhibitor, partnered with Novartis (NYSE:NVS)
SGI110 - DNMT inhibitor
Just keep in mind if you choose to invest in Astex, a year ago the share price was already over $3/share. Today, Astex is much better shape than it was before its merger. For example, take a good look at its pipeline: It is very deep, and includes other partnerships with Glaxo-Smith-Kline (NYSE:GSK); Janssen Pharmaceuticals, a unit of Johnson & Johnson (NYSE:JNJ); and AstraZeneca (NYSE:AZN), among others, e.g. Eisai, (OTC:ESALF). Something I have observed is that about half of Astex's pipeline is partnered, while the other half is solely owned by the company. I perceive this as a good balance, as expenses can be shared, but Astex also maintains a number of drug candidates on its own that could be partnered at a later date.
Astex may very well be on its way to become the next Pharmacyclics (NASDAQ:PCYC). All this company needs is market visibility. I submit that Astex is a STRONG BUY.
Disclaimer: Investors buy and/or sell at their own risk. I declare that I may day-trade any stock at any time referenced in this article. For me "long" is until I sell. I do not "short" stocks. I have zero connection to Wall Street other than my private stock account and articles published by Seeking Alpha.
Disclosure: I am long ASTX. I wrote this article myself, and it expresses my own opinions. I am not receiving compensation for it (other than from Seeking Alpha). I have no business relationship with any company whose stock is mentioned in this article.