News from Wachovia Corp. that it set aside $4.2-billion before taxes to cover bad loans, lead to a sharp sell-off in its shares on Thursday. The stock is now down more than 60% in 2008.
America's fourth largest bank expects to report an after-tax loss of $2.6-$2.8-billion in the second quarter and named former Treasury Department under secretary, Robert Steel, as its new CEO.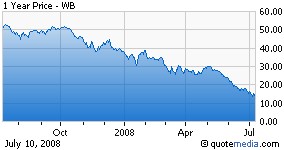 Wachovia shares will likely remain under pressure until the quality of its credit stabilizes, but this probably won't happen until 2009, according to RBC Capital Markets analyst Gerrard Cassidy, who cut his price target to $13 per share from $20.
The analyst told clients:
Under the leadership of its new CEO, we expect the company to incur a significant charge to 'clean-up' its problems once and for all, eliminate its dividend and raise additional capital.