Cliff Natural Resources (NYSE:CLF) shares continued to decline throughout August, closing recently at $35.84. Despite the company being an attractive investment with a dividend with a yield of nearly 7%, shares have yet to see a bottom. Cliff shares dropped further after Joy Global (NYSE:JOY) cut its fiscal 2012 outlook, blaming weak demand for U.S. coal and a slower Chinese economy. The warning also hurt the share prices of iron ore producers Rio Tinto (NYSE:RIO) and BHP Billiton (NYSE:BHP), and copper producer Freeport-McMoRan Copper & Gold (NYSE:FCX):
Click to enlarge image.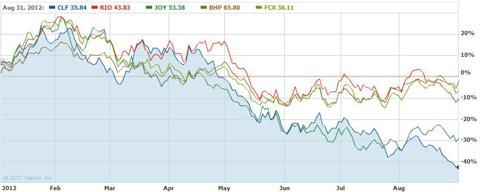 Click to enlarge
Source: Yahoo Finance.
Further downside for Cliff is possible. Cliff recently reported weak earnings, driven by lower commodity prices. Current worries, dominated by macroeconomic weakness in Europe and China, are justified. The news is putting pressure on resource stocks. At what point will Cliff be a company to buy?
Iron Ore
In the second quarter, Cliff Natural Resources increased its global iron or sales volume by 23% year to date, but experienced a 20% decline in seaborne pricing. During its conference call, management was overly optimistic, expecting China's slower growth to be temporary:
China produced at an annualized rate of approximately 726 million tons of crude steel in June. We believe China's recent slowing growth rate to just under 8% is temporary.
To reduce its reliance on China-based customers, Cliff began producing premium, higher grade iron ore concentrate from Bloom Lake. The product contains 4.5% silica, whereas lower-grade concentrate contains 5.5%. Cliff will also reduce the annual production to 7 million tons, down from 8 million. This strategic decision will benefit the company in the long term, improving profitability at the expense of lower short-term results.
Coal
During the second quarter, Cliff increased sales volume for coal by 21% to 1.5 million tons. The company advanced its plans to sell 45% of its economic interest in Sonoma Coal in Queensland, Australia. By shifting its focus away from metallurgical coal to thermal coal, Cliff will improve its long-term profitability.
Second-Quarter Earnings Summary
Revenue declined 10% to $1.6 billion
Sales were hurt by lower pricing, higher labor, mining, and maintenance costs
Net income was $258 million, or $1.81 per diluted share compared to $409 million, or $2.92 per share last year
$96 million in cash was generated, compared to $618 million last year
Cash balance (and equivalents) was $159 million
Debt stood at $4 billion
Forecast
Cliff forecast a seaborne iron ore spot price of $145 per ton delivered to China. The company maintained a revenue forecast of $115 to $120 per ton for iron ore, at a sales volume of 23 million tons. The cash cost was forecast be $60 to $65 for the full 2012 year.
Cliff maintained its $1 billion capital expenditure budget, and anticipates generating $1.3 billion in cash.
Analysis
During the conference call, Cliff said it anticipated strong steel production in China in the second half of the year, which would imply stable iron ore pricing. This conviction is driven by the expectation that China would push a stimulus for its economy.
Shareholders should anticipate shares to be weighed down by future debt costs for its Black Thor chromite project. The project does not begin production until 2016, but Cliff will still need to consider debt obligations. After Cliff raised its dividend, the company continues to be committed to paying it out even if the economic situation worsens.
Macroeconomic Analysis
A worsening global economy will have a pronounced impact on iron ore pricing. Michael Pettis said in his "China Financial Markets" newsletter that commodity producers are believed to have overestimated the China growth model. There were large-scale investments to expand production, meaning supply has been more dramatic since 2006.
China's Purchasing Manufacturing Index for August confirmed that its manufacturing activity is slowing. This is the lowest reading since March 2009. Investors should expect commodity prices for iron ore to remain depressed, hurting profit margins for Cliff. China accounts for almost 60% of global demand for iron ore. Iron ore closed recently at $99.40 per ton.
Noble Group (NYSEARCA:NOBL) is Asia's biggest listed commodity supplier. The company's CEO anticipates the environment will be rough for the next 12 to 24 months. Vale SA (NYSE:VALE), the world's largest iron-ore producer, also thought that China's golden years are gone as its economic growth slows.
Worry from investors and producers that coal inventories are high is not new. As the Financial Times reported in July, coal inventories rose nearly 50% in June. China is the world's biggest consumer of thermal coal. In the second quarter, Cliff maintained a volume forecast of 6.9 million tons in sales volume for coal. The volume comprises of 4.6 million tons of low-volume met coal, 1.5 million tons of high-volume met coal, and thermal coal making up the remainder.
Conclusion
Cliff Natural Resources is run by a solid management team seeking to enhance shareholder value by committing to its higher dividend rate (an opposing viewpoint is available here). Shares will continue to come under pressure as investors recognize that China is slowing faster than first thought. Any accommodative policy to boost China will help establish a support price for Cliff shares.
Disclosure: I have no positions in any stocks mentioned, but may initiate a long position in CLF over the next 72 hours. I wrote this article myself, and it expresses my own opinions. I am not receiving compensation for it (other than from Seeking Alpha). I have no business relationship with any company whose stock is mentioned in this article.