Philip Morris International (NYSE:PM) is the only tobacco stock with a dividend under 4%. The rest of the group (Altria (NYSE:MO), Reynolds American (NYSE:RAI), Lorillard (NYSE:LO), British American Tobacco (NYSEMKT:BTI), and Vector Group (NYSE:VGR)) give higher yields. Should dividend lovers forsake Philip Morris for the bigger-yielding members of the tobacco group?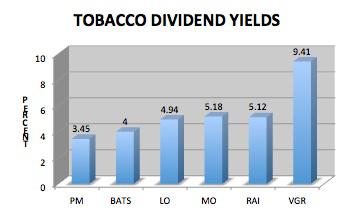 Only if they want to miss out on a Philip Morris dividend increase. The company has been raising its dividends every August/September for the last four years. I think they are going to make it five:

In last year's conference call, PM spelled out the company's dividend policy:
I think 65% payout ratio is a very good ratio and, quite frankly, I don't see a reason why that would need to change. In the international context, that's a very competitive payout ratio.
PM is expected to earn $5.18 for this fiscal year. At a 65% payout, PM will likely announce a dividend of $3.36 for the year, or 84 cents a quarter.
An 84 cent dividend would be a 9% raise, giving PM a 3.8% dividend rate. That's a nice yield, considering the 10-Year's paltry 1.55% rate.
The BuyBack Kick
Unlike Altria, Reynolds, and Vector Group, Philip Morris has a massive share repurchase program. Over the last 3 years, Philip Morris has spent $16 billion buying back stock at favorable prices. As a result, earnings are being spread over fewer shares, making it possible to raise future dividends even more sharply. Altria, Reynolds, and Vector Group's dividends are more difficult to raise: They have minimal share repurchase programs and their payout ratios are high (Altria 80%, Reynolds 89%, and Vector Group a whopping 593%.) Note: Lorillard also has a large share repurchase program.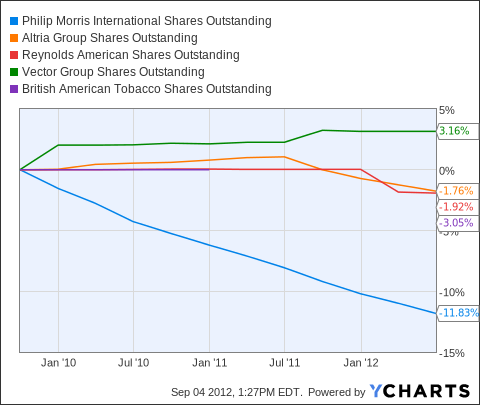 Buying back stock has been a good move for Philip Morris. The bulk of its share repurchase occurred when the stock was much lower. Moreover, management appears wise here - the higher dividend-paying Altria, Reynolds, and Vector Group have less cash now that they have sent it out to shareholders. In contrast, Philip Morris can convert shares back to cash with an equity offering as needed.
Philip Morris is about to give investors another raise. Their shrinking share count smoothes the way for future dividend increases.
More reasons to stay long PM.
Disclosure: I am long PM. I wrote this article myself, and it expresses my own opinions. I am not receiving compensation for it (other than from Seeking Alpha). I have no business relationship with any company whose stock is mentioned in this article.
Additional disclosure: The opinions in this document are for informational and educational purposes only and should not be construed as a recommendation to buy or sell the stocks mentioned. Past performance of the companies discussed may not continue and the companies may not achieve the earnings growth as predicted. The information in this document is believed to be accurate, but under no circumstances should a person act upon the information contained within. We do not recommend that anyone act upon any investment information without first consulting an investment advisor as to the suitability of such investments for his specific situation.