The S&P 500 Index—the broadest U.S. benchmark—lost 2.7% in the second quarter of 2008.   It was the third consecutive quarter of negative performance for the S&P 500.  After attempting to stage a recovery in April and May, the S&P 500 fell 8.6% in June.  This put year-to-date performance at negative 11.9% and reflected an 18.2% decline from its peak on October 9, 2007.  As the following table indicates, all major market indices have suffered a significant correction for both year-to-date and trailing one-year periods.
click to enlarge images

While a number of issues have caused concern for investors, the two most significant negative factors currently affecting the market are higher energy prices and a severely damaged financial sector. 
As the price of energy skyrockets to new highs, consumers are forced to curtail purchases of other goods and services, causing a slowdown in many sectors of the economy.  Consumer expenditures on housing, vehicles, clothing and entertainment has softened considerably.  In addition, higher energy costs are having a broader impact on general inflation as manufacturers are forced to increase their selling prices to cover their energy expenditures.  Higher prices for everything from food to vacations are forcing Americans to change their spending patterns and behavior.
The financial industry's difficulties which started with the subprime sector of the housing market have grown into a much broader problem.  Numerous companies have been forced to write down the value of bad loans, causing concern about their own financial stability.  In addition, a credit crunch—the inability of companies to obtain new financing—is causing further disruption in the financial markets.  Without access to new capital, many companies (both financial and non-financial) will have trouble paying off maturing debt or funding current operations. 
A number of market sectors have crossed into bear market territory.  A bear market is generally defined as a 20% decline in value.  From their October 2007 peak to their recent troughs, both the Russell 2000 and NASDAQ indices reached bear market levels, each falling by 24%.  The blue chip Dow Jones Industrial Average fell 20% from its high, and the S&P 500 Index suffered a 19% decline.  Within the S&P 500 Index, the financial sector and consumer discretionary sector (housing, auto, and retail) have posted declines of 42% and 27%, respectively since June 30, 2007.  The only industry sector with a strong performance has been energy, which, during the same time frame, advanced by 30%.
These two major problems—higher energy prices and a battered financial sector—have resulted in a spillover into other economic sectors and have raised concerns that the U.S. will slip into a recession.  To combat this threat, the Federal Reserve has lowered interest rates and the Treasury Department has sent tax rebate checks to most U.S. families.  With this stimulus, the economy has continued to grow, albeit at a slow pace.   However, a recession remains a strong possibility, as consumer confidence has fallen to its lowest level since February 1992.
For the stock market to recover in the near term, several of the current trends need to reverse.  Oil prices, which have doubled in the last 12 months, will need to stabilize and eventually decline.  While supply and demand factors have obviously played a role in the increase in the cost of energy, the recent sharp spike in prices appears to be greatly influenced by speculation and price/supply manipulation [OPEC].  After all, the price of finding and processing oil has not doubled in the past year.  Furthermore, the supply and demand characteristics of the past year have not significantly changed from the recent past.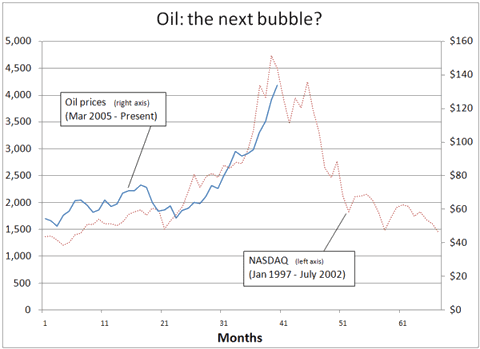 Indeed, it appears that the sharp rise in oil prices is following the pattern of many other speculative bubbles, such as the technology stock bubble and the more recent housing market bubble.  The adjacent graph overlays the performance of the technology-heavy NASDAQ Composite from 1997 to 2002 with the current energy price boom – indicating a very similar trend.  Bubbles usually occur when investors buy not with regard to value, but instead based on the speculation that prices will rise even higher. The current high price of energy should encourage both additional supply (possibly in the form of alternatives) and a moderation in demand.  In other words, as with other bubbles, the market should gradually induce people to take steps to resolve this problem.
Bloomberg news service recently reported that banks and security firms have reported total losses of $403 billion which are tied to the problems of the mortgage market.  As mentioned previously, this loss of capital (and confidence) has contributed to a credit crunch that has negatively impacted many other companies not directly exposed to the mortgage market.  In all likelihood, the financial service industry will need to go through one or two quarters without significant write downs for this sector to begin to contribute to a market recovery.
With stocks in bear market territory, it is obvious that the consensus viewpoint reflects doubts that these problems will be corrected any time soon.  Part of the problem with the consensus outlook is that it usually extrapolates the current situation indefinitely into the future.  However, situations change, recessions are followed by expansions and bear markets are followed by bull markets. Historically, recession and bear markets have represented periods in which equity investors have achieved better long-term performance by holding or adding to positions, rather than selling.  For example, following years of below-average performance, the stock market has produced average annual returns that are 4.2% above its historical norm.  This reflects the presence of self-correcting mechanisms within the market and the economy.
Although the investment environment appears to be difficult, there are a few positive factors. The most significant is that with the steep correction, stocks are now very inexpensive compared to historical standards.  A significant rally from the current levels could occur with an improvement in economic conditions.  Interest rates remain low, which encourages consumption and investment.  And demand from fast growing emerging markets (i.e. China, India, and Brazil) continues to provide support for a number of sectors of the U.S. economy.  While the near-term economic environment casts a cloud over the stock market, patient investors should be rewarded over the long term as conditions improve and stocks eventually recover.
Disclaimer: The author is the president of Vista Investment Management, LLC, a Registered Investment Advisory firm. Under no circumstances does this article represent a recommendation to buy or sell stocks. This article is intended to provide information and analysis regarding investments and is not a solicitation of any kind. References to historical market data is intended for informational purposes, past performance cannot be considered a guarantee of future performance. Neither the author nor Vista Investment Management, LLC has undertaken any responsibility to update any portion of this article in response to events which may transpire subsequent to its original publication date.