It is hard to find anyone that loves or even likes Groupon (NASDAQ:GRPN) these days. The company can't catch a break -- take a look at what Bloomberg reported Friday:

Click to enlarge
The only problem is that Chairman Eric Lefkofsky transferred 18.7 million of his company's shares to early investors, consultants, and advisers. One of the recipients was his Lefkofsky Family Foundation, which funds programs focused on education, human rights, medical research, and the arts. Recipients include Teach for America, Human Rights Watch, Planned Parenthood of Illinois, the Mayo Clinic, and the Art Institute of Chicago. If this is called "dumping shares," we can only hope the corporate executives of America follow Lefkofsky's lead. Fortunately, Bloomberg corrected its mistake, but I wonder how many will remember the false headline.
Why is there so much hate toward this former darling of the Internet space? The stock's performance certainly has not helped Groupon's cause. Since its IPO at $20 the stock is now down a dismal 79.25%. Groupon's high of $31.14 is reflecting a loss of 86.7% from its peak this year.
Click to enlarge images.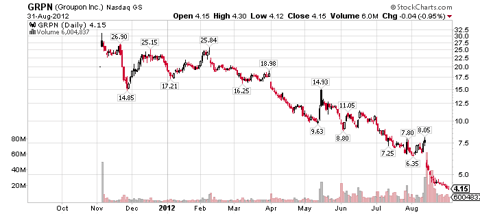 Click to enlarge
It wasn't too long ago that everyone wanted a piece of Groupon. Bloomberg reported in November 2010:
Google (NASDAQ:GOOG), owner of the world's most popular search engine, is close to an agreement to acquire daily coupon company Groupon for about $6 billion, according to two people with knowledge of the negotiations.
The same day the New York Times reported:
The deal would also be Google's boldest foray in local business online advertising, a large and untapped market it has been trying to get into, most recently by promoting Marissa Mayer to oversee the local business and attempting to buy Yelp, the local review site, last year.
This is the same Mayer who is 37 years old and worth a reported $300 million. She is now the CEO of Yahoo (NASDAQ:YHOO), which offered $2 billion for Groupon, according to the New York Times.
Why didn't Groupon take the $6 billion? In Frank Sennett's book, Groupon's Biggest Deal Ever, the three main reasons are:
Google offered an $800 million breakup fee. That wasn't enough, given the uncertainty over whether antitrust regulators would allow the deal to go through.
Some investors, chiefly Accel's Kevin Efrusy, believed Groupon had room to grow.
A top researcher working for Groupon, Nitin Sharma -- who had just joined the company from Google months before -- persuaded the board that Groupon could increase its revenues tenfold by making better use of data.
What happened next? Groupon raised $700 million at $20, which translated into a $12.8 billion valuation. At the time it certainly looked like the IPO was the right call for the company. Then the floor fell out of the stock as shares have plummeted to the current price of $4.15. With 653.68 million shares outstanding, the market capitalization is now $2.71 billion.
Despite the relatively low market cap, there has been analysts stating their worries about Groupon's weak business plan, low barriers to entry, and a host of other complaints. Has that much changed since Google and Yahoo tried to buy Groupon?
I believe the geniuses at Google and Mayer at Yahoo understand Groupon and its business model completely. If Groupon was worth paying $6 billion for, why is it not worth $3 billion to $5 billion now?
Groupon is estimated to produce over 2.3 billion in sales for 2012. Net income estimates for 2012 are $0.18 per share, or $117 million. 2013 earnings are estimated to be $0.37 per share, or $241 million. The current valuation of $2.71 billion is 23 times 2012 earnings and 11.2 times 2013 earnings estimates. There is an extra $700 million in the bank thanks to the IPO. Why is Groupon a worse company now compared to when Google tried to buy it?
In the past 15 trading days, the stock has been down 14 days and unchanged for one day. Is the pessimism too much? We certainly think so.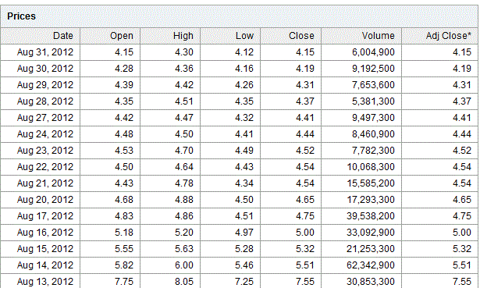 Click to enlarge
If you add the volume up for the past 15 days, the total is 284 million shares. Groupon's total float is 252 million, which means the float has turned over. This is important because float turnover indicates new money in a stock. Many of the shareholders who bought at higher levels have had plenty of time to throw in the towel and sell their shares. The new buyers of the 252 million shares have not absorbed the losses the early investors have had to endure.
Now if these new shareholders hold and don't sell, this will lead to less supply. Less supply and higher demand will lead to a greater stock price. With over 46 million shares short, there will not be a lack of demand if sentiment starts to turn Groupon's way.
Disclosure: I am long GRPN. I wrote this article myself, and it expresses my own opinions. I am not receiving compensation for it (other than from Seeking Alpha). I have no business relationship with any company whose stock is mentioned in this article.