Finding stocks as unloved as Facebook (NASDAQ:FB) is a bit challenging. Perhaps Hewlett Packard (NYSE:HPQ), the direction challenged maker of ink and obsolete hardware, is a good candidate.
I have plenty of reasons to share investor anger at HP. I was a Palm devotee and had high hopes for its Palm OS powered tablet. The fact the tablet was shelved so quickly, and the Palm OS with it, is one of the best reflections of HP's disjointed strategy under former CEO Leo Apotheker.
But now we have former EBay (NASDAQ:EBAY) chief Meg Whitman at the helm, tasked with bringing order and direction to a company. This is no easy challenge.
Few companies have gone from relevant to irrelevant as quickly as HP.
Whether Ms Whitman is able to breathe new life into the company rests squarely on whether she can do for HP what Lou Gerstner did for IBM (NYSE:IBM). Or what Steve Jobs did for Apple (NASDAQ:AAPL).
Historically, such turnarounds have been an ugly process, full of fits and starts. For investors, that's not encouraging. After all, anyone who has looked for a bottom in HP has been handily punished.
Shares are trading at the lowest point since 2004.
That's pretty enticing to investors when they consider the company earned a relatively paltry $1.62 in 2005, at least when compared to current analyst expectations of $4.20 per share in 2013.
Over the past 5 years, HP's PE has never dipped below 4. But it's dangerously close. On analyst $4.20 expectations, the company has a forward PE of only 4.02. Clearly, investors have little confidence Whitman's turnaround will ignite shares any time soon.
Amid the rubble there may be an opportunity.
According to data from the Seasonal Investor, we're entering the seasonal sweet spot for HP. Over the past 10 years, shares have finished November higher than they've started September 9 times, producing an average return of 8.89%.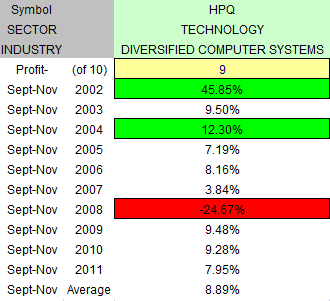 Clearly, a lot of challenges face the company. But, for position traders with iron stomachs willing to use a stop loss below August's low, back-to-school and holiday seasonality may help shares fill the gap created following earnings. This would suggest a move back to $19.10, good for a quick 13%.
Disclosure: I am long FB. I wrote this article myself, and it expresses my own opinions. I am not receiving compensation for it (other than from Seeking Alpha). I have no business relationship with any company whose stock is mentioned in this article.