On Sept. 4, I wrote an article that contained the various portfolio attributes of a select group of mREITs. At the end of the article (in the disclosure), I mentioned that I am a holder of the iShares FTSE NAREIT Mortgage Plus Capped Index Fund (NYSEARCA:REM) and that I do not intend to hold it any longer.
A couple of readers asked me about this disclosure and my response was:
The reason that I said not for long for REM is that I plan to hold two to four positions instead of REM as a properly chosen combination should outperform. That said, if someone wants to take a more diversified position that is easier to monitor and will still provide decent income, REM is a good option. The reason I own REM was to buy the sector, which has worked out well, I just want to drive it a little harder (to compensate for other laggards).
My response led to the question (and here I'm paraphrasing a couple of comments): "Where do you intend to reinvest the proceeds?" This article is in response to reader inquiries on the reinvestment, which, once published, will be executed across my accounts that hold REM.
Let me begin by saying that my risk tolerance and risk profile may be different than many investors, and my approach may not be consistent with the views of other investors (as I learned firsthand when I wrote about selling my Realty Income (NYSE:O) position).
I am willing to take more risk with the proceeds of the REM sale as long as I am compensated for the additional risk. As I do not have a crystal ball (well, at least not a functioning one), I have to use historical results to determine my risk/reward profile. The way I am approaching this is to ensure that my portfolio of mREITs has a higher Sharpe Ratio (some call it the "information ratio") than my REM position. Recall that the Sharpe Ratio is defined as:
The Sharpe ratio is an economic tool which allows investors to calculate the risk of the investment relative to its return. There are a number of different versions of the equation, each of which uses slightly different numbers. The equation can be applied in retrospect to assess how a particular portfolio performed over a specific period of time. It can also be used in advance to make predictions about how things will do. In general, a higher number is better, since the higher number indicates a greater return for less risk. (From SharpeRatio.net.)
More on this ratio from William Sharpe himself can be found here.
In order to determine the Sharpe Ratio of my proposed portfolio and REM, I am using a software package called EZBacktest (more here; it's free, but worth a contribution).
Here is my portfolio, which will replace REM:
American Capital Agency (NASDAQ:AGNC) -- 35% allocation
Two Harbors Investment (NYSE:TWO) -- 35% allocation
Northstar realty Finance (NRF) -- 30% allocation
I chose these companies in order to diversify across agency RMBS, non-agency RMBS and CRE investments -- all facets of real estate which operate/perform differently. My goal is relatively straightforward: Generate a higher yield than REM, a higher return than REM (while being compensated for the additional risk), and to outperform the S&P 500, which is my benchmark.
Here are descriptions of the portfolio companies:
American Capital Agency operates as a real estate investment trust. It invests in residential mortgage pass-through securities and collateralized mortgage obligations for which the principal and interest payments are guaranteed by government-sponsored entities or by the United States government agency. The company funds its investments primarily through short-term borrowings structured as repurchase agreements.
Two Harbors Investment acquires, owns and manages a portfolio of Agency and non-Agency residential mortgage-backed securities and related investments. The company's investment approach focuses on security selection and the relative value of various sectors within the mortgage market.
NorthStar Realty Finance's primary business objectives are to make real estate-related investments in order to produce attractive risk-adjusted returns and generate stable cash flows for distribution. The company's primary business activities include the origination, structuring, acquisition and managing of commercial real estate debt, commercial real estate securities, and net lease properties. NorthStar also engages in asset management and other activities related to these assets.
Portfolio Results
Let's see if the portfolio outperforms REM:
Click to enlarge images.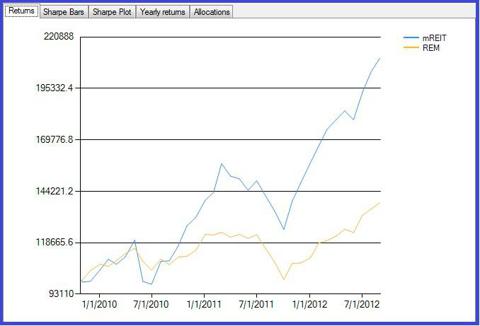 As the chart above shows, the portfolio (creatively titled "mREIT") has significantly outperformed REM significantly (the vertical axis is the value of $100,000 invested). But what about the risk/return (Sharpe) profile? Here is how the portfolio has stacked up: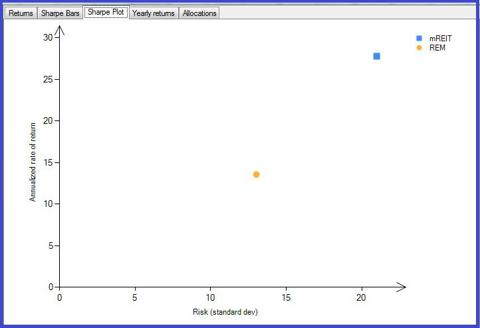 As the above chart shows, the portfolio has experienced greater risk (variability), but with significantly higher returns. The Sharpe Ratio profile is as follows: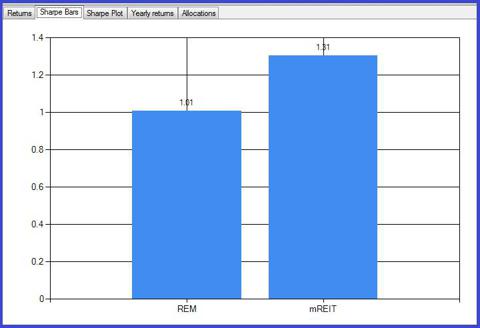 The mREIT portfolio has a significantly higher Sharpe ratio, which means it has generated more excess returns than REM over the time period. The yield on the mREIT portfolio is currently 13.07%, which is 2.1% higher than REM's 10.93%.
Last, but not least, the portfolio has to outperform the benchmark.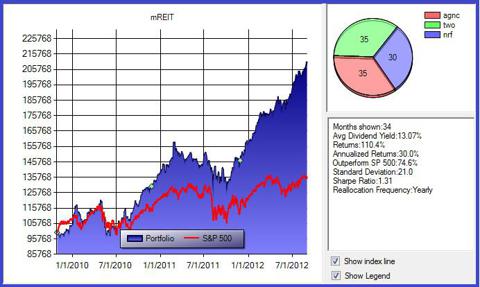 As the above chart shows, mREIT has trounced the S&P 500.
Bottom Line
The mREIT portfolio has accomplished all my objectives -- historically. In the near term (next two years), I would expect that the mREIT portfolio will continue to outperform REM and my benchmark. The income being generated is significantly higher, and I also expect this to keep returns higher than the S&P 500. The portfolio is virtually equally weighted and diversified across mREIT assets.
Disclosure: I am long NRF, REM. I am also long Realty Income PrF. I wrote this article myself, and it expresses my own opinions. I am not receiving compensation for it (other than from Seeking Alpha). I have no business relationship with any company whose stock is mentioned in this article.
Disclaimer: This article is for informational purposes only, it is not a recommendation to buy or sell any security and is strictly the opinion of Rubicon Associates LLC. Every investor is strongly encouraged to do their own research prior to investing.